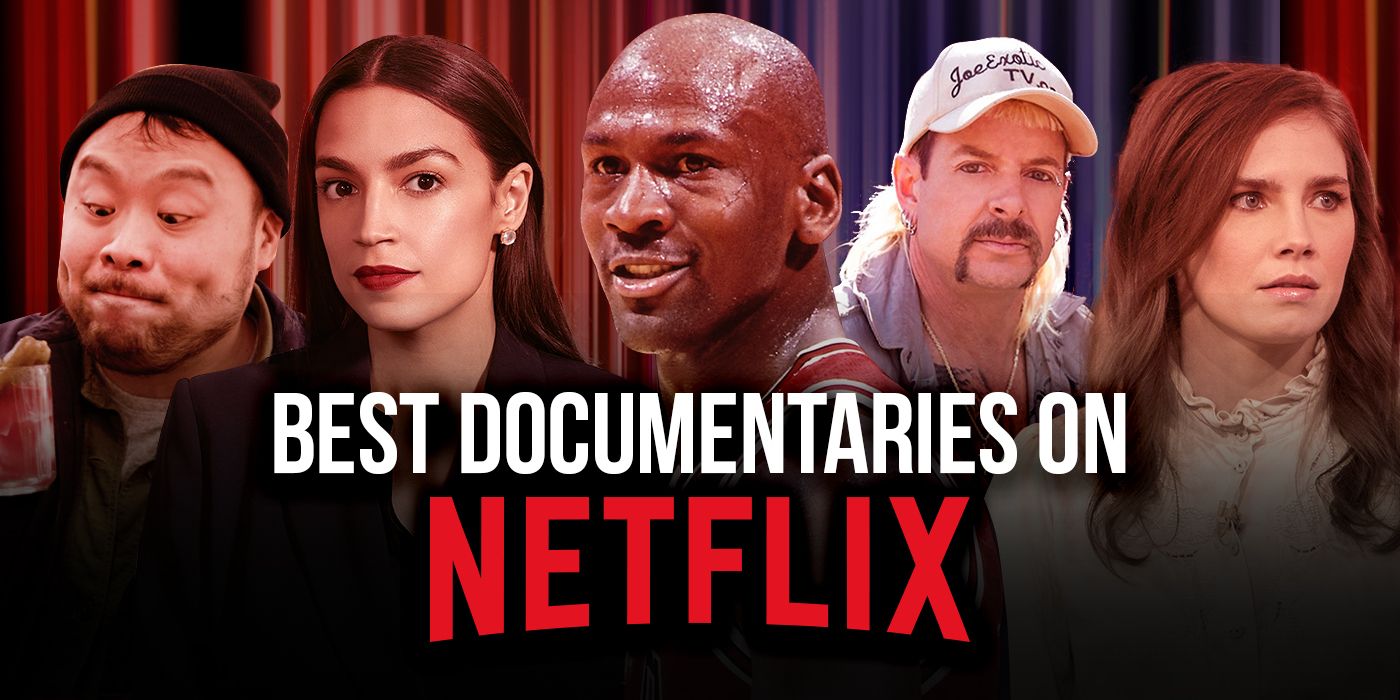 Documentaries connect us all. The element that most viewers tend to gravitate toward when it comes to documentaries is the essence of real life that one gleans from the assemblages of historical footage, photographs, talking heads, pre-recorded audio, and sequences of physical excursion or simple quotidian tasks. There's an undeniable feeling of authenticity even when you're watching something clearly biased. Even in cases where the film's overall focus is narrowed to fit a pre-conceived narrative, there's an unmistakable feeling of intimacy, of being let into a filmmaker's brain for a quick flash. In using snippets of the real world, in a variety of forms, great documentaries use images of universal, familiar existence to impart something tremendously personal, even intimate. And with the recent explosion of the "docuseries" format, we have the ability to go deeper into a story than ever before.
Netflix has a bountiful of great documentaries that cover a diverse range of subjects, from true crime to sports to even filmmaking. Below, we've assembled a list of what we believe are the best documentaries on Netflix right now.
Editor's note: This article was updated November 2022 to include This Changes Everything.
RELATED: The Best Movies on Netflix Right Now
The Tinder Swindler (2022)
Run Time: 1 hr 54 min | Directed by: Felicity Morris
We've all seen guys on Tinder that are maybe a little too good to be true. Pictures of a jet-setting lifestyle, expensive watches and suits, a perfectly manicured life. But for some, it's about the potential to find their ideal man and where some might swipe left, others will eagerly swipe right to give it a chance. Such is the beginning of Simon Leviev's con. Luring in women and love-bombing them with gifts, extravagant trips, and declarations of love, it's not long before a woman is falling in love with the charismatic Simon and soon sending money to him when he suddenly become injured by an attack from his "enemies". Where The Tinder Swindler succeeds is showing just how easily a man can con women and control them, manipulating them into sending hundreds of thousands in cash to him on some lie. Using his victims to fuel his expensive lifestyle, Simon is a dangerous predator, and one that continues to operate today much to the chagrin of this critic. The Tinder Swindler is a constant reminder that conmen will do anything to completing their con and trust is not something that should easily be won in the world of online dating. — Therese Lacson
This Changes Everything (2018)
Run Time: 1 hr 37 min | Director: Tom Donahue
Sexism in Hollywood is an unfortunately relevant topic, and This Changes Everything – a documentary that was created in association with the Geena Davis Institute on Gender and Media, an organization recently highlighted at the 2022 Emmys – dives into it. Featuring many popular actresses and filmmakers in the industry, including Jessica Chastain, Sandra Oh, Reese Witherspoon, and Shonda Rhimes, the film is a powerful and important exploration of gender disparity – and how we can change it. – Taylor Gates
Shania Twain: Not Just a Girl
Run Time: 1 hr 28 min | Directed by: Josh Crowley
One of the most influential country singers of all time, Shania Twain's impact on music is undeniable. While there's a good chance you know at least a few of Twain's songs – "That Don't Impress Me Much," "From This Moment On," and "Man! I Feel Like a Woman!" are just a few of her long list of hits – you may not know how many obstacles she faced reaching the success she did. From the sexism she encountered as a female in the industry to her parents' tragic deaths, an ugly divorce to a bout with Lyme disease, things haven't always been easy. Twain, however, has never given up, making the documentary a riveting and inspiring tale that both reflects on her challenging, trailblazing past as well as looks toward her bright future. – Taylor Gates
Stay on Board: The Leo Baker Story (2022)
Run Time: 1 hr 12 min | Directed by: Nicola Marsh, Giovanni Reda
Stay on Board: The Leo Baker Story is an unexpected journey into an often overlooked sport, following Leo Baker as he ascends to the elite heights of professional skateboarding. Directors Nicola Marsh and Giovanni Reda explore the competitive nature of skate culture, which grew from the neighborhood skate park to the world stage, quickly becoming an exclusive inner circle. Through the documentary, Marsh and Reda allow Leo Baker to reveal how his skills took him to the top, forging a path for others to follow while building an inclusive space for the LGBTQ+ community. – Yael Tygiel
White Hot: The Rise and Fall of Abercrombie and Fitch (2022)
Run Time: 1 hr 28 min | Directed by: Alison Klayman
Dive into the drama of a peak trend from the late 90s and early aughts with White Hot: The Rise and Fall of Abercrombie and Fitch,a prolific documentary exploring the store's rollercoaster ride within American culture. Directed by Alison Klayman (Jagged), White Hot unpacks the all-American brand, which built clout based on the exclusion of race, class, and just about anything else it could. White Hot examines the pop culture phenomenon, dissecting every decision the brand made that allowed it to soar before everything came crashing down. White Hot is a fast-paced, thorough documentary that will appeal to every millennial mall rat whether they wore the brand or not. – Yael Tygiel
Our Father (2022)
Run Time: 1 hr 37 min | Directed by: Lucie Jordan
Shocking, creepy, and – at times – just plain strange, Our Father is a documentary that proves sometimes the truth is stranger than fiction. The film exposes former Indianapolis fertility doctor Donald Cline, who used his sperm to impregnate dozens of his patients – all of which had no knowledge of him doing so. There are jaw-dropping moments galore as we see one woman's at-home DNA test spiral into something bigger and more sinister than anyone ever could have imagined. – Taylor Gates
The Sparks Brothers (2021)
Run Time: 2 hr 15 min | Directed by: Edgar Wright
Sparks is your favorite band's favorite band, and yet they've flown underneath the radar for pretty much all of the 50 years they've been making music, which includes 25 albums. Director Edgar Wright looks to remedy that with the terrific The Sparks Brothers, a look at the entire history of Ron and Russell Mael's pop-rock duo. Unlike other music documentaries that try to examine the personal lives of its subjects, Wright keeps his focus solely on the music (and at two-and-half-hours, there's not much room for anything else given the band's vast discography), and the result is that at the end of the film you'll like love Sparks as much as he does. It's a gift of music appreciation. – Matt Goldberg
Sad Hill Unearthed (2017)
Run Time: 1 hr 26 min | Directed by: Guillermo de Oliveira
This one is a must-see for anyone who considers themselves a fan of The Good, the Bad and the Ugly, but it's also a good meditation on what it means to be a fan and how we show reverence to the art that has shaped our lives. The climax of Sergio Leone's seminal western takes place at the Sad Hill Cemetery, but over the years the cemetery became overgrown and resembled nothing of the climactic setting. A group of fans took it upon themselves to restore the cemetery to its former glory, and in doing so created what could only be described as a labor of love. While there are other documentaries that focus on fandoms, this one, which is really based on one scene from one movie (as opposed to the entire Man with No Name trilogy) shows how much even a little bit of an artwork can impact our lives. – Matt Goldberg
Rolling Thunder Revue (2019)
Run Time: 2 hr 22 min | Directed by: Martin Scorsese
Bob Dylan as an artist has always walked the line of fiction and non-fiction with his persona, and it's this line that Martin Scorsese explores in his documentary Rolling Thunder Revue, chronicling Dylan's 1975 concert tour. With Rolling Thunder Revue, Scorsese blends fact and fiction, leaving the audience to try and decipher what is truth and what is fabricated. Yet amongst all this playing with the audience is fantastic concert footage of Dylan, Joni Mitchell, Joan Baez, and many others on this tour that feels at times more like a circus than a concert. As Scorsese has shown with his other music documentaries, he knows how to get deep down into what makes an artist so intriguing and can play it up into tremendous films. – Ross Bonaime
Made You Look: A True Story About Fake Art (2020)
Run Time: 1 hr 29 min | Directed by: Barry Avrich
Imagine you were a wealthy art collector. You know the names that are famous, but could you spot a fake? Probably not on sight, but that's why you leave it to dealers and galleries to verify the authenticity of paintings. But what happens when the gallery may be a willing participant in the fraud? That's the case of Made You Look: A True Story About Fake Art in which the largest art fraud in history was perpetrated through the famous and reputable Knoedler & Company. The question becomes how much did those employed by Knoedler know–were they duped like their clientele or did they willingly look the other way because they had become complicit in a profitable scheme? Director Barry Avrich draws us along in this captivating con-artist documentary where it's low stakes for the viewer (after all, we're not wealthy art collectors or dealers) and high-stakes for those involved. – Matt Goldberg
The Bleeding Edge (2018)
Run Time: 1 hr 40 min | Directed by: Kirby Dick
While you may want to go for the latest technology when it comes to getting a new cell phone or video game console, you should be more circumspect when it comes to what you put in your body. In their 2018 documentary writer-director Kirby Dick and producers Amy Ziering and Amy Herdy examine the medical device industry and discover (shocker) that capitalism has inserted its tentacles into the regulatory agency, the FDA, that should be overseeing the devices that doctors are implanting into patients. With a strong mix of personal stories and pulling back to explore the larger issues, The Bleeding Edge will change the way you interact with your doctor next time you need to have some kind of invasive procedure. While it is wrong that this burden has been pushed onto patients, at least this documentary arms you with the knowledge you need to so that you can avoid some horrific outcomes. – Matt Goldberg
Bob Ross: Happy Accidents, Betrayal & Greed (2021)
Run Time: 1 hr 32 min | Directed by: Joshua Rofé
The first thing to know about the Bob Ross documentary on Netflix is it does not reveal that this beloved figure was a bad man. But it does uncover the disturbing truth behind the business of Bob Ross Inc., and specifically what happened after Ross' untimely death. Featuring interviews with Ross' son and best friend, as well as others who knew him, Bob Ross: Happy Accidents, Betrayal & Greed chronicles how he became a pop culture icon by accident, and covers his philosophy of painting. It also gets a bit into his personal life, showing us the man behind the canvas. But the main thrust of the movie is the business dealings that took advantage of Ross, and the fallout from his death. It's an intriguing film, especially at only 90 minutes in length. – Adam Chitwood
​​​​​​​Watch on Netflix​​​​​​​
David Attenborough: A Life on Our Planet (2020)
Run Time: 1 hr 23 min | Directed by: Keith Scholey, Jonathan Hughes, Alastair Fothergill
David Attenborough is easily one of the most recognizable figures in the world of conservation. The English natural historian and author is practically a household name due to his extensive work on natural history documentaries, delivered in his iconic narration style. He's so respected both among the general public and the scientific community that there have been over 20 species named after him. And in David Attenborough: A Life on Our Planet, he gives an account of his long career, reflecting on how much the planet has changed over the 90-odd years of his life. Mixed with footage from his previous work, Attenborough describes the documentary as his "witness statement."
He also presents what he believes could be the end result if humanity continues to abuse nature the way we do now. Without going into too much detail, it involves the disappearance of entire ecosystems and drastic changes to the climate, all culminating in a mass extinction event. But Attenborough also suggests that this future could be avoided and details the steps that we need to take to reverse the damage we've done to the natural world. It's a thought-provoking documentary that offers just as much hope as it does criticism. Whether you're interested in matters of ecology or not, this documentary is an educational experience that everyone ought to have. – Remus Noronha
​​​​​​​Watch on Netflix​​​​​​​
Misha and the Wolves (2021)
Run Time: 1 hr 30 min | Directed by: Sam Hobkinson
Would you question someone who claimed to be a Holocaust survivor even if their story was completely outlandish? That's the question at the heart of Sam Hobkinson's captivating documentary Misha and the Wolves. The film is about a woman, Misha Defonseca, who claimed that her parents were arrested by the Nazis when she was seven years old, and so she ran away towards Germany to find her missing parents, and during her trek she joined a pack of wolves. This memoir became a worldwide best-seller, but its credibility became the center of a lawsuit between Misha and her publisher, Jane Daniel. The larger exploration here isn't simply a matter of a stranger-than-fiction tale, but why we go looking for uplifting narratives at the expense of hard realities that may not comfort us. – Matt Goldberg
​​​​​​​Watch on Netflix​​​​​​​
Road to Roma (2020)
Run Time: 1 hr 12 min | Directed by: Andres Clariond and Grabriel Nuncio
This documentary may have limited reach, but Road to Roma is terrific supplemental viewing if you've already seen Alfonso Cuaron's Oscar-winning Netflix drama Roma. This feature-length documentary goes behind the scenes as Cuaron crafts his most personal film to date, recalling his own memories to create an epically intimate Mexico City-set drama. This one's great for cinephiles. – Adam Chitwood
​​​​​​​Watch on Netflix​​​​​​​
Run Time: 1 hr 40 min | Directed by: Chris Moukarbel
If you're in the mood for a celebrity documentary that digs a bit deeper than surface-level, Gaga: Five Foot Two is a solid watch. Released in 2017, the film covers Lady Gaga's life around the writing and release of her album Joanne, which also coincides with her casting in A Star Is Born for director/star Bradley Cooper and the end of her engagement with Taylor Kinney. This film is fairly intimate, as Gaga also battles fibromyalgia and you get a look into her life as she's juggling so much at once, climaxing with her Super Bowl halftime performance.
​​​​​​​Watch on Netflix​​​​​​​
Athlete A (2020)
Run Time: 1 hr 43 min | Directed by: Bonni Cohen, Jon Shenk
If you're curious about the United States Gymnastics program, then Athlete A is a must-watch. The documentary chronicles the investigation by journalists into team doctor Larry Nassar's sexual assault of the young girls he was supposed to be helping, and is told through interviews with not only the journalists but also survivors of Nassar's abuse. That in and of itself would make Athlete A worthwhile, but the film also delves into the history of the US Gymnastics program, and the power structure in place that has not only protected abusers, but also fostered an environment in which repeated abuse – both verbal and physical – is part of the training of these young girls. It's an eye-opening documentary that will make you look at US gymnastics – especially with the Olympics looming – in a different light. – Adam Chitwood
Murder Among the Mormons (2021)
Run Time: 2 hr 40 min | Directed by: Jared Hess, Tyler Measom
The three-episode documentary Murder Among the Mormons is among the best Netflix original documentaries streaming right now. Over the course of just under three hours, the film chronicles a series of historical document discoveries that threaten to upend the Lattter Day Saints church, only for key parties to turn up dead from bombings. It's a twist-filled journey so I'll refrain from going further, but the film uses present day interviews and archival footage to tell its story in a compelling way that doesn't feel exploitative. Go in knowing as little as possible, but if the idea of historical documents and the Mormon church interest you, you'll find this fascinating from beginning to end. – Adam Chitwood
​​​​​​​
13th (2016)
Run Time: 1 hr 40 min | Directed by: Ava DuVernay
Ava DuVernay follows up her acclaimed film Selma with a searing documentary that looks at the mass incarceration of minorities following the passage of the 13th amendment. As the documentary points out, it's not just ingrained cultural racism that results in the widespread incarceration of African-Americans and other minorities. There's a financial incentive as well, and it's good business to lock people up. 13th systematically goes through the decades following the passage of the 13th amendment to show how black people were targeted by the media, by the government, and by businesses to create a new form of slavery. It is a movie that will infuriate you, depress you, and hopefully spur you to action against a system that has done egregious harm to our fellow citizens. – Matt Goldberg
​​​​​​​Watch on Netflix​​​​​​​
My Octopus Teacher (2020)
Run Time: 1 hr 30 min | Directed by: Pippa Ehrlich and James Reed
If you're looking for something soothing, uplifting, and oddly beautiful, you should check out Pippa Ehrlich and James Reed's lovely documentary My Octopus Teacher. The movie follows filmmaker Craig Foster who goes snorkeling off the coast of South Africa and encounters an octopus. He resolves to interact with the octopus every day and learn as much as he can about the creature. Through their stunning underwater photography, we see a magnificent and startling intelligent animal working its way to survive in a dangerous kelp forest. The film never anthropomorphizes or cheapens the complexity of this underwater world, while also never losing sight of the majesty it presents. Even if you're not much for nature documentaries, you'll likely be enchanted by My Octopus Teacher. – Matt Goldberg
https://collider.com/best-documentaries-on-netflix/ The Best Documentaries on Netflix Right Now (November 2022)