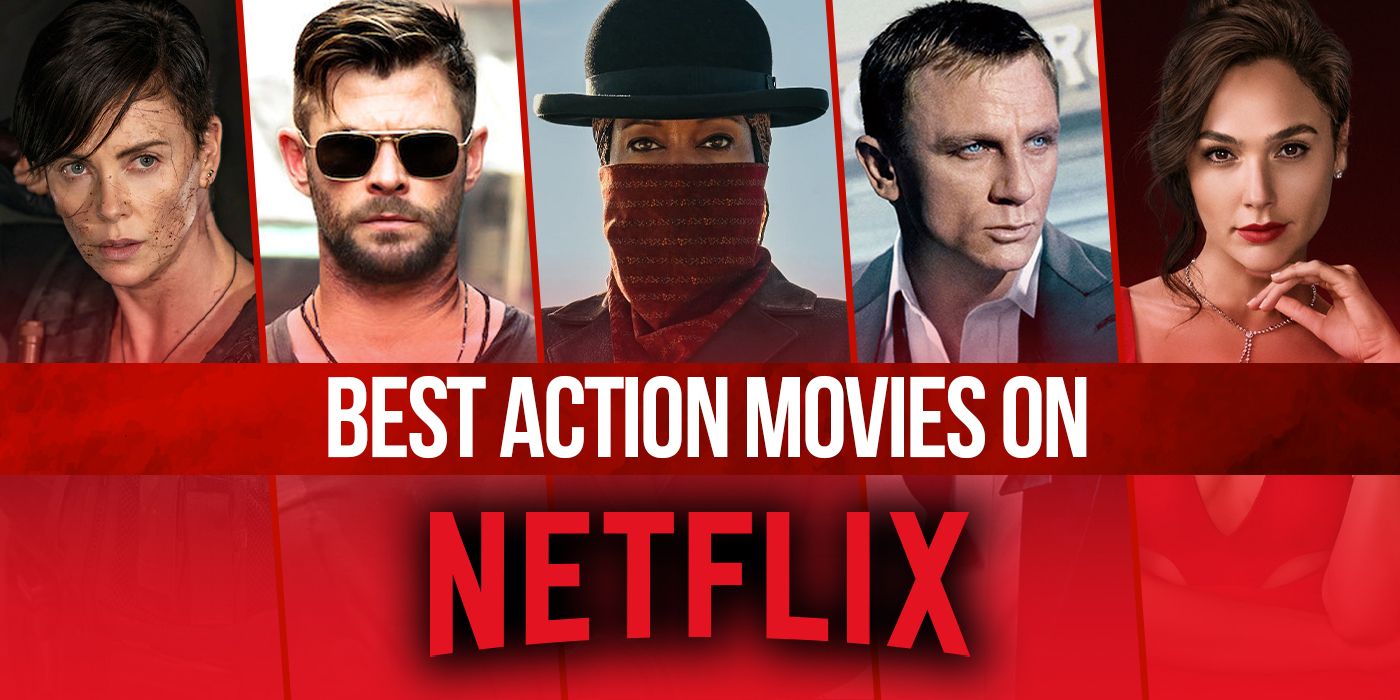 Looking for a little adrenaline jolt to your Netflix viewing? We've got you covered. Below we've curated a list of the best action movies currently available to stream on Netflix, from the more adventure-tinged playful flicks to big-budget superhero movies to straight-up kung fu films. It's the perfect antidote to the same-old-same-old, and Netflix has a pretty swell and diverse library of action films to spice up your night.
Can't find what you're looking for? Check out our list of best fantasy and horror movies on the platform.
So behold, below are the best action movies on Netflix.
Editor's note: This article was updated September 2022 to include Kate.
RELATED: The Best Thrillers on Netflix Right Now
1 hr 56 min | Sam Hargrave
Cast: Chris Hemsworth, Rudhraksh Jaiswal, Randeep Hooda, Golshifteh Farahani, Pankaj Tripathi, and David Harbour
It's no wonder that the action in the Netflix original film Extraction is spectacular given that director Sam Hargrave's background is as the stunt coordinator for films like Captain America: Civil War and Avengers: Endgame. Scripted by Endgame co-director Joe Russo, Extraction is a hardened (and extremely violent) actioner that follows a disillusioned mercenary who is tasked with escorting a young kidnapped boy out of Dhaka, Bangladesh. Along the way, he grows fond of the boy and grows into his role as protector. The action is outta control in this one, and Chris Hemsworth gives a solid lead performance while Hargrave does some very fun stuff with the camera. Gritty and graphic with a unique visual flair, Extraction will definitely get your blood pumping. – Adam Chitwood
Kate (2021)
1 hr 46 min | Cedric Nicolas-Troyan
Cast: Mary Elizabeth Winstead, Woody Harrelson, Miku Patricia Martineau, Michiel Huisman
Written like a Jason Statham movie plot, Kate stars Mary Elizabeth Winstead (Birds of Prey) as a meticulous and highly trained assassin on a clock to identify who poisoned her and exact revenge before she expires. Expectedly bursting with intricate and heart-pumping fight sequences, director Cedric Nicolas-Troyan livens up the male-dominated action genre with a colorful and exciting movie from a script by Umair Aleem. Kate takes care to include a variety of action, including hand-to-hand combat, gunfire, car chases, and of course, swords. Utilizing a vibrant cinematographic palette, Nicolas-Troyan reveals a dark and beautiful story set in scenes of techno-futurism and modern-day Japan. – Yael Tygiel
The Gray Man (2022)
2 hr 9 min | Russo Brothers
Cast: Ryan Gosling, Chris Evans, Ana de Armas
With a budget of $200 million, The Gray Man is one of the most expensive Netflix films ever made – and it shows in its A-list cast, global set pieces, and high-speed action sequences. The movie centers around a CIA black ops assassin called Six (Ryan Gosling) and fellow agent Dani (Ana de Armas) as they are hunted down by a psychopathic former CIA agent, Lloyd Hansen (Chris Evans). From the uncovering of dark agency secrets to tense hostage situations, The Gray Man is everything you want from a flick like this. – Taylor Gates
6 Underground (2019)
2 hr 8 min | Michael Bay
Cast: Ryan Reynolds, Mélanie Laurent, Corey Hawkins, Adria Arjona, Manuel Garcia-Rulfo, Ben Hardy
6 Undergroundis perhaps the most unhinged film of Michael Bay's career. That is no small statement. Did anyone watch the Transformers and Bad Boys films and think that Bay could go more extreme? Apparently, Netflix did. This globetrotting action film is borderline incomprehensible, but no one watches a Bay film for the plot. If you want maximum "Bayhem," 6 Underground delivers on all fronts. Deadpool screenwriters Paul Wernick and Rheet Reese come up with some truly ridiculous one-liners for Ryan Reynoldsto deliver amidst the spectacle. – Liam Gaughan
Ava (2020)
1 hr 36 min | Tate Taylor
Cast: Jessica Chastain, John Malkovich, Common, Geena Davis, Colin Farrel, Diana Silvers
Ava follows former soldier turned assassin Ava (Jessica Chastain) as she completes missions assigned by her handler/mentor Duke (John Malkovich) and tries to reconnect with her estranged family. Ava is on the brink of retirement, but others in the agency don't want to just let her go. Not only does Ava have to deal with family baggage and keeping the true nature of her job a secret, but she also has to contend with the target on her back as her former colleagues hunt her down. Chastain is great in this role and plays the multiple facets of Ava well, portraying her as a strong and capable assassin and as a caring daughter and sister. In a world where male assassins and spies like John Wick, Jason Bourne, and James Bond are household names, it's wonderful to see Ava added to the ranks of strong women agents on screen. – Brynna Arens
Gunpowder Milkshake (2021)
1 hr 54 min | Navot Papushado
Cast: Karen Gillan, Lena Headey, Chloe Coleman, Carla Gugino, Michelle Yeoh, Angela Bassett, Paul Giamatti
Gunpowder Milkshake stands out not only for being an action film featuring a female-led cast but also acting as an emotional drama about a mother and daughter reconciling after previous abandonment. When a crime syndicate targets a child (Chloe Coleman), Sam (Karen Gillan), a dangerous hitwoman, reunites with her estranged mother, played by Lena Headey, to protect the child. Together, they recruit other members from the sisterhood of assassins to their fight, which includes the powerhouse team of Angela Bassett, Carla Gugino, and Michelle Yeoh. From the distinct cinematography to its impressive fight choreography, Gunpowder Milkshake is a sweet, violent treat for the eyes. – Meredith Loftus
The Old Guard (2020)
2 hr 5 min | Gina Prince-Bythewood
Cast: Charlize Theron, KiKi Layne, Marwan Kenzari, Luca Marinelli, Harry Melling, Veronica Ngo, Matthias Schoenaerts, Chiwetel Ejiofor
Charlize Theron is one of the best action stars working today, showcasing tremendous physical skill and positively withering gazes in films like Mad Max: Fury Road and Atomic Blonde. In Netflix's The Old Guard, Theron gets to put those talents to work in a compelling comic book adaptation, starring as an ancient leader of an immortal band of assassins. Directed by Love & Basketball and Beyond the Lights filmmaker Gina Prince-Bythewood in her first big blockbuster action turn, The Old Guard doesn't just offer explosive action set-pieces and kinetic fight scenes (though it definitely has those), it brings something much rarer to the genre: the recognition that violence and killing are brutal, disgusting work and that there's a toll that comes with taking a life. In short, it has humanity and empathy, qualities that give the pulse-pounding thrills a bit more heft without derailing your good time at the movies. And yes, I'll admit, I also love that Theron just kicks so much ass. It's a fine needle to thread, but Bythewood pulls it off, and she even brings her signature touch for romance into the fold.
The Harder They Fall (2021)
2 hr 19 min | Jeymes Samuel aka The Bullitts
Cast: Jonathan Majors, Idris Elba, Zazie Beetz, Regina King, Delroy Lindo, Lakeith Stanfield, RJ Cyler, Danielle Deadwyler, Edi Gathegi, and Deon Cole
The Revisionist Western film The Harder They Fall follows the adventures of the cowboy Nat Love, whose parents are killed by an outlaw. When the outlaw in question is released from prison, Love reunites with his gang to go after his mortal enemy. The movie features an ensemble cast and many of the characters are loosely based on real-life figures from the 19th century. It's the perfect watch for fans of the western genre and even if you're not that into cowboys, it's a pretty well-crafted narrative that'll satisfy all your action cravings! – Remus Noronha
Casino Royale (2006)
2 hr 24 min | Martin Campbell
Cast: Daniel Craig, Eva Green, Mads Mikkelsen, Jeffrey Wright, and Judi Dench
This 2006 spy movie introduced Daniel Craig as the iconic James Bond and is arguably the best movie featuring him in the role. And with Mads Mikkelsen's show-stealing performance as the villainous Le Chiffre, Casino Royale is just an absolutely delicious watch. The movie reboots the franchise with James Bond being reintroduced as a new 00 agent who is still earning his license to kill. On one of his very first missions, Bond is tasked with beating the terrorist banker Le Chiffre in a high-stakes poker game. Along the way, he falls in love with the beautiful Vesper Lynd, which leads to unexpected consequences. Casino Royale sets up the larger story that runs through all of Craig's Bond movies, ending in his final film No Time to Die. Combining action and intrigue with just enough grittiness, the movie is a perfect distillation of the Daniel Craig era. – Remus Noronha
The Night Comes for Us (2018)
2 hr 1 min | Timo Tjahjanto
Cast: Joe Taslim, Iko Uwais, Julie Estelle, Zack Lee, Sunny Pang, Hannah Al Rashid
You may think you know all the ways you could inflict violence on the human body in a fight scene, but I assure you, The Night Comes for Ushas something to teach you about the art of the splatter fight scene. From director Timo Tjhajanto, this Netflix action pic is packed to the brim with bloody, brutal combat. The best feature film from Tjahjanto to date, The Night Comes for Us is a relentless showcase of action and carnage, rooted on the story of a criminal turned war criminal looking for a little redemption. The cast is packed with familiar faces for action fans, especially fans of The Raid films, who will recognize Joe Taslim, Julie Estelle, Zack Lee, and of course, Iko Uwais, who takes a supporting role but still shows up to work in some incredible fight scenes. And if fight scenes are what you're looking for in a good action movie, there's no shortage in this one, which stages wall-to-wall combat in a breathless, relentlessly entertaining showcase. This one will earn a lot of attention for its shared cast with The Raid, but damn if it isn't impressive in its own right. — Haleigh Foutch
RELATED: The Best Action Movies on HBO Max Right Now
Red Notice (2021)
1 hr 58 min | Rawson Marshall Thurber
Cast: Dwayne Johnson, Ryan Reynolds, Gal Gadot, Ritu Arya, and Chris Diamantopoulos
One of the most highly-watched Netflix movies in recent times, Red Notice is, in a word, awesome! Now to be fair, the plot isn't exactly Ocean's Eleven, but the heist movie does score high for its humor and the performances by the lead actors. Ryan Reynolds stars as Nolan Booth, the world's second-best art thief, who is forced to team up with FBI profiler John Hartley (Dwayne Johnson) after they are both framed by the world's best art thief, a woman known only as the Bishop (Gal Gadot). What ensues is an international game of cat-and-mouse as Booth and Hartley compete with the Bishop to find a priceless artifact. Red Notice is a thoroughly enjoyable movie with great action and a ton of hilarious scenes, and it has two sequels already in the pipeline. – Remus Noronha
Olympus Has Fallen (2013)
1 hr 59 min | Antoine Fuqua
Cast: Gerard Butler, Aaron Eckhart, Morgan Freeman, Dylan McDermott, Angela Bassett, Melissa Leo, Radha Mitchell, and Cole Hauser
Boy, I hope you like head-stabbing because Michael Banning is one of those "particular set of skills" guys, and above all, those skills involve stabbing some motherfuckers in the head. A lot. Olympus Has Fallen is one brutal, sometimes downright nasty and mean-spirited action movie, led by Gerard Butler as an absolute force of head-stabbery who winds up trapped in the White House during a terrorist attack and sets out to protect the president from the nefarious intruders. Excessive, ultra-violent and profane, Olympus Has Fallen is the kind of hard-R action movie we don't see much of these days, and director Antoine Fuqua revels in the excesses, delivering a relentless action movie that's easily among the most extra of the Die Hard inspired "trapped with terrorists" subgenre. — Haleigh Foutch
Avengement (2019)
1 hr 28 min | Jesse V. Johnson
Cast: Scott Adkins, Craig Fairbrass, Thomas Turgoose, Nick Moran, Kiersten Wareing
The main draw here is watching Scott Adkins get into all kinds of brawls. Bar brawls, prison brawls, any ol' brawl will do, really. If that sounds good to you, then settle in for Avengement, the latest collaboration between DTV action champion Adkins and his Savage Dog and Accident Man director Jesse V. Johnson. This time around, Adkins and Johnson are clearly riffing on the Guy Ritchie/Matthew Vaughn brand of British crime thrillers, with a lot more roundhouse kicks. The film's structure is at first confounding and ultimately pretty satisfying, following Adkins' Cain Burgess, fresh out of prison, to a local pub where he holds the men responsible for his horrifying prison term to task for their bad deeds, jumping from flashback to flashback while he holds them at gunpoint. Few action performers can match the physical prowess Adkins brings to the table and with veteran stuntman Johnson, Adkins gets plenty of steadily shot scenes, montages, and set-pieces to show off his skills. If you're a fan of DTV actioners, this one's a gem with some genuinely surprising moments of violence. — Haleigh Foutch
Triple Frontier (2019)
2 hr 5 min | J.C. Chandor
Cast: Ben Affleck, Oscar Isaac, Charlie Hunnam, Pedro Pascal, Garrett Hedlund
If Triple Frontierisn't your dad's favorite movie, that just means your dad hasn't seen Triple Frontier yet. Directed by J.C. Chandor (A Most Violent Year) from a script he co-wrote with Mark Boal (Zero Dark Thirty), Triple Frontier is basically the man-cave of movies; part military drama, part action-packed heist, and all the story of men who have mad bro-love for each other. Oscar Isaac stars as Santiago "Pope" Garcia, a DEA agent who gets the old Special Forces band back together to rob a drug lord's jungle hideaway. Joining Isaac is the similarly strong-jawed crew of Ben Affleck, Charlie Hunnam, Pedro Pascal, and Garrett Hedlund. The kicker of Triple Frontier is that there's actually a good amount of brains under all that brawn; it's an explosions-and-helicopters flick first, yeah, but it also has a lot to say about what happens to professionally violent men once the gunfire stops. — Vinnie Mancuso
Beyond Skyline (2017)
1 hr 46 min | Liam O'Donnell
Cast: Frank Grillo, Jonny Weston, Bojana Novakovic, Iko Uwais, Yayan Ruhian, Antonio Fargas, Lindsey Morgan, Betty Gabriel
Beyond Skyline is a special kind of WTF. Of all the movies to spawn a franchise, I never would have guessed the much-derided 2010 sci-fi pic Skyline could pull it off, much less that the follow-up film would be such a gleeful, globe-trotting action-packed adventure. A proud, pulpy B-movie featuring aliens that rip the brain right out of your skull, Beyond Skyline stars Frank Grillo as a cop at odds with his son (Jonny Weston) when an alien attack sends them scrambling for their lives. Once the aliens make contact, the film ricochets through settings and characters at a breakneck pace, packing in a paperback book series worth of sci-fi lunacy into a single feature film that travels from subterranean tunnels to the nuclear wasteland of Los Angeles to an alien ship, and all the way to Laos, where Mark teams with rebels to battle the alien threat. You've got Frank Grillo playing hero with a baby in one hand and a space-blaster on the other, Antonio Fargas as a Vietnam vet who calls everybody "bitch", Iko Uwais and Yaya Ruhain beating the shit out of giant aliens, and there's even an honest-to-god Kaiju battle. Beyond Skyline won't be for everyone, but if you love a bananas B-movie, the feature debut from writer-director Liam O'Donnell ticks all the right boxes. – Haleigh Foutch
Wheelman (2017)
1 hr 22 min | Jeremy Rush
Cast: Frank Grillo, Garret Dillahunt, Caitlin Carmichael, Shea Whigam, Wendy Moniz
Frank Grillo should be one of cinema's leading action stars. Cut from 1970s cloth, Grillo is an old-school everyman tough guy; a real blue-collar badass. Grillo can grimace and load a gun with the best of 'em, but unlike the dominant figures in the Western action hero tradition, Grillo is also a trained martial artist who brings impressive physical command to his street-smart charisma. With Wheelman, Grillo takes on a different kind of challenge for an action star — a performance told almost entirely in close-up, from the confines of a single vehicle. That doesn't leave a lot of room to throw punches or fire heavy artillery, but Grillo and writer-director Jeremy Rush make the most of the minimalist set-up, turning out a gripping, wisely calibrated B-movie about one high-octane night of crime that blasts off from the word go and never taps the brakes. — Haleigh Foutch
Ip Man (2008)
1 hr 46 min | Wilson Yip
Cast: Donnie Yen, Simon Yam, Lynn Hung, Siu-Wong Fan, Hiroyuki Ikeuchi
This 2008 martial arts essential stars Donnie Yen as Ip Man, the legendary Wing Chun master who went on to train Bruce Lee. A wealthy martial artist living the dream life, Ip Man's life is thrown into chaos when the Japanese occupy his hometown during wartime. On the surface level, Ip Man is an opportunity to watch one of the best living martial artists play one of the most famed Kung Fu masters of all time – and it certainly delivers on the fight scenes that come with that premise, including an instantly iconic Wing Chun vs. Black Belts set-piece. But Ip Man is also a fantastic character-driven period drama rooted in history and apparent affection for the martial arts genre, and Yen is extraordinary, not just for the athleticism and showmanship of his choreography work but for his charismatic, commanding performance. — Haleigh Foutch
Hell or High Water (2016)
1 hr 42 min | David Mackenzie
Cast: Jeff Bridges, Chris Pine, Ben Foster, and Gil Birmingham
Hell or High Water was one of the most acclaimed movies of 2016, earning multiple award nominations including for four Oscars and three Golden Globes. The neo-western crime film follows brothers Toby (Chris Pine) and Tanner Howard (Ben Foster) on a vengeful robbery spree in West Texas. They target branches of the Texas Midlands Bank, which is threatening to take away the Howard family ranch due to their sizable debts. But the robberies attract the attention of Texas Rangers Marcus Hamilton (Jeff Bridges) and Alberto Parker (Gil Birmingham). It's an intense story that's more a portrait of complex characters than an out-and-out action feature, though it does have some enjoyable action scenes as well. – Remus Noronha
https://collider.com/best-action-movies-on-netflix-right-now/ The Best Action Movies on Netflix Right Now (September 2022)