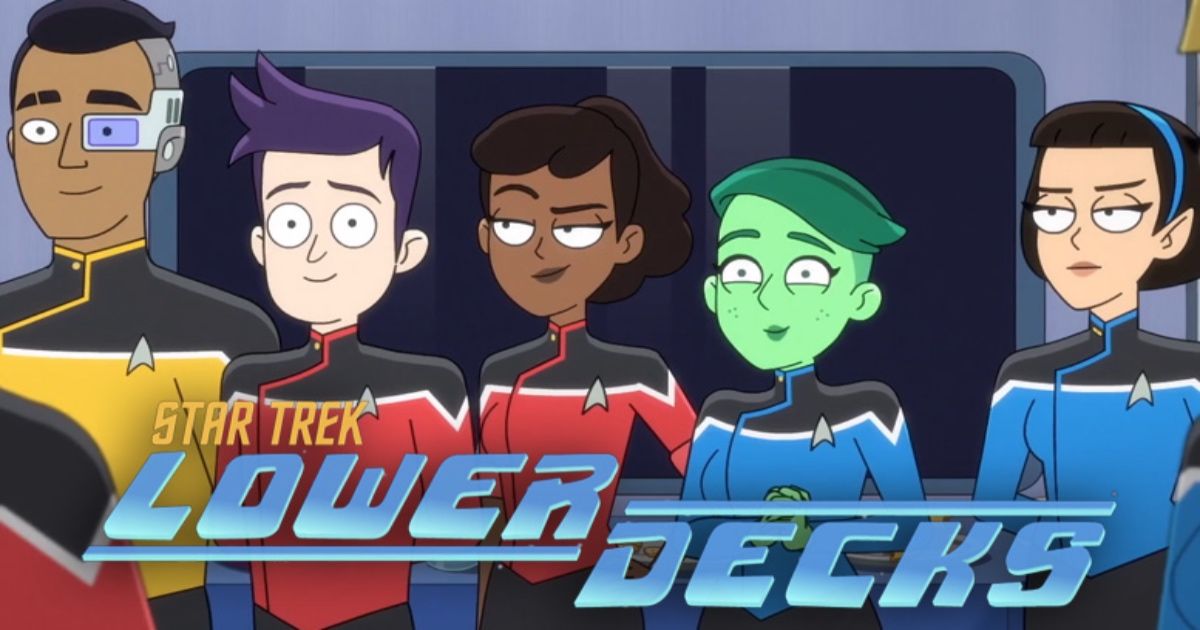 Star Trek: Lower Decks animator/director Barry Kelly teased that fans could expect plenty of Easter Eggs in season four of the hit Paramount+ show. That may be a slight change of course for this inviting series, as it's relied on its relatively self-contained and wonderfully executed episodic format for some time. Still, these new elements now give Lower Decks an opportunity to further root itself into Star Trek lore and create a legacy of its own. It's one thing to become a successful adult-animated comedy in the Star Trek universe, and quite another to become a series that offers plenty of creative opportunities for engaging future story arcs, whether that be in animated or live-action form. Either way, season four delights.
Potential ensign promotions, holodeck misadventures, more fodder from lower decks on other starships (thank you for that idea, season two), and an ominous alien threat all factor into the mix in the new season, which premieres on Paramount+ Sept. 7. Discovering whether that alien threat gets solved before season's end is a lovely dangling carrot, and ultimately fuels great opportunities ahead as the show ventures far beyond this season. One thing to relish this time around: Reuniting and catching up with several Star Trek characters fans haven't seen in two decades. This may be the show's best season yet.
The Ensigns Get Some Love
From the onset, season four establishes some new opportunities for our favorite lower deck ensigns. Promotions are afoot on the U.S.S. Cerritos, which clearly houses one of Starfleet's most frazzled crew. Season four dives in not too long after ensigns Brad Boimler (Jack Quaid) and Beckett Mariner's (Tawny Newsome) blast to the past in that much ballyhooed Strange New World crossover episode.
Commander Jack Ransom (Jerry O'Connell) decides to give ensigns Boimler, Mariner, Tendi (Noël Wells), and Rutherford (Eugene Cordero) promotions. They immediately fret they won't be "lower decks" anymore. But fear not, they're still at the lower end of the Starfleet totem pole and the change in status give them more opportunity — and angst — to prove themselves.
Episode one of season four gives Boimler and Mariner enough challenges on that front as the U.S.S. Cerritos crew is called to assist with bringing the U.S.S. Voyager — yes, the one and only — back to headquarters where it will become a museum destination. What transpires on board the Voyager as it heads to its new home is hilarious, clever, and some of the best scenes this show has delivered. It includes holograms, Voyager lore, and a chance for our dear ensigns to think outside the box.
Related: Exclusive | Star Trek: Lower Decks Animator/Director Barry Kelly Teases Big Surprises Ahead in Season Four
But there's another compelling component introduced in the first episode, and it stretches throughout the season. An ominous alien spaceship is obliterating other ships in the galaxy and without much warning. The U.S.S. Cerritos isn't called upon to handle that, but when the news does hit the crew, it suggests that at some point there may be a confrontation. This seemingly offbeat Easter Egg suddenly grows into one of this show's most intriguing plot twists, setting up a story arc that will span over several seasons.
Paving the Way for Star Trek's Future
Showrunner Mike McMahan and supervising director Barry Kelly, themselves true Trekkies, pay homage to all things Star Trek throughout the season, which should delight fans. Expect references to Star Trek: The Next Generation, Deep Space Nine, and Voyager sprinkled throughout the season. There's even a flashback episode that is downright hilarious.
Other episodic standouts include episode two ("I Have No Bones Yet I Must Flee"), which yet again entices as it establishes some push-pull between two of the show's main characters. Look for ensign Rutherford (Eugene Cordero) to shine in a few episodes. This is a great character, and it's great to see that the showrunners are giving its core cast some great opportunities. Boimler and Mariner may stand out as the series' go-to and major fan favorites, and that's good. But what stands out in season four is how well the show balances out the other characters' journeys.
Look for the season's latter episodes to pack a punch. Director Barry Kelly teased that episode six stands out and indeed it does. Enjoy that one. And those recurring callouts to Star Trek lore don't detract from allowing this series to venture forth creatively and originally on its own. It's especially nice to see Captain Carol Freeman (Dawnn Lewis) get plenty of animated screen time here. And Gillian Vigman's Dr. T'Ana, always a hoot, wins high marks this season.
Writing wise, the series has never felt more on the mark. It knows itself, but it also knows how to keep moving forward creatively while also enticing fans every step of the way. One of the most appreciated elements featured this season leaps off a season two idea to showcase other "lower decks" characters on other starships. Fun all around, but is it just a season four component or perhaps a hint that other Lower Decks animated series are part of Star Trek's future? Klingon: Lower Decks, anyone? Now, that's a creative place to go where no Trek has gone before. Any way you spin it, season four is a triumph, a joyride from beginning to end.
Season four of Star Trek: Lower Decks premieres Sept. 7 on Paramount+.
https://movieweb.com/star-trek-lower-decks-season-4-review/ Star Trek: Lower Decks Season 4 Review