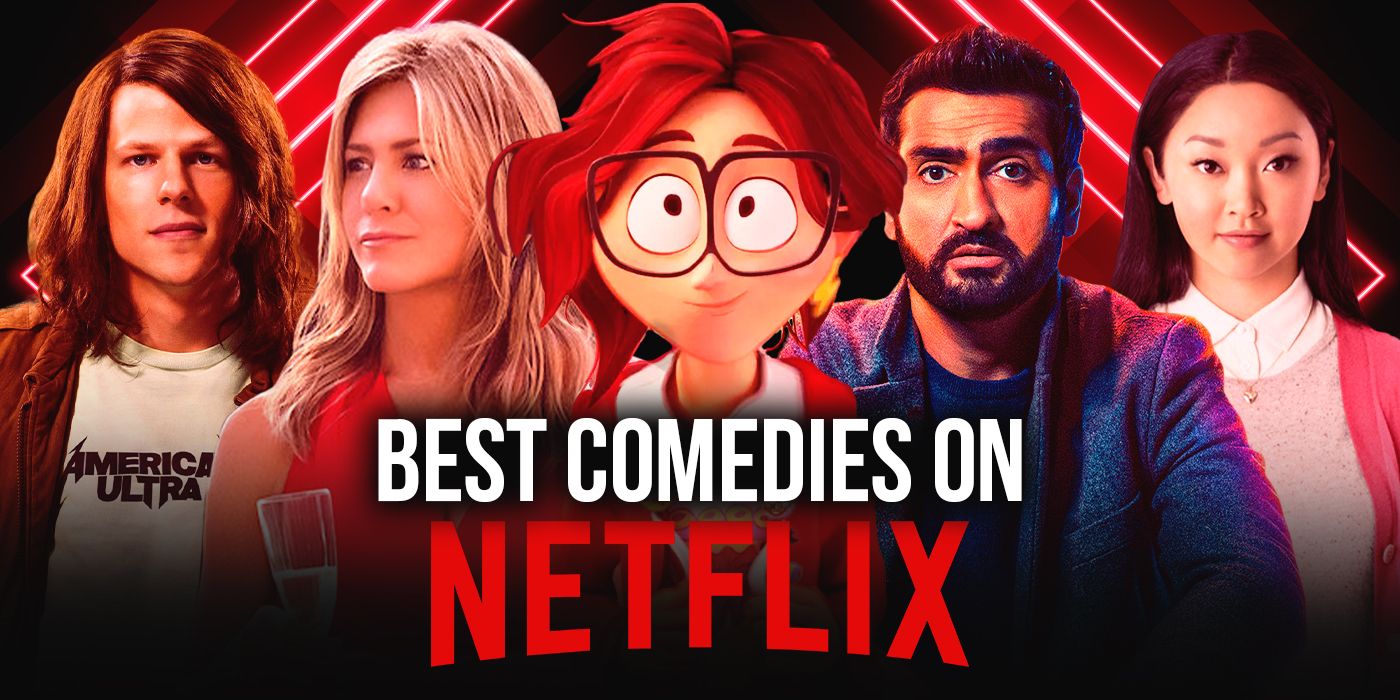 So you're browsing through Netflix, looking for something to watch, but you're in the mood for something light. Netflix's massive library can be intimidating, especially when you're looking for a good comedy amidst a sea of subpar entries in the genre. Not to fear, though, because we here at Collider have you covered. Below, we've curated a list of the very best comedies on Netflix right now. We've got everything from silly buddy comedies, big splashy commercial comedies, more esoteric indies, and even a couple of films that toe the line between comedy and drama. Surely you'll find something to your liking, so scroll through our list of the best comedies on Netflix below and find that perfect pick.
Editor's note: This article was last updated on September 23rd to include This Is the End.
RELATED: The Best Comedies on Amazon Prime Right Now
The Nice Guys (2016)
Director: Shane Black
Writers: Shane Black and Anthony Bagarozzi
Cast: Russell Crowe, Ryan Gosling, Angourie Rice, Matt Bomer, Margaret Qualley, Keith David, and Kim Basinger
Between Kiss Kiss, Bang Bang and The Nice Guys, writer/director Shane Black has proven himself to be the king of crackling neo-noir. In The Nice Guys, you have private eye Holland March (Ryan Gosling) and fixer Jackson Healy (Russell Crowe) teaming up to investigate the disappearance of a young woman (Margaret Qualley), but it's all about how Black plays with genre conventions and film tropes to constantly upend expectations. Gosling has never been
funnier, and in an alternate, better universe, The Nice Guys would have been a massive hit and we'd have an amazing comic franchise. As it stands, we only have this movie, so at least we can treasure this outing of March and Healy. – Matt Goldberg
Clueless (1995)
Director/Writer: Amy Heckerling
Cast: Alicia Silverstone, Brittany Murphy, Paul Rudd, Donald Faison, Breckin Meyer, Stacey Dash, and Dan Hedaya
It's a testament to the strength of Clueless' story and characters that it is as funny, compelling, and relevant today as it was in 1995, especially given how steeped in 90s culture it is. Filmmaker Amy Heckerling's film is a riff on the Jane Austen novel Emma but with a modern teen sensibility, as Alicia Silverstone plays a beautiful and privileged girl named Cher who decides to give new student Tai (Brittany Murphy) a makeover. The film speaks directly to teens in an almost supernatural way, and the cast is absolutely perfect. Trust me, this one holds up. — Adam Chitwood
This Is the End
Directors/Writers: Seth Rogen & Evan Goldberg
Cast: Seth Rogen, James Franco, Jonah Hill, Jay Baruchel, Danny McBride, Michael Cera, and Emma Watson
This Is the End might be the pinnacle of meta-comedy, an apocalyptic tale that unites some of the biggest comedy stars of the early 2010s into a house during the end of the world as egos flare up and friendships are tested. This Is the End's cast has no problem poking fun at themselves, as Danny McBride becomes an even more exaggerated version of Kenny Powers, James Franco is a real weirdo, and Jonah Hill is still high off his Oscar nomination. This Is the End is packed with some of the most insane cameos ever put on film, and a ridiculous concept that Seth Rogen and Evan Goldberg bring to life perfectly. The apocalypse has never been so wild or hilarious. — Ross Bonaime
Watch This Is the End on Netflix
The Other Guys (2010)
Director: Adam McKay
Writers: Adam McKay and Chris Henchy
Cast: Will Ferrell, Mark Wahlberg, Eva Mendes, Michael Keaton, Steve Coogan, Ray Stevenson, Samuel L. Jackson, and Dwayne Johnson
BeforeAdam McKay was focusing primarily on issues like global warming and bad mortgages with films like Don't Look Up and The Big Short, McKay infused these larger issues within his broader comedies, likeThe Other Guys. Even if you don't want to learn about Ponzi schemes, The Other Guys is a hilarious buddy cop film focused on the unlikely duo of Will Ferrell and Mark Wahlberg. Ferrell is far more low-key than he is usually in McKay comedies, while Wahlberg goes all-in with one of his most over-the-top comedic roles. But The Other Guys is also a fantastic take on the buddy cop film, especially with an incredible opening featuring Samuel L. Jackson and Dwayne Johnson as the typical buddy cop pairing. The Other Guys is a great reminder not only of how much fun Ferrell and Wahlberg can have against each other, but also an excellent example of how McKay used to blend wilder comedies with more important topics. — Ross Bonaime
Ferris Bueller's Day Off
Director/Writer: John Hughes
Cast: Matthew Broderick, Mia Sara, Alan Ruck
The Breakfast Club, Sixteen Candles, Pretty in Pink? All quintessential films, particularly of the "1980s youth experience." But for my money, Ferris Bueller's Day Off isJohn Hughes' masterpiece. It's an expert blending of tones and themes explored, diving seamlessly into existential traumas, issues with failure, and the big question of what life really means — all zipped along at a comedy set-piece happy pace. Hughes makes this plate-spinning feel as effortless as the charm of the title character (Matthew Broderick), who decides to take a day off from school and run around Chicago with his girlfriend Mia Sara and best friend Alan Ruck. Broderick and Sara give wonderful performances (with the former turning the character instantly iconic), but Ruck's arc as Cameron strikes me as the most engaging and relatable. He's a young man stuck in his depression, struck with his absurd sense of duty, and sick of being tethered — not just by his horrible father, but even by Ferris. When he rebels, in one of my favorite acts of on-screen catharsis, you'll feel it in your heart and your bones. — Gregory Lawrence
Men in Black (1997)
Director: Barry Sonnenfeld
Writer: Ed Solomon
Cast: Tommy Lee Jones, Will Smith, Linda Fiorentino, Vincent D'Onofrio
There aren't many better 90s summer movies than Men in Black, and most of them have Will Smith in them. Men in Black paired Smith up with Tommy Lee Jones, the grumpiest movie star in history, to fight aliens as part of a secret police force on Earth. Vincent D'Onofrio delivers one of the most memorable performances of his career as a giant evil space cockroach wearing a human skin as a disguise. Smith and Jones are an unlikely duo, but they play excellently off of each other, resulting in a near-constant barrage of genuinely funny moments. Men in Black spawned several sequels, but the first one is the most charming, and it never stops being fun. Plus, Smith raps over the end credits, which is a thing he should start doing again. — Tom Reimann
Cloudy With a Chance of Meatballs (2009)
Directors: Phil Lord and Christopher Miller
Writers: Phil Lord, Christopher Miller, and Rob Greenberg
Cast: Bill Hader, Anna Faris, James Caan, Andy Samberg, Bruce Campbell, Mr. T, and Neil Patrick Harris
Before working on such huge animated hits as The LEGO Movie and Spider-Man: Into the Spider-Verse, Lord and Miller directed and co-wrote this incredibly charming tale of inventor Flint Lockwood (Bill Hader), whose latest invention causes food to fall from the skies. Of course, it starts well enough, but when giant food starts raining down, Flint's invention threatens to ruin the world. Cloudy With a Chance of Meatballs has all the heart and odd humor that one comes to expect from later Lord/Miller films, and a hilarious voice cast that makes this great for all ages. A lovely and strange comedy that certainly deserves more attention, Cloudy With a Chance of Meatballs is a delight for everyone. — Ross Bonaime
Last Action Hero (1993)
Director: John McTiernan
Writer: Shane Black, David Arnott
Cast: Arnold Schwarzenegger, Austin O'Brien, Charles Dance, Robert Prosky
Arnold Schwarzenegger spoofing the excess and explosions of an Arnold Schwarzenegger action movie inside a story that also functions as a pretty incredible Arnold Schwarzenegger action movie? There is simply too much to love about Last Action Hero, director John McTernan's send-up and love letter to the over-the-top shoot-em-ups of the 1990s. When a magic ticket sends young cinephile Danny Madigan (Austin O'Brien) through the silver screen, he teams up with his favorite action icon, Jack Slater (Schwarzenegger) to stop the villainous Benedict (Charles Dance) from entering the real world. This movie is an indulgent, wild good time of a romp that includes everything from Robert Patrick cameo-ing as his T2 Terminator to Schwarzenegger playing himself to a brief appearance by Danny DeVito as the voice of a feline police detective named Whiskers. Hell yeah. —Vinnie Mancuso
The Mitchells vs. the Machines (2021)
Director: Mike Rianda
Writers: Mike Rianda and Jeff Rowe
Cast: Abbi Jacobson, Danny McBride, Maya Rudolph, Mike Rianda, Olivia Colman, Fred Armisen, and Beck Bennett
You've seen a zillion animated family comedy movies, but The Mitchells vs. the Machines is undoubtedly one of the best. Produced by Phil Lord and Chris Miller and originally made by Sony Pictures Animation – the studio behind Spider-Man: Into the Spider-Verse – the film finds a father and daughter struggling to connect, and follows the family as the father decides they should take a road trip to send her off to college where she's studying to be a filmmaker.Along the way, the robot apocalypse occurs, forcing them to work together to make it through. At every turn The Mitchells vs. the Machines is surprising. It puts in the work so that the emotional scenes hit hard, but it's also wildly colorful and beautifully artistic as Mike Rianda pushes the boundaries of visual expression. On top of all that, the film is hilarious, bringing to mind the colorful comedy of Lord and Miller's other films – most notably Cloudy with a Chance of Meatballs. This movie will have you cackling and crying in equal measure, and it's one of the best films of 2021 full stop. – Adam Chitwood
Paddington (2014)
Director/Writer: Paul King
Cast: Ben Whishaw, Hugh Bonneville, Sally Hawkins, Julie Waters, Nicole Kidman, Jim Broadbent, and Peter Capaldi
While Paddington 2 often gets all the attention, 2014's Paddington is a lovely introduction to the maramalade-loving bear. Voiced by Ben Whishaw, Paddington leaves his home of Darkest Peru and comes to London to find a new family. Once he is taken in by the Brown family, Paddington causes a bit of havoc, but despite this, the family eventually welcomes him in with open arms. Paddington as a franchise is warm and kind, a charming series that is as packed with heart as humanly possible. After watching Paddington, it's simply impossible not to fall in love with this silly bear. — Ross Bonaime
Murder Mystery (2019)
Director: Kyle Newacheck
Writer: James Vanderbilt
Cast: Adam Sandler, Jennifer Aniston, Luke Evans
You could generously call Adam Sandler's history with Netflix original films, uh, spotty, but there is one genuinely uber-charming gem on the list in the form of Murder Mystery. Re-teaming the Sandman with Jennifer Aniston after Just Go With It (also pretty good!) the film follows married NYPD officer Nick (Sandler) and hairdresser (Audrey) as they become increasingly entangled in a—you guessed it—murder mystery aboard the yacht of a billionaire they just met. Murder Mystery, like most Netflix comedies, is pretty much designed to be watched in the background with a boisterous bunch of friends, but the sheer professional movie star power of its two leads really does elevate it to that next level.
The Lovebirds (2021)
Director: Michael Showalter
Writer: Aaron Abrams, Brendan Gall
Cast: Kumail Nanjiani, Issa Rae, Paul Sparks, Anna Camp
Man, this movie is just so freaking charming. The Lovebirds stars Kumail Nanjiani and Issa Rae as a couple on brink of breaking up after four years together who suddenly find themselves on the run after witnessing a murder. Director David Showalter eventually settles things into a pretty standard set of action-comedy and rom-com beats, but Nanjiani and Rae are so endlessly entertaining as the film's two leads, you'll pretty much follow them anywhere. One of Netflix's more unfortunately under-the-radar originals, The Lovebirds is absolutely worth hooking up with again.
Between Two Ferns: The Movie (2019)
Director/Writer: Scott Aukerman
Cast: Zach Galifianakis, Lauren Lapkus, Ryan Gaul, and Jiavani Linayao
Turning a beloved online webseries into a film is almost never a good idea, but with Zach Galifianakis and Scott Aukerman teaming up once more for Between Two Ferns: The Movie, the series expands into a hilarious road trip comedy packed with great cameos. Matthew McConaughey drowns, Galifianakis has an affair with Chrissy Teigen, and David Letterman makes one of his rare film appearances. Between Two Ferns works so well because it expands beyond the original conceit, while still delivering on the incredible interviews and weird humor that we've grown to love from the series. – Ross Bonaime
She's Gotta Have It (1986)
Director/Writer: Spike Lee
Cast: Tracy Camilla Johns, Redmond Hicks, John Canada Terrell, Raye Dowell, and Spike Lee
Right away with his debut film, Spike Lee places himself amongst the other iconic New York City directors, like Martin Scorsese and Woody Allen, borrowing from both to make his own presence known as one of the greats, a deserving addition to NYC's Mount Rushmore of directors. His greatness can already be seen with She's Gotta Have It, as Lee tells a complicated story of the love and independence of Nola Darling (Tracy Camilla Johns), a woman who doesn't want to be tied down to any one man, instead seeking her own pleasure. She's Gotta Have It shows Lee's charisma as an actor and director, as Lee's character Mars is hilarious on screen, and behind the camera, Lee shows flair even with a small budget, including a surprising homage to The Wizard of Oz. Right from the beginning, Lee presents in She's Gotta Have It a strong lead character, proud of who she is, and uncompromising in her desires. Already, Lee makes himself a filmmaker unlike any other. — Ross Bonaime
Austin Powers: International Man of Mystery (1997)
Director: Jay Roach
Writer: Mike Myers
Cast: Mike Myers, Elizabeth Hurley, Robert Wagner, Seth Green, Mindy Sterling
Mike Myers had already successfully transitioned from Saturday Night Livecast member to movie star with films like Wayne's World and So I Married an Axe Murderer, but 1997's Austin Powers: International Man of Mystery remains his masterpiece. It's a brilliantly fun meta-spoof of the spy genre that also became a cornerstone of 90s comedy, popularizing several styles of jokes that became staples of the genre for the next several years. Surprisingly, Austin Powers was not a huge box office success, but found a massive audience on home video that translated into over $300 million in ticket sales for the sequel, Austin Powers: The Spy Who Shagged Me. Both The Spy Who Shagged Me and Austin Powers in Goldmember are also available on Netflix, but the sequels spiraled too far into self-referential callbacks, dated references, and A-list cameos for my taste. The first one is hands-down the best. — Tom Reimann
I Care a Lot (2020)
Director/Writer: J Blakeson
Cast: Rosamund Pike, Peter Dinklage, Eiza González, Chris Messina, and Dianne Weist
If you like your comedy dark – and I mean pitch black – you'll probably love I Care a Lot. The Netflix original stars Rosamund Pike as a savvy, unrelenting, and unapologetic con artist who makes a living by winning guardianship over elders and using their money as her own piggy bank. But when her next target turns out to be the mother of a ruthless criminal (played by Peter Dinklage), she finds she may finally be in over her head. While this film could have gone wrong a number of ways, writer/director J Blakeson plays it perfectly, and the point of this satirical comedy comes into clear focus in the final minutes of the film. Pike is pitch perfect in the lead role, making a despicable character tremendously watchable. – Adam Chitwood
Bad Trip (2021)
Director: Kitao Sakurai
Writers: Dan Curry, Eric Andre, and Kitao Sakurai
Cast: Eric Andre, Lil Rel Howery, and Tiffany Haddish
Bad Trip is outrageously juvenile and will make you laugh incredibly hard. The film is a cross between Jackass and a traditional road trip comedy, as Eric Andre and Lil Rel Howery play a pair of friends who drive from Florida to New York so that Andre's character can track down the girl of his dreams. Hot on their tale is Howery's characters sister, fresh out of a prison break and played by Tiffany Haddish. But every scene in the film is shot as a prank, with unwitting strangers serving as the background and supporting characters throughout the movie. It's silly and embarrassing, but also singles out how ridiculous some of the tropes in traditional romcoms are – like when Andre breaks out into song in the middle of a mall, surrounded by strangers with "WTF?" looks on their faces. And be warned, this is insanely R-rated. – Adam Chitwood
Hunt for the Wilderpeople (2016)
Director/Writer: Taika Waititi
Cast: Sam Neill, Julian Dennison, Rhys Darby, Rima Te Wiata, and Rachel House
If you're in the mood for a whimsical comedy from Thor: Ragnarok writer/director Taika Waititi, you absolutely have to see Hunt for the Wilderpeople. Released in 2016, this New Zealand adventure movie follows a grumpy Sam Neill as he's forced to team up with a foul-mouthed child when the two are the target of a manhunt throughout the New Zealand bush. It's based on an existing book, but in tone and execution Hunt for the Wilderpeople oftentimes feels like an adaptation of a Roald Dahl book we never knew about. It's delightful and whimsical and a little terrifying, with Waititi's playful anarchy filling the whole thing out for good measure. This movie is guaranteed to put you in a good mood.
Eurovision Song Contest: The Story of Fire Saga (2020)
Director: David Dobkin
Writers: Will Ferrell and Andrew Steele
Cast: Will Ferrell, Rachel McAdams, Pierce Brosnan, Dan Stevens, and Demi Lovato
If you think Eurovision Song Contest: The Story of Fire Saga is just another "dumb Will Ferrell comedy," think again. One of 2020's most pleasant surprises, this musical comedy is surprisingly sweet and genuinely emotional – don't be surprised if you find yourself welling up with tears by the end. The story follows a pair of lifelong friends and musicians from Iceland who are unexpectedly thrust into the Eurovision Song Contest, which tests their talents and their relationship to one another. Ferrell is hilarious as always, but it's Rachel McAdams who steals the show here and proves yet again she's one of the best comedic talents working right now. Oh and the songs? They're spectacular. – Adam Chitwood
The Babysitter
Director: McG
Writer: Brian Duffield
Cast: Judah Lewis, Samara Weaving, Robbie Amell, Bella Thorne, Hana Mae Lee, Andrew Bachelor
If you want a bit of blood, guts, and gore mixed in with your laughs, look no further than The Babysitter, director McG's black comedy-horror from writer Brian Duffield (Spontaneous). Pre-teen misfit Cole (Judah Lewis) is looking forward to a night with his babysitter, Bee (Samara Weaving), but things take a turn for the demonic when Cole accidentally discovers that Bee and the crew of high schoolers she's invited over—Max (Robbie Amell), Allison (Bella Thorne), Sonya (Hana Mae Lee), and John (Andrew Bachelor)—are, in fact, a devil-worshipping cult hellbent on human sacrifice. This movie is absolute mayhem in its purest form, but there's actually a really sweet beating heart at its center, even if you have to cut through a few layers of skin to see it. — Vinnie Mancuso
https://collider.com/best-comedies-on-netflix-right-now/ The Best Comedies on Netflix Right Now