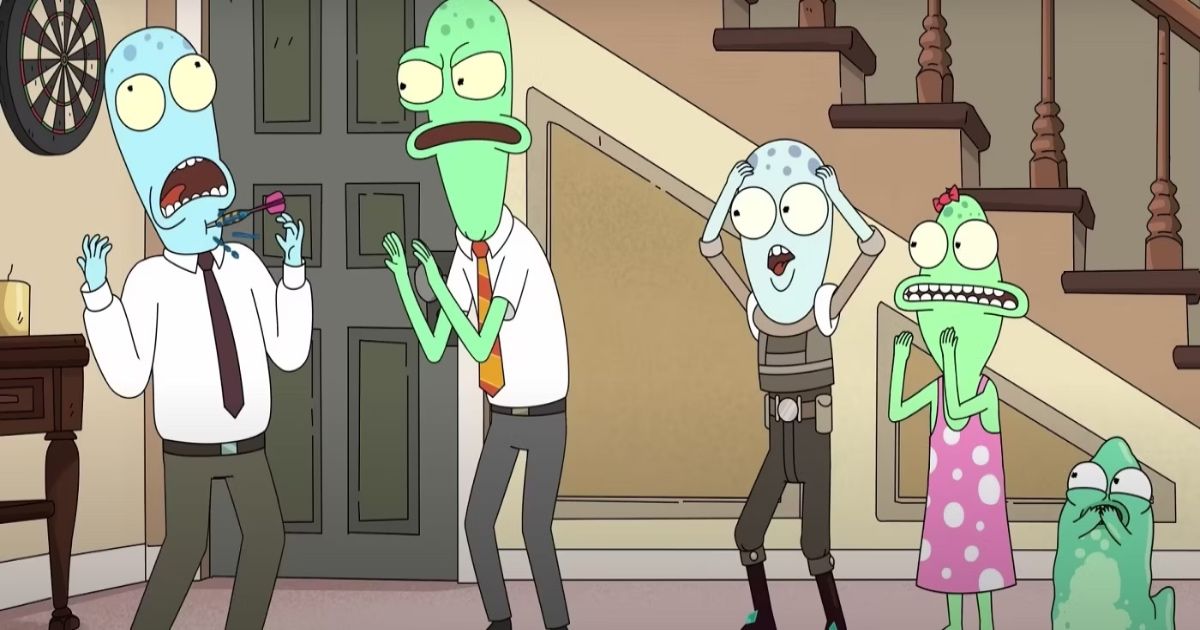 Fear not. Solar Opposites still shines bright. There's been buzz that Hulu's popular hit animated comedy would wobble when it returned for season four in the wake of the ousting of co-creator Justin Roiland, who also voiced lead character Korvo. Dan Stevens (Downton Abbey, Legion) has stepped into the role instead, and by the looks of it, he's a natural fit. Better still, the series cleverly handled the transition from Roiland's voice and the distinctly different take Stevens brings to Korvo now.
Early on, we find Terry (Thomas Middleditch) super jazzed that he managed to get the original dartboard from the TV show Cheers. The very first dart he tosses hits Korvo in the throat. Mayhem ensues. A blast from a voice-fixing ray later, and Korvo sounds wonderfully British. After a few gags, the show ventures forth as if nothing really happened.
That's just one of the many winning elements in the season ahead. In fact, Solar Opposites remains one of the most inventive, hilarious animated comedies around.
Season Four Highlights
It's a joy to return to this series, and with news that season five is already being considered, we can expect more comedic antics in Solar Opposites in the coming year. Justin Roiland and Solar Opposites mastermind Mike McMahan created the show, which found an immediate fan base, capturing viewer interest. Solid writing and superior execution of each season has kept this show afloat.
But it's the premise that won us over: After an asteroid destroys their planet, four aliens attempt to create a new life on Earth. But Korvo and his replicant, Yumyulack (Sean Giambrone), see all the bad, while Terry and Jesse (Mary Mack) dig pop culture, TV, and junk food.
Related: Exclusive: Solar Opposites Cast and Crew Discuss Season 3
Season four picks up where season three bowed, with Korvo and Terry working an office job and living a depressing domestic life to satisfy their 'child' of sorts, the Pupa. Jesse slides into the snarky girls set at school, while Yumyulack slacks off in the teachers' lounge. Fans of the show's unique subplot, The Wall, will be more than overjoyed that the series gives it considerable attention this season. In fact, at times, you find yourself wishing for an entirely new series about the diverse humans Yumyulack shrank and placed within the wall of his and Jesse's room.
A holy war is afoot in The Wall, with Cherie (Christina Hendricks) challenging Sister Susto (Sutton Foster), the nun who morphed into a cult leader. Sister Susto thinks Jesse is the almighty, but look for Cherie to emerge as an interesting foil. Best to experience all this on your own, but overall, The Wall has become this show's treasure trove, and what unfolds this time around is a hoot. This is the best grim "otherworld" to hit the screen in some time.
A Rare Comedy That Grabs You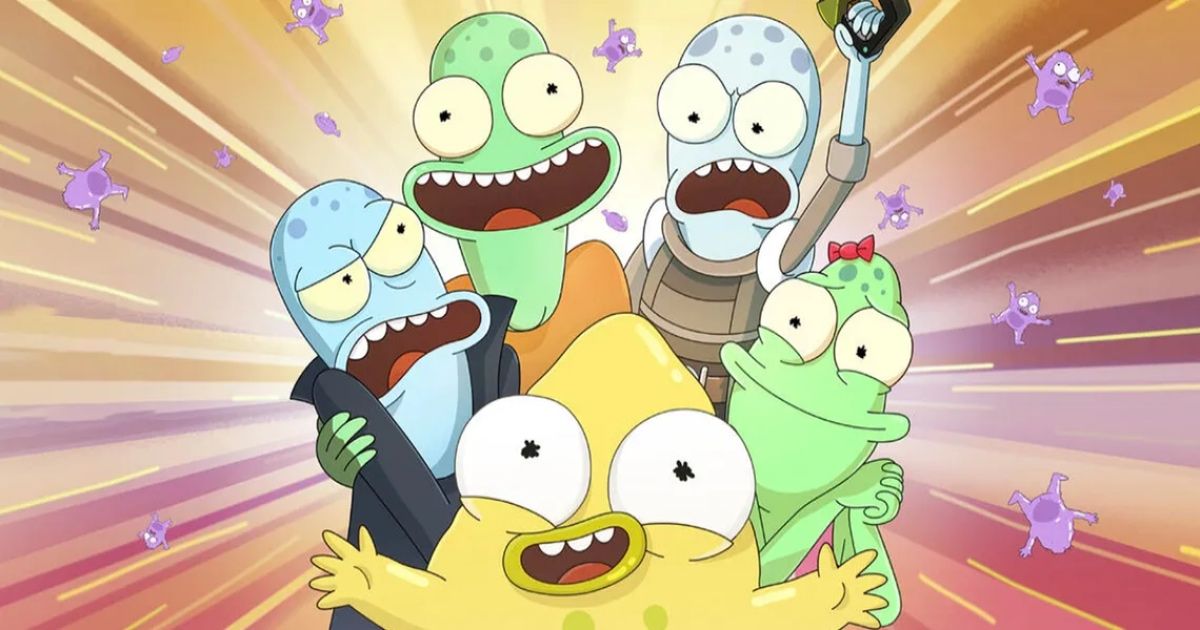 Absurd dark comedy abounds in season four between all the antics this motley crew experiences. If you had any doubts that this is one of the best animated comedies on Hulu's animated slate, they'll quickly disappear.
Related: Exclusive: Solar Opposites Season 4 Unpacked By Supervising Producer Sydney Ryan
In a nice move, the character of Jesse is given a great story arc this season. Look for her character to expand and grow throughout these episodes as she finds some newfound independence. In the meantime, remember AISHA? The sassy A.I. from the aliens' ship (voiced by Tiffany Haddish) dominates one of the episodes this season and the show is all the better for it, nicely giving this unique story some extra nuance.
Elsewhere, the show seems to have moved on beyond the aliens' initial mission to Earth, opting to run into new creative territory. There's less of a sci-fi tinge here even though these characters are from another world — these folks chose to stick with Earth last season and experience a more human lifestyle, after all. It all fuels greater possibilities for these characters as the show moves forward.
Now that the Dan Stevens/Korvo switch has smoothly transpired, Solar Opposites has endless possibilities to explore, and it would be great to see a bevy of new plot points too, beyond the great narratives this season tends to revisit in creative ways. To that end, Solar Opposites seems nicely revived and somewhat reinvented in season four and filled with great surprises. That's a great thing, because it's just plain fun to hang out with these characters.
All 11 episodes of the fourth season of Solar Opposites are now available to stream on Hulu. A Valentine's Day special is set for next year.
https://movieweb.com/solar-opposites-season-4-review/ Solar Opposites Season 4 Review