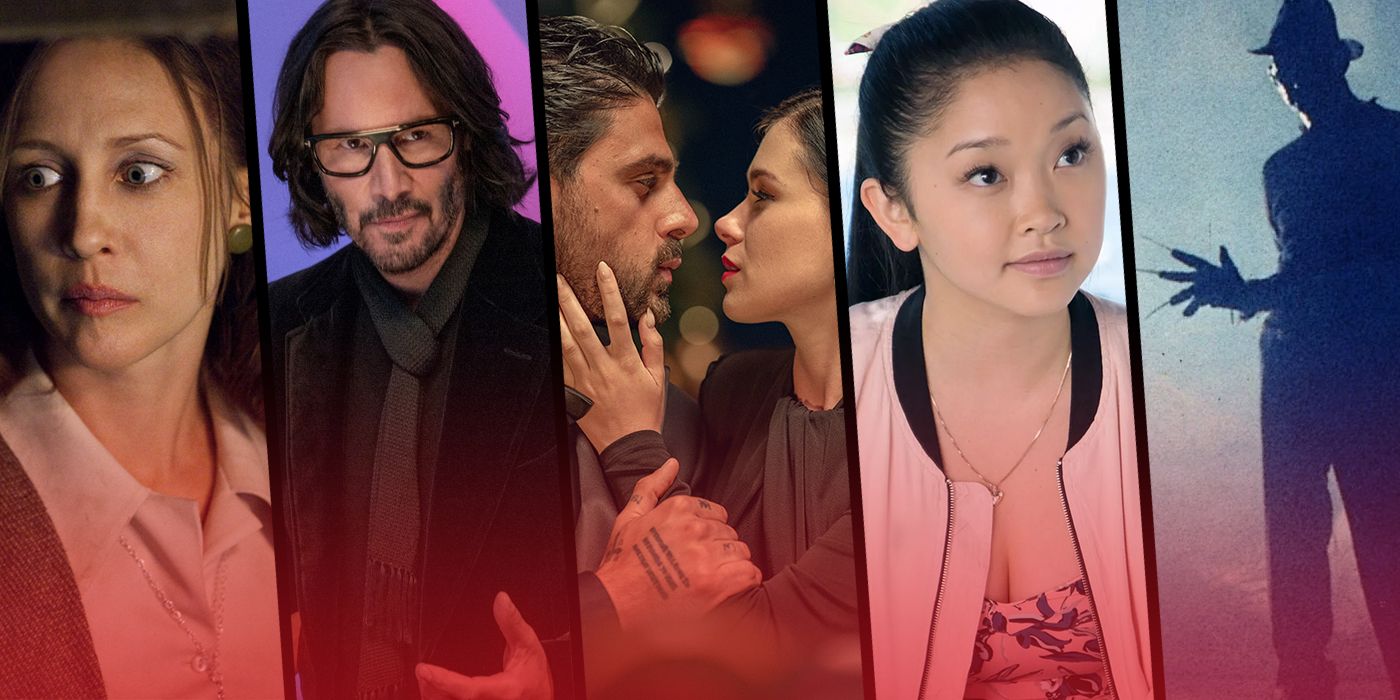 Look, we know you want to Netflix and Chill. Who doesn't? But until Netflix creates a real "Netflix and Chill" category, you might find yourself struggling to come up with new movie suggestions to keep things fresh. Sure, you might have your tried and true, go-to make-out movies, but if you're tired of watching Titanic or Pretty Woman for the 100th time, you need to change it up. That's where we come in.
We put together an eclectic and unique list of movies available on the streaming giant for your next Netflix and Chill session, so you're welcome. From movies you cuddle to, to date night flicks, to make-out movies, we've got you covered. And no, it's not just romance, sometimes a little scare can help bring people together, so we tossed in some horror too. So allow us to do the homework while Netflix provides the entertainment; now all you have to do is chill.
Editor's note: This article was updated September 2022 to include The Age of Adaline and The Lucky One.
RELATED: The Best Romantic Movies on Netflix Right Now
Holidate (2020)
John Whitesell | 1 hr 44 min
Cast: Emma Roberts, Luke Bracey, Andrew Bachelor, Jessica Capshaw
Holidays come with a lot of pressure. Especially when you're the one who's unmarried. Enter Sloane (Emma Roberts) who has a chance run in with Jackson (Luke Bracey) right before New Years' Eve. They two strike up a deal to be each other's Holidate if only to get their families off their backs. Since it goes well, they continue the deal for Valentine's Day, St. Patrick's Day, Easter, Fourth of July, Halloween, and Thanksgiving. As more and more time passes they get intertwined in each other's lives. And sometimes when you start spending all your holidays together, whether you want to admit it or not, it may not be just a platonic deal between friends anymore. Hopefully, they can figure it all out before Christmas. It may get looped in with Christmas movies, but since it revolves around the entire calendar year of holidays, this fun film can be watched any time you need a few laughs. — Jennifer McHugh
The Age of Adaline (2015)
Lee Toland Krieger | 1 hr 52 min
Cast: Blake Lively, Michiel Huisman, Kathy Baker
Writers: J. Mills Goodloe, Salvador Paskowitz
Cast: Blake Lively, Michiel Huisman, Harrison Ford, Ellen Burstyn, Kathy Baker, Amanda Crew
The Age of Adaline presents us with an intriguing fantasy romance with a bit of mystery. You may be surprised to find out that the story is not based on a book. It has that feel to it, but it is an original story that Goodloe and Paskowitz came up with independently. It features Adaline Bowman, played by Blake Lively, who stops aging due to a car accident. She lives the next eight decades as a 29-year-old. She keeps to herself to avoid suspicion, but then she meets Ellis Jones, played by Michiel Huisman, who makes her feel again. Lively, Huisman, and Harrison Ford are captivating to watch as you try to figure out what's going on. You are taken along on a fantastical journey of love, loss, and love bringing you back again.
The Lucky One (2012)
Scott Hicks | 1 hr 40 min
Cast: Zac Efron, Taylor Schilling, Jay R. Ferguson, Blythe Danner
Based on aNicholas Sparks novel,The Lucky Onetells the story of Logan Thibault (Zac Efron) who becomes the lucky one to survive a horrible mission gone wrong in Iraq. Upon his survival, Logan finds a photo of Beth Green(Taylor Schilling) one of his now-lost men has left behind. Returned from war, Logan goes looking for Beth and finds more than he anticipated. If you're one for an army romance, this is the love affair for you. Layered with darker moments concerning Logan's struggle with PTSD, this drama turns a good luck charm into true love. – Rebecca Landman
Love & Gelato (2022)
Brandon Camp | 1 hr 50 min
Cast: Susanna Skaggs, Tobia De Angelis, Owen McDonnell
Based on the best-selling novel, Love and Gelato is the cute romantic comedy many young women dream of. With a similar tone to Emily in Paris and set in Italy, Love and Gelato tells the tale of Lina (Susanna Skaggs) on her summer adventure in Rome before she returns to her first year at college. Unsurprisingly, Love and Gelato is from the studio responsible for To All The Boys I Loved Before, leaning hard into those classic enchanting tropes and even featuring an adorably lovable best friend, played to perfection by Anjelika Washington (Stargirl). Obviously, Love and Gelato has gorgeous scenery, showcasing the glorious Italian landscape and allowing audiences to fall in love with the country as well as the romance unfolding on screen. – Yael Tygiel
The Incredible Jessica James (2017)
Jim Strouse | 1 hr 25 min
Cast: Jessica Williams, Chris O'Dowd, LaKeith Stanfield
An unfiltered and raw comedic look at modern dating in New York and starring the prodigiously brilliant Jessica Williams (Booksmart), The Incredible Jessica James follows a young woman as she attempts to start over after a bad breakup and all the transitional turmoil that such a moment in life causes. In addition to the dazzling Williams are hilarious actors Chris O'Dowd (Bridesmaids) and LaKeith Stanfield (Sorry To Bother You), who complement Williams' wit and style, providing undeniable chemistry in every scene. At times, The Incredible Jessica James feels like a more relatable Sex And The City, with uncomfortable scenarios aimed directly at the souls of Williams' millennial-aged audience and fanbase. – Yael Tygiel
To All the Boys I've Loved Before (2018)
Susan Johnson | 1 hr 39 min
Cast: Lana Condor, Noah Centineo, Janel Parrish
Based on Jenny Han's best-selling YA novel of the same name, To All the Boys I've Loved Before follows Lara Jean Covey (Lana Condor) a hopeless romantic with a hopeless issue: she's in love with her sister Margot's (Janel Parrish) boyfriend, Josh (Israel Broussard). When the love letters she's written to all of her crushes over the years get sent out, Lara takes drastic measures to avoid Josh by cooking up a fake dating scheme with one of her early crushes, Peter Kavinsky (Noah Centineo). While their careful scheme may succeed in making Josh and Peter's ex Genevieve (Emilija Baranac) jealous, it also makes things very complicated for the fake couple. After all, a fake-dating rule like "no kissing" is just begging to be broken! – Mary Kate Carr
Always Be My Maybe (2019)
Nahnatchka Khan | 1 hr 41 min
Cast: Ali Wong, Randall Park, James Saito, Michelle Buteau
Written by and starring Ali Wong and Randall Park, Always Be My Maybe centers on two childhood best friends who grew up next to each other but fell out of touch after sleeping together as teenagers. Years later, they reunite by chance when Sasha (Wong) returns to San Francisco to open her new restaurant. Feelings begin to develop between the pair, although Sasha's new relationship with Keanu Reeves proves to be a major (hilarious) obstacle. Returning to her hometown brings up painful memories for Sasha that she'd rather run away from, while Marcus (Park) is forced to reckon with the fact that he's been stuck in a rut while his first love has spread her wings. Will the couple be able to meet each other in the middle? (Maybe!) — Mary Kate Carr
The Half of It (2020)
Alice Wu | 1 hr 44 min
Cast: Leah Lewis, Daniel Diemer, Alexxis Lemire, Collin Chou
It took a while for Alice Wu to follow up her directorial debut Saving Face, but The Half of It was worth the wait. A loose modern retailing of Cyrano de Bergerac, The Half of It follows teenager Ellie Chu (Leah Lewis), who begins writing love letters on behalf of the inarticulate Paul Munsky (Daniel Diemer) to his crush, Aster Flores (Alexxis Lemire). What made The Half of It so intriguing was that while it was a love story, it was a love story between friends. Sure, it has the love triangle and deals with sexuality, but the film is about the friendship between Ellie and Paul at its core. It's tender and sweet, maybe with some cliches, but it is so easy to forgive when there is so much heart inside of it all. — Arianne Binette
Newness (2017)
Drake Doremus | 1 hr 52 min
Cast: Nicholas Hoult, Laia Costa, Courtney Eaton, Jessica Henwick
Newness is a movie made for the Netflix and Chill era, as it takes a microscope to the world of online dating and casual hookups. Nicholas Hoult and Laia Costa play a pair of twentysomethings who meet in New York City on a dating app, and soon thereafter begin a somewhat open relationship. The ups and downs and all that entails care chronicled in intimate detail by Like Crazy filmmaker Drake Doremus, and while this is very much a 21st Century Love Story at heart, it's quite, uh, steamy getting there. – Adam Chitwood
Set It Up (2018)
Claire Scanlon | 1 hr 45 min
Cast: Zoey Deutch, Glen Powell, Lucy Liu, Taye Diggs
If you're looking for a charming romantic comedy, but don't want to rewatch something from a previous decade for the umpteenth time, you should definitely give Claire Scanlon's charming Set It Up a look. The plot follows two beleaguered assistants (Zoey Deutch and Glen Powell) who decided to set up their bosses (Lucy Liu and Taye Diggs, respectively) in order to just get some precious free time away from their demanding jobs. However, with all their scheming, they start to fall for each other. You can see the romcom beats coming from a mile away, but they're done so well and so effectively that you won't mind. Plus, the film sizzles thanks to the outstanding performances from the dazzling Deutch and Powell, who should be the streaming generation's Meg Ryan and Tom Hanks. – Matt Goldberg
Something's Gotta Give (2003)
Nancy Meyers | 2 hr 8 min
Cast: Diane Keaton, Jack Nicholason, Keanu Reeves, Frances McDormand
Nancy Meyers makes very nice movies, and the romantic comedy Something's Gotta Give certainly fits that bill. The 2003 film stars Diane Keaton as a successful playwright who is forced to look after her daughter's much-older boyfriend (Jack Nicholson) after a heart attack, and against all odds these two complete opposites begin to attract. The film has the wit and humor of Meyers' other films, but also a strong emotional center as the story of a successful 50-something single woman. Keaton and Nicholson are both pretty terrific here, and as with all of Meyers' films, the house at the center of it is to die for. This is a great pick for a feel-good movie. – Adam Chitwood
Rush (2013)
Ron Howard | 2 hr 3 min
Cast: Chris Hemsworth, Daniel Brühl, Olivia Wilde, Alexandra Maria Lara
Whether it's the start of the Formula 1 season or at the very end, it's always a good time to settle into a little Netflix and Chill with Ron Howard's F1 one film Rush. Based on the infamous rivalry between British driver James Hunt (Chris Hemsworth) and the Austrian driver Niki Lauda (Daniel Brühl), the film spans from around 1970 to Hunt's retirement in 1979, with Brühl narrating the final moments as Lauda to describe what became of Hunt. For the non-Formula 1 enthusiasts, Rush may seem like a surprising pick for an evening at home, but the film delves into the complicated lives of the Hunt and Lauda, exploring their relationship with racing and the women in their lives, and it is a surprisingly inspiring film. While Hemsworth gives a spectacular performance as the brash James Hunt, it's Brühl that makes this movie what it is. Lauda goes through some pretty horrific and life-changing events throughout the course of Rush and the performance attached to those incidents should have been award-winning. – Maggie Lovitt
Someone Great (2019)
Jennifer Kaytin Robinson | 1 hr 32 min
Cast: Gina Rodriguez, Brittany Snow, DeWanda Wise, Lakeith Stanfield
In Someone Great, Jenny (Gina Rodriguez) and her boyfriend Nate (Lakeith Stanfield) break up after she gets her dream job in San Francisco. Heartbroken and spiraling, she decides to have one last New York City adventure with her besties Erin (DeWanda Wise) and Blair (Brittany Snow). But the city is full of memories for Jenny and potential minefields for Erin and Blair's own relationships. The trio manage to have one last wild and crazy adventure as they hunt down tickets for an exclusive pop-up concert. But with huge changes looming on the horizon for Jenny, can she gain closure in her relationship with Nate before moving on to her next chapter? — Mary Kate Carr
The Royal Treatment (2022)
Rick Jacobsen | 1 hr 37 min
Cast: Mena Massoud, Laura Marano
The Royal Treatment is proof that lighthearted, Cinderella-esque fairy tale rom-coms set in far off, made up European countries need not be limited to just the holiday season. The story follows no-nonsense New York City hairdresser Izzy (Laura Marano) who has a chance encounter with the sweet, if sometimes naive Prince Thomas (Mena Massoud). Despite initial friction, the two hit it off and Izzy is invited to Thomas's homeland of Lavania to be the primary hairdresser for his upcoming wedding to American heiress Lauren (Phoenix Connelly). Though The Royal Treatment might otherwise be dismissed as another formulaic romantic comedy chasing the success of something like The Princess Switch, it is particularly well-served by subverting a few of the more tiresome genre tropes, and by how delightful the cast is. Massoud in particular is a very welcome presence anytime he is onscreen, and genuinely embodies the "charming" aspect of Prince Charming. — Arezou Amin
https://collider.com/netflix-and-chill-movies/ Best Netflix and Chill Movies (September 2022)