Director Antoine Fuqua and Denzel Washington orchestrate a symphony of masterful violence in the summer's best action film. The Equalizer 3 brings bloody vengeance to Italy's beautiful Amalfi Coast. An unstoppable killer burdened by loneliness discovers friendship and belonging in the company of kind strangers. He'll return the favor when their price of extortion becomes intolerable. The saga of heroic vigilante Robert McCall comes to a thrilling conclusion in an unexpected storyline. His reasons for leaving Boston and confronting a merciless new enemy opens a different path of possibilities.
In Sicily, Don Lorenzo Vitale (Bruno Bilotta) arrives at his palatial estate to a shocking surprise. The gate guards have been killed. He cautiously drives into the courtyard. More dead bodies litter the path. The nervous crime boss gets a gun from his glove compartment. He approaches the front door. A terrified soldato shakes as he answers the simple question, "Why are you alive?" A guest has been waiting inside. He's been looking forward to meeting you.
Later that night, a wounded McCall (Washington) sits in his rental car on a ferry to Naples. He's lost a lot of blood. McCall clings to consciousness but doesn't get far. Poliziotto Gio Bonucci (Eugenio Mastrandrea) finds him passed out on the side of the road.
McCall awakens in the home of Doctor Enzo Arisio (Remo Girone). Gio did not call for reinforcements or search his bags. Enzo wonders if this injured stranger is a "bad man." McCall honestly responds that he "doesn't know." Enzo decides to let him stay until he recovers. Gio will report a simple accident. A grateful and somewhat confused McCall thanks them for their discretion.
McCall's Last Mission
The following day at CIA headquarters in Langley, Virginia, Emma Collins (Dakota Fanning) receives a mysterious phone call. There's something in Sicily she needs to investigate urgently. Emma hangs up. Her direct line rings again. The voice on the other end knows her area of expertise. That's top secret information. The call ends before she can trace the source.
McCall gingerly walks down the steps in the seaside village of Altamonte. He soaks in the idyllic setting, but something else catches his eye. Camorra Capo Marco Quaranta (Andrea Dodero) isn't happy with the local fishmonger's weekly collection. The villagers pay for protection. Marco offers a reminder of what happens when you are late.
Related: Director Antoine Fuqua Calls The Equalizer 3 McCall's 'Final Masterpiece'
The Equalizer 3 cleverly threads the needle between bone-crushing beatdowns and a sophisticated plot. McCall's methodical plan isn't fully understood until the climax. This is more than a simple tale of a badass giving despicable villains their brutal comeuppance. Screenwriter Richard Wenk (16 Blocks, The Magnificent Seven), a frequent Fuqua collaborator who also wrote the previous films, places his protagonist in unfamiliar territory. The fastidious McCall puts his agenda in motion but certainly didn't predict convalescing in Altamonte. He has to account for other players in the game while confronting stark truths about himself. The man who settles scores for the innocent is taken aback by an initially peaceful respite.
McCall's encounters with the gentle villagers reminds him of humanity's capacity for good. Enzo and Gio aren't fools. They took a great risk sheltering an unknown and possibly dangerous man. McCall recognizes them as kindred spirits who care unselfishly for other people. Their mistreatment at the hands of the Camorra, Italian organized crime, cannot go unpunished. But his retaliation also makes things worse by igniting a firestorm response. Subplots converge as Emma Collins and her strike team get entangled in the fray. She realizes there's something much bigger going on that McCall is trying to take down.
Dakota Fanning as Emma Collins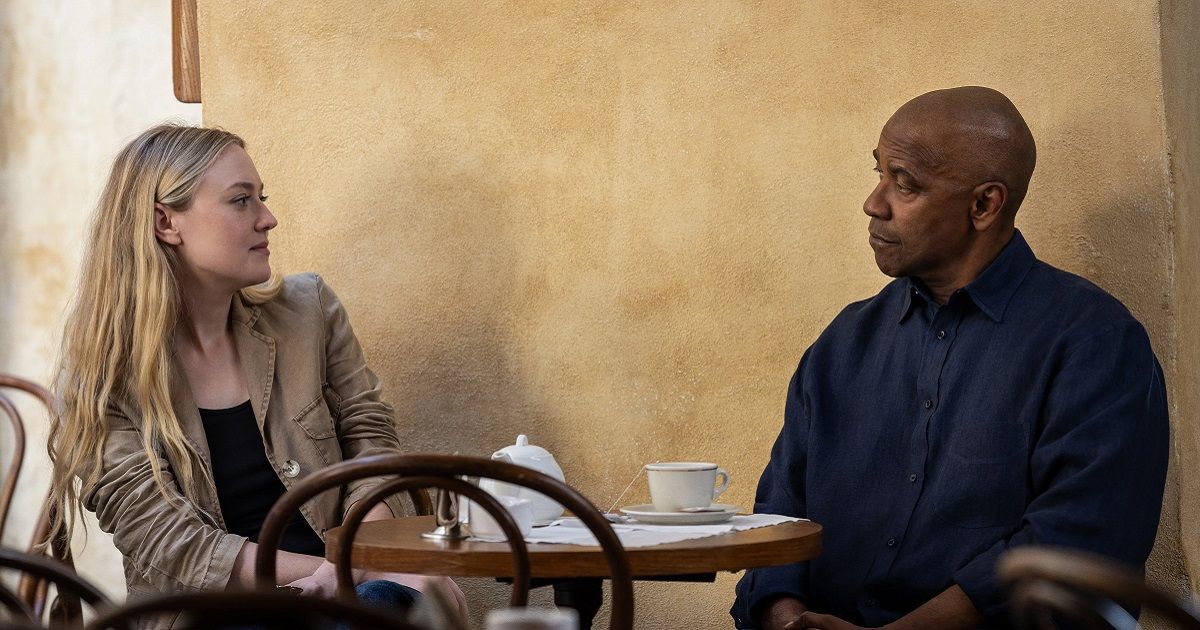 Fuqua (Training Day, Olympus Has Fallen) dazzles with brilliant camera work and action choreography. McCall is the lion that stalks and pounces. He eviscerates with surgical precision and timing. Fuqua uses tracking shots to follow doomed adversaries. They witness McCall's gruesome aftermath before becoming prey themselves. We then flash back to McCall's point of view as he plows through laughably overconfident baddies. They've got the guns, numbers, and a bad attitude. How can one man be a threat? McCall teaches the hard way what can be done with thumbs and a kitchen knife.
Related: The Equalizer 3: Why the Action Movie Will Be Better Than John Wick 4
Washington owns the screen with his towering presence. He's a beast and a half with nuance to boot. This is not a rehash of the same character from the first two installments. Weariness has caught up to McCall, but that doesn't mean he's lost a step. The opposite is true. He's deadlier than ever because the stakes are so personal. McCall has never allowed himself to be comfortable. The Equalizer 3 has him learning acceptance and fighting to preserve it.
Dakota Fanning was a child when she co-starred with Washington in Man on Fire. 19 years later, they haven't missed a beat. She adds a vital dimension that helps bring closure for McCall. The Equalizer 3 ends the trilogy on a high note. Fuqua and Washington are in top form here.
The Equalizer 3 is a production of Columbia Pictures, Escape Artists, Mundy Lane Entertainment, Fuqua Films, and Eagle Pictures. It will be released theatrically on September 1st from Sony Pictures.
https://movieweb.com/the-equalizer-3-review/ The Equalizer 3 Review | The Summer's Best Action Film