Looking for a good streaming scream? Sometimes we want a horror movie, but sometimes we want a lot of horror, and when you're looking for those binge-watch thrills, there's nothing better than a horror TV show to scratch the itch.
Fortunately, Netflix has a pretty impressive library of scary series. There are horror comedies like Ash vs Evil Dead andSanta Clarita Diet, downright scary dramas like The Haunting of Hill House, and of course, everybody's favorite nostalgic binge, Stranger Things.
As always, we've got you covered with your streaming needs. Keep an eye out as we continue to add new titles to the list below, and be sure to sound off with your favorite spooky, suspenseful, and downright scary series on Netflix in the comments.
For more recommendations, check out our list of the best shows on Netflix, horror movies on Netflix, and the scariest movies on Netflix.
Editor's Note: This post was last updated December 2022 to include Dahmer — Monster: the Jeffrey Dahmer Story.
RELATED: The Best Horror Movies on Amazon
Midnight Mass (2021)
Created by: Mike Flanagan
Cast: Kate Siegel, Zach Gilford, Rahul Kohli, Kristin Lehman
Mike Flanagan's third Netflix miniseries, Midnight Mass, follows a small community on Crockett Island as a supernatural presence takes root in the town. Strange things start happening after the young priest, Father Paul (Hamish Linklater) replaces Crockett's pastor – dead cats are found along the beach, people disappear, and the ill and injured are miraculously healed. Some believe it to be divine intervention, but others see more sinister forces at play. Like its predecessors, The Haunting of Hill House and The Haunting of Bly Manor, Midnight Mass is a haunting yet beautiful look at humanity through the lens of the horror genre. Flanagan balances the spooky and the spiritual effectively, producing equal moments of terror and revelation for the people of Crockett. They not only have to face a mysterious, potentially demonic force, they have to address their inner demons as well. – Brynna Arens
Dahmer – Monster: the Jeffrey Dahmer Story (2022)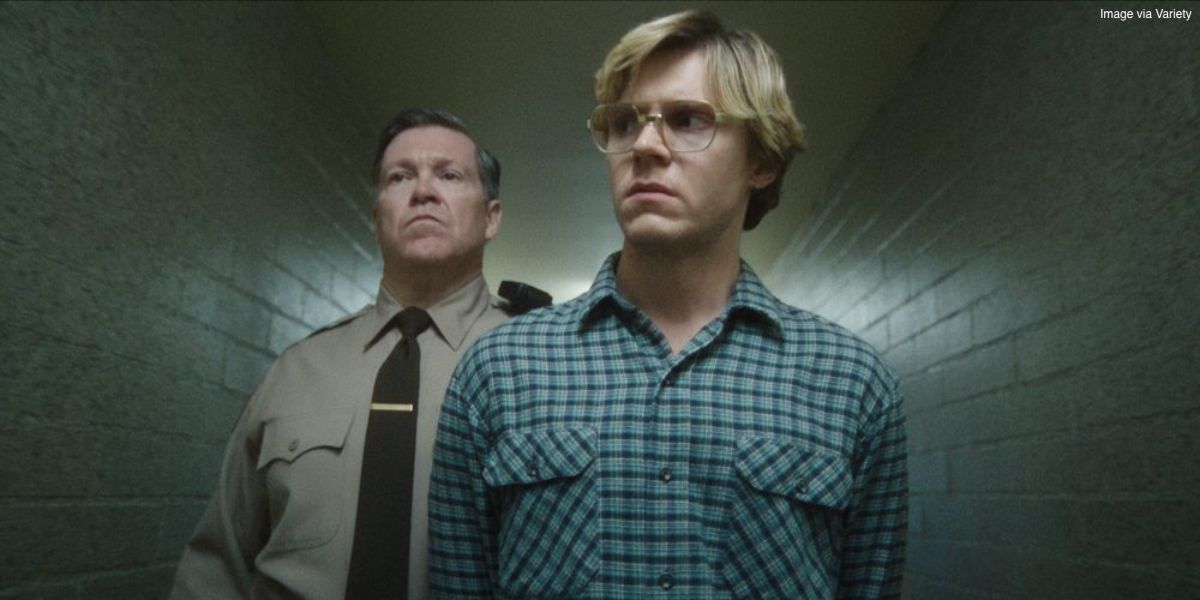 Creators: Ian Brennan, Ryan Murphy
Cast: Evan Peters, Richard Jenkins, Molly Ringwald, Niecy Nash
Evan Peters (X-Men: Days of Future Past) stars in Dahmer – Monster: The Jeffrey Dahmer Story, a controversial exploration of the horrific serial killer. Reuniting Peters with Ryan Murphy (American Crime Story) and Ian Brennan, the limited series also features critically acclaimed performances from supporting stars like Molly Ringwald and the captivating Niecy Nash (The Rookie: Feds). Even acknowledging the abundance of talent in Dahmer, Murphy and Brennan's triggering retelling takes quite a heap of dramatic license in their attempt to salaciously explore the tragic killing spree. Dahmer is not intended for the faint of heart. – Yael Tygiel
Cabinet of Curiosities (2022-present)
Creator: Guillermo del Toro
Cast: Lize Johnston, Kevin Keppy, Kate Micucci, F. Murray Abraham, Ben Barnes
From the master of monsters, Guillermo del Toro (Pinocchio), comes Cabinet of Curiosities, a gorgeous and terrifying anthology series featuring original concepts from various filmmakers. With eight bizarre modern tales, two of which del Toro co-wrote, Cabinet of Curiosities presents sophisticatedly spooky scenes from acclaimed creators, including Jennifer Kent (The Babadook) and Catherine Hardwicke (Twilight).Cabinet of Curiosities is a beautifully weird collection of sinister gothic tales featuring stars like Ben Barnes (Shadow and Bones) and Rupert Grint (Servant) in this unprecedented treasure chest of aesthetically stunning horror, curated personally by del Toro himself. – Yael Tygiel
Midnight Club (2022-present)
Creators: Mike Flanagan, Leah Fong
Cast: Iman Benson, Igby Rigney, Ruth Codd, Sauriyan Sapkota, Aya Furukawa
The Midnight Club is a haunting new series from prolific horror anthology creator Mike Flanagan (Midnight Mass) as he reteams with writer Leah Fong (The Haunting of Bly Manor). Inspired by author Christopher Pike's terrifying work, including his 1994 book of the same name, The Midnight Club is set in Brightcliffe Hospice following eight terminally ill teens who spend their nights telling ghost stories. With a brilliantly engaging cast of up-and-coming young actors, including Iman Benson and Aya Furukawa (The Baby-Sitters Club), The Midnight Club is sure to become a beloved classic for the Are You Afraid of the Dark and Goosebumps generation. – Yael Tygiel
Resident Evil (2022-present)
Cast: Ella Balinska, Tamara Smart, Siena Agudong
Based on the hit horror franchise and developed by Andrew Dabb (Supernatural), Resident Evil continues the story of the t-virus outbreak, picking up nearly three decades after its discovery. The series, which stars Ella Balinska (Charlie's Angels), Tamara Smart (Artemis Fowl), and Siena Agudong (No Good Nick), dives deeper into the mythology of the Resident Evil franchise, peeling back layers to expose the dark secrets of the mysterious Umbrella Corporation. An ideal companion to the films, Resident Evil provides context for the lore and builds upon the original story, enhancing the viewing experience for true fans. – Yael Tygiel
Chambers (2019)
Created by: Leah Rachel
Cast: Sivan Alyra Rose, Griffin Powell-Arcand, Uma Thurman, Tony Goldwyn
Chambers centers around a teenager named Sasha (Sivan Alyra Rose), who had a heart transplant after having a heart attack. Sasha is frustrated by her boyfriend now treating her like she's fragile and the fact she has to take medication for the rest of her life, but that quickly becomes the least of her worries. She begins taking on personality traits of Becky, the girl whose heart she has, and finds out the story behind Becky's death isn't as straightforward as she's been told. In addition to the impressive young talent in Sivan Alyra Rose, Becky's parents, Uma Thurman and Tony Goldwyn, give standout performances. – Taylor Gates
Ratched (2020-present)
Creators: Ryan Murphy, Evan Romansky
Cast: Sarah Paulson, Finn Wittrock, Cynthia Nixon
From Ryan Murphy, the fascinating mind behind the American Horror Story phenomenon, comes an origin story inspired by One Flew Over The Cuckoo's Nest's cruel Nurse Ratched. Starring frequent collaborator Sarah Paulson (American Crime Story) in the titular role, Ratchedis a vivid and stylistic horror series set in the late 1940s. Ratched allows Murphy to frame a colorful playground for his actors to delve into, bringing his elegant aesthetic and clever storytelling together into a unique and suspenseful series. Rounding out his broad cast, Murphy enlists more of his friends and favorites, including Finn Wittrock and Judy Davis (Feud). – Yael Tygiel
Love, Death & Robots (2019-present)
Created by: Tim Miller
Cast: Fred Tatasciore, Scott Whyte, Nolan North
An animated series that covers a wide variety of tones and techniques, Love, Death & Robotsis at its best when its creators get to fully let loose. Be that with gruesome gore as well, as more dark themes that cross between science fiction and horror, the various shorts have something to offer for everyone. Looking for a more reflective work about art and creativity? Then "Zima Blue" is for you. Want to see cleaning robots try to rise up against their human overlords? "Automated Customer Service" has got you covered. This most recent season even has David Fincher making his first foray into animation, which proves to be as fascinating as anything the show has done yet. There are plenty of rough spots to wade through on your journey, though they pale in comparison to the more creative and unrestrained depths that can be found in this gem of a series. – Chase Hutchinson
Daybreak (2019)
Created by: Aron Eli Coliete and Brad Peyton
Cast: Colin Ford, Alyvia Alyn Lind, Sophie Simnett
After a series of bioweapon attacks turn adults into zombie-like creatures called Ghoulies, groups of teens are forced to band together in a post-apocalyptic Glendale, California.Daybreakfocuses on social outcast Josh (Colin Ford) as he tries to find proof that his girlfriend Sam (Sophie Simnett) is still alive. However, he doesn't only have to survive Ghoulies in this quest. Other students have used their former social statuses to form separate societies with their own rules, some more unhinged than others. The Jocks have their own territory, as do the Cheermazons and the Gamers. Not having the numbers to back him up, Josh recruits other outcasts to help him fight the Ghoulies and any teens who get in his way. Part Mad Max, part Lord of the Flies, Daybreakis a funny and unique take on the zombie genre. – Brynna Arens
Archive 81 (2022)
Created by: Rebecca Sonnenshine
Cast: Mamoudou Athie, Dina Shihabi, Evan Jonigkeit
A show that was cancelled much too soon though still has a lot to love even in just its only season, Archive 81is one of the few successful stories to make the leap from its podcast origins to the small screen. The show follows Dan Turner (Mamoudou Athie), a talented modern-day archivist who is quite adept at restoring old tapes and video footage. In the process of his work on a new job for a mysterious client, he discovers a dark secret in the videotapes of a filmmaker named Melody (Dina Shihabi) who tried to investigate a cult. Eerie and well-acted, this series finds its strength in looking into the unknown which often stares back with something frightening. No matter how wrong it was that it got the ax before it had its time to see its vision all the way through, what we do have serves as a compelling archive that will endure the test of time. – Chase Hutchinson
All Of Us Are Dead (2022-present)
Starring: Park Ji-hu, Yoon Chan-young, Cho Yi-hyun
This Korena zombie drama became hugely popular in the wake of Squid Game. In All Of Us Are Dead, a viral outbreak that begins in a high school science class turns the infected into zombies. The infection quickly spreads outside of the school, taking over the entire Korean peninsula. – Alyse Wax
Brand New Cherry Flavor (2021)
Created by: Nick Antosca and Lenore Zion
Cast: Rosa Salazar, Catherine Keener, Eric Lange
One of the wildest shows to hit the streamer in ages, Brand New Cherry Flavor is one fucked up, imaginative, and unsettling revenge story. Rosa Salazar stars as an ambitious young filmmaker who makes her way to Hollywood only to have her film stolen out from under her by a sleazy producer (Eric Lange). Seeking vengeance, she recruits the help of a mysterious witch (Catherine Keener), invoking a curse that drags all their lives to hell. Co-created by Channel Zero's Nick Antosca, Brand New Cherry Flavor has a similar freaky, far-out scare-factor and inventive approach to world-building. Brand New Cherry Flavor was billed as a limited series, and it certainly works as a comprehensive narrative, but the universe it builds is so captivating, idiosyncratic, and downright creepy, I'm still hoping they find new ways to tell stories in it. – Haleigh Foutch
Ju-On Origins (2020)
Director: Sho Miyake
Cast: Yoshiyoshi Arakawa, Yuina Kuroshima, Ririka, Koki Osamura
Not for the soft of heart or stomach, Netflix's addition to the Ju-On legacy brings a slow-burn but brutal new spin to the beloved horror franchise, fusing the haunting J-horror aesthetics with a strong slasher influence. Framed as the "true story" behind the curse we've seen unfold throughout the long-running franchise, Ju-On Origins depicts the grisly act of violence that stained the cursed home with the "grudge" and the cycle of echoing violence that followed, ranging from effectively disturbing to downright shocking. Though the multi-timeline narrative can be difficult to parse out from time to time, Origins delivers an effective reinvention of the Ju-On legacy that fuses the haunting, atmospheric horror of the franchise we know and love with a seedier, grislier, much bloodier approach. – Haleigh Foutch
Dracula (2020)
Created by: Mark Gatiss and Steven Moffat
Cast: Claes Bang, Dolly Wells, John Heffernan
There are many, many Dracula adaptations but few that get it so right and then so incredibly wrong as the 2020 BBC adaptation. From Doctor Who and Sherlock duo Mark Gatiss and Steven Moffat,Dracula stars Claes Bang as the titular literary icon, and the first (and best) episode faithfully reconstructs his evolution from a decrepit lord of a far-off castle to a satiated and seductive immortal monster. Bang delivers one of the best on-screen Dracula's in ages through every step, and from the quietly chilling early frames to the blood-soaked chaos of the grand finale, the first installment is an absolute must-watch.
Unfortunately, the final two parts never reach those heights again, and while the second episode is a hit-and-miss interpretation of the seafaring leg of Dracula's journey that often feels more Sherlock than Dracula, the third and final episode is a baffling misfire in almost every possible way (and not just because of that galling twist). But no matter how strong my distaste may be for the way it ends, my enthusiasm for how it begins is just as intense, which is what earns it a spot on this list. – Haleigh Foutch
The Haunting of Bly Manor (2020)
Creator: Mike Flanagan
Cast: Victoria Pedretti, T'Nia Miller, Oliver Jackson-Cohen
The follow-up to The Haunting of Hill House is a new story with new characters and a new setting, but it's just as emotionally devastating as that Netflix original series. Based on the works of author Henry James, most prominently Turn of the Screw, this terrific new season takes place in the 1980s and follows a young American woman with an enigmatic past who is hired on as an au pair for two young children at the titular Bly Manor. But all is not what it appears to be at Bly, and horrors ensue. While Hill House was extremely scary, Bly Manor is not – nor is it trying to be. This is Gothic romance ghost story, and in that way it's actually quite romantic and emotional, but definitely still spooky. And you will definitely be an emotional mess by the time you reach the end. – Adam Chitwood
The Walking Dead (2010-2022)
Developed by: Frank Darabont
Cast: Andrew Lincoln, Jon Bernthal, Sarah Wayne Callies, Laurie Holden
Love it or hate it (and it's been on the air so dang long you've probably had time to do both, maybe a couple of times by now), there's no denying that The Walking Dead is a juggernaut of horror TV. The AMC show that brought hallmarks of classic zombie apocalypse movies to the series format, The Walking Dead also kicked down the door for a new era of horror TV, and a lot of the shows on this list would probably never have been made if it hadn't become such a mega-hit.
Based on Robert Kirkman's graphic novel of the same name, The Walking Dead follows the scraggly survivors of the zombie apocalypse, from one nightmare scenario to the next, backed by extraordinary work from their VFX team (led by the legendary Greg Nicotero) and an ever-evolving but consistently strong ensemble cast. Like any show that runs for more than a decade, The Walking Dead has a lot of highs and lows, but when it's good, it's some of the best old-fashioned zombie survival storytelling that features some of the most phenomenally crafted zombie designs of all time, in film and TV alike. –Haleigh Foutch
Kingdom (2019-present)
Creator: Kim Eun-hee
Cast: Ju Ji-hoon, Ryu Seung-ryong, Bae Doo-na, Kim Sung-kyu
The wait is over, Season 2 is streaming, and Kingdom remains one of the best horror shows on Netflix. The ambitious South Korean horror drama heads back to 1500s Korea, where royal machinations meet a viral pandemic of the undead. The series is epic in scope, staging massive battle scenes amidst the striking scenery, and as a period drama, Kingdom offers a unique take on the zombie drama rich with royal politics, class warfare, and a sword-swinging army pitted against the legions of undead. Not to mention a very welcome aesthetic and tonal change of pace to the well-worn genre. Come for the hoards of zombies, stay for the absolutely ruthless Queen (who gives Cersei a run for her money); either way Kingdom is can't-miss horror TV. — Haleigh Foutch
Castlevania (2017-2021)
Creators: Warren Ellis, Kevin Kolde, Fred Seibert, Adi Shankar
Cast: Richard Armitage, James Callis, Alejandra Reynoso
It's dark, it's bloody, and it's violent. Castlevania pulls no punches and manages to amp up what's admittedly one of the most beloved video games and mythologies of the modern era. The first season serves to introduce Vlad Tepes, a.k.a. Dracula, and his motivation for waging war against the human race. It also sets up the trio of Trevor Belmont, Alucard, and Sypha Belnades, who will act opposite the dreaded Count in future conflicts.
Marianne (2019)
Creator: Samuel Bodin
Cast: Victoire Du Bois, Lucie Boujenah, Tiphaine Daviot
The French-language series Marianne came out of nowhere at the end of 2019 to absolutely scare the pants off of anyone who stumbled upon it. Victoire Du Bois stars as Emma, a famed horror writer who based her stories on a horrifying figure named Marrianne who tormented her in her childhood dreams. When Marianne starts appearing to her again, Emma returns to her hometown, and the lines between reality and fiction start to blur in truly terrifying ways. Marianne uses a lot of familiar tricks from the paranormal horror playbook — distended mouths and leering figures are a big factor — but they're so well executed they tap right into that visceral reaction that made them so popular in the first place. Marianne can be brutal, it can be beautiful, and it laces in plenty of high-stakes character drama amidst the haunts, but most importantly, it is legit scary and unsettling as heck, making witches scarier than they have been since Anjelica Huston peeled off her face. — Haleigh Foutch
The Haunting of Hill House (2018)
Creator: Mike Flanagan
Cast: Carla Gugino, Michael Huisman, Kate Siegel, Mckenna Grace
Hush and Gerald's Game filmmaker Mike Flanagan delivers his most ambitious Netflix project yet (and that's really saying something when you're talking about someone who successfully adapted Gerald's Game) with The Haunting of Hill House. Inspired by Shirley Jackson's seminal ghost story, the series carries over almost none of Jackson's narrative (though occasionally too much of her prose), and focuses instead on the haunted lives of the withering Crain family. Bouncing back and forth between the summer the Crain's spent in the titular haunted mansion and the years of grief and family trauma they endured in the aftermath. Flanagan has proven in previous works that he's got a knack for upsetting visuals and well-composed scares, but his great success in The Haunting of Hill House is the way he ties the scares into a rich, intertwining tale of family tinged with tragedy. Led by a spectacular ensemble, the series veers between emotional revelation and moments of horror that give you full-body chills. It's the most moving and honest portrayal of mortality and grief this side of Six Feet Under, but it'll give you a whole lot more nightmares. — Haleigh Foutch
https://collider.com/horror-shows-on-netflix/ The Best Horror TV Shows on Netflix Right Now (December 2022)