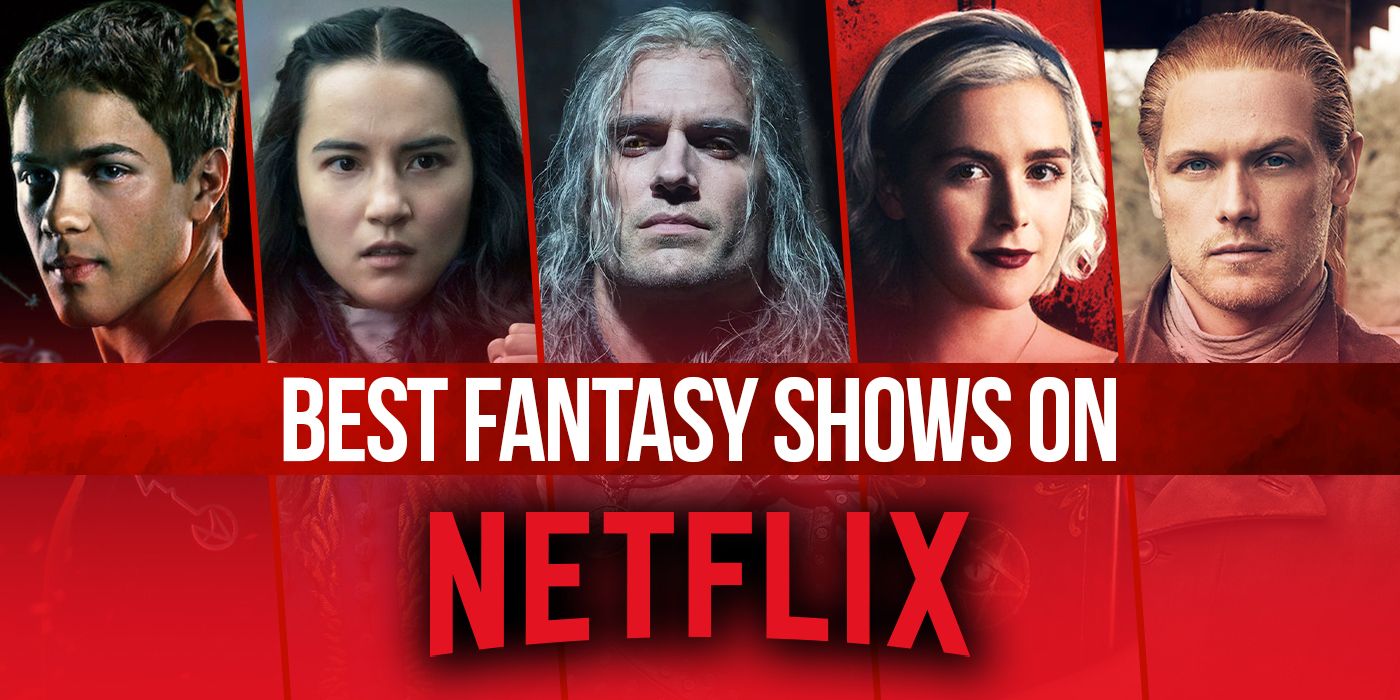 Craving magic, myths, and adventure? A good fantasy series can act as the perfect escape, broadening your horizons and allowing you to get lost in a new, enchanting world. Sometimes, you need to fight a few monsters, cast some spells, and uncover some secrets. Luckily, Netflix has a large library of shows that include all that and more.
Can't find what you're looking for here? Check out our list of the best shows on Netflix or the best fantasy shows on Hulu and Prime Video.
Editor's Note: This list was updated in January 2023 to include The Bastard Son & The Devil Himself.
RELATED: The Best TV Shows to Binge-Watch on Netflix
Locke & Key (2020-present)
Creator: Meredith Averill, Aron Eli Coleite, Carlton Cuse
Cast: Darby Stanchfield, Connor Jessup, Emilia Jones, Jackson Robert Scott, Laysla De Oliveira, Petrice Jones, Griffin Gluck
Despite its immense success and Eisner Award win, Locke & Key, the graphic novel series of the same name by Joe Hill and Gabriel Rodríguez, struggled to be adapted for screen. That is: until Netflix stepped in!
The long-anticipated Locke & Keyseries follows the Locke family — Nina (Darby Stanchfield) and her children Tyler (Connor Jessup), Kinsey (Emilia Jones), and Bode (Jackson Robert Scott) — as they move to the little town of Matheson following the murder of the Locke patriarch, Rendell. The ancestral home distracts the children before they start uncovering secret keys with magical properties. The keys unlock more than just magic, though, as an old forgotten evil arrives to torment the family and those they care about.
Locke & Key is a gripping show that balances its youthful protagonists with mysteries and shocking twists. The show manages to keep readers of the graphic novels engaged while welcoming new viewers as well. The production design is outstanding and leans heavily into the source material. The combination of genres means this show appeals to a wide audience. – Monita Mohan
The Bastard Son & The Devil Himself (2022)
Creator: Joe Barton
Cast: Jay Lycurgo, Nadia Parkes, Paul Ready, Isobel Jesper Jones
Adapted for television by Joe Barton and based on the novel Bad Half, The Bastard Son & The Devil Himself is a deviously engaging supernatural series that was tragically cut short. The series follows Nathan (Jay Lycurgo), the illegitimate teenage son of a powerful witch, caught in the middle of a battle between two powerful factions. As Nathan's powers begin to blossom, so does the fear left by his father's destructive and lethal legacy. The Bastard Son & The Devil Himself explores themes of nature versus nurture, family dynamics, and good versus evil through the eight-episode series, begging to be binged again and again. – Yael Tygiel
Alchemy of Souls (2022-present)
Creators: Hong Jung-eun, Hong Mi-ran
Cast: Lee Jae-wook, Jung So-min, Go Yoon-jung, Hwang Min-hyun
A clever and captivating concept, Alchemy of Souls is a supernatural South Korean series set in the fictional country of Daeho. Written by the Hong sisters, Hong Jung-eun and Hong Mi-ran, Alchemy of Souls follows a couple of young mages who unwillingly switch their souls with other people, ultimately twisting their fates, after encountering a forbidden spell. A love story wrapped in a fantasy adventure, Alchemy of Souls compellingly explores romance tropes like soulmates and mistaken identity. Starring Lee Jae-wook, Jung So-min, and Go Yoon-jung, Alchemy of Souls is an intriguing soapy spectacle. – Yael Tygiel
Wednesday (2022-present)
Creator: Alfred Gough, Miles Millar
Cast: Jenna Ortega, Gwendoline Christie, Catherine Zeta-Jones, Luis Guzmán
Blending comedy and horror, as The Addams Family does well, Wednesday highlights the spooky coming-of-age story of Wednesday (Jenna Ortega), the eldest daughter of Gomez (Luis Guzmán) and Morticia (Catherine Zeta-Jones). A brilliant update from the beloved early 90s version of the character, Ortega's adaptation emphasizes the clever mind of the morbid child. Wednesday places the titular character at Nevermore Academy, a school for the macabre controlled by Principal Larissa Weems (Gwendoline Christie). The story feels reminiscent of Chilling Adventures of Sabrina, as Wednesday attempts to handle a family mystery while learning to hone her new psychic talents. – Yael Tygiel
The Order (2019-2020)
Creator: Dennis Heaton, Shelley Eriksen
Cast: Jake Manley, Sarah Grey, Adam DiMarco
Created by Dennis Heaton and Shelley Eriksen (The Imperfects), The Order is a tragically short-lived, thrilling fantasy series about magic and monsters. Jake Manley stars as a college freshman at Belgrave University determined to uncover family secrets while being recruited by a secret society participating in the war between werewolves and dark magic. Alongside Manley, The Order stars Sarah Grey and Adam DiMarco (The Magicians) as fellow students and practitioners of dangerous magic. An exciting, whimsical drama with intricate mythology, The Order has a dark edge full of high-stakes adventure. – Yael Tygiel
The Letter for the King (2020)
Creator: Will Davies
Cast: Amir Wilson, Ruby Ashbourne Serkis, Thaddea Graham, Islam Bouakkaz
Amir Wilson (His Dark Materials) stars in The Letter for the King, a coming-of-age fantasy mini-series inspired by Tonke Dragt's beloved bestselling novel. Developed for the streamer by Will Davies, The Letter for the King tells the tale of Tiuri, a teen squire (Wilson) who eagerly accepts a dangerous mission to deliver a letter to his King in hopes of one day earning Knighthood. With an epic quest that leads him across three kingdoms, Tiuri and his crew of passionate companions encounter a range of foes, both magical and human, intent on derailing his goal of saving the world from being thrust into darkness. – Yael Tygiel
The Sandman (2022-present)
Created by: Neil Gaiman, David S. Goyer, Allan Heinberg
Cast: Tom Sturridge, Boyd Holbrook, Vivienne Acheampong, Patton Oswalt
Based on the comics also by Neil Gaiman, The Sandman is a grand, time-traveling story that focuses on The King of Dreams (Tom Sturridge), who, after being imprisoned by a mortal wizard for decades, goes on a quest to reclaim his lost items of power and bring back order to his realm called The Dreaming. With gorgeously grand production design and stunning performances, the series does an impeccable job adapting its source material – not an easy feat considering its complex plots and rich themes. Offering an excellent combination of breathtaking fantasy, compelling drama, and even supernatural horror, The Sandman is one-of-a-kind. – Taylor Gates
Warrior Nun (2020-present)
Creator: Simon Barry
Cast: Alba Baptista, Toya Turner, Thekla Reuten
Based on the comic book character by Ben Dunn, Warrior Nun revolves around 19-year-old Ava Silva (Alba Baptista), who grew up in a Catholic orphanage and wakes up in a morgue with a halo in her back: one that gives her superpowers and allows her to walk for the first time in over a decade. However, there is a catch. The artifact was put into her by a group of – you guessed it – warrior nuns who battle demons and recruit Ava to join them. Fans of shows like Buffy the Vampire Slayer and First Kill are sure to enjoy this particular brand of coming-of-age chaos. – Taylor Gates
First Kill (2022-present)
Creator: V.E. Schwab (based on the short story by)
Cast: Sarah Catherine Hook, Imani Lewis, Elizabeth Mitchell
First Kill is a modern supernatural series that elegantly embraces Romeo and Juliet overtones, envisioning the star-crossed lovers as a vampire and vampire hunter. First Kill unfolds beautifully with a young adult-leaning dramatic lesbian romance starring Sarah Catherine Hook (The Conjuring: The Devil Made Me Do It) and Imani Lewis (Hightown) in the lead roles of Juliette and Calliope, respectively. With gorgeous visuals and a unique aesthetic, First Kill mesmerizes as the story builds upon non-stop romance, adventure, and impressive action sequences. – Yael Tygiel
Fate: The Winx Saga (2021-present)
Creator: Brian Young
Based on the Winx Club series by: Iginio Straffi
Cast: Abigail Cowen, Precious Mustapha, Eliot Salt, Hannah van der Westhuysen, Freddie Thorp, Danny Griffin, and Elisha Applebaum
Based on the animated Winx Club series, Netflix's live-action Fate: The Winx Saga follows newly-discovered fairy Bloom (Abigail Cowen) as she begins her magical schooling at Alfea — a college for fairies and specialists alike. But with Bloom's reappearance comes the reappearance of old foes, the Burned Ones. As Bloom and her friends grow closer and experience the joys and pains of being a teenager, the threat of the Burned Ones and other dark forces grows. This live-action take on this incredible magical world has no shortage of magic, drama, and beautiful relationships to explore. It's also been compared to The CW's Riverdale, partially because it will have you hooked from the end of the first episode. – Jay Snow
Charmed (2018-2022)
Creator: Jennie Snyder Urman, Jessica O'Toole, Amy Rardin
Cast: Melonie Diaz, Madeleine Mantock, Sarah Jeffery, Ser'Darius Blain, Ellen Tamaki, Rupert Evans, Nick Hargrove, Jordan Donica, Poppy Drayton, Lucy Barrett
A reboot of the 1998 series, the new Charmed is, well, positively charming. After the death of their mother, a trio of sisters discovers they're the most powerful good witches on earth and must protect the world from dark forces. The show is known for its BIPOC and LGBTQ+ representation, showing that everyone – no matter their race or sexuality – has a little magic in them. – Taylor Gates
Cursed (2020)
Creator: Frank Miller, Tom Wheeler
Cast: Katherine Langford, Devon Terrell, Gustaf Skarsgård, Daniel Sharman, Sebastian Armesto, Lily Newmark, Peter Mullan
Based on the illustrated novel by Frank Miller and Tom Wheeler, who also created the show, Cursed is a retelling of the Arthurian legend shown through the eyes of a young woman named Nimue (Katherine Langford). Though originally shunned by her village due to a perceived curse, Nimue eventually finds her power and becomes the hero she was always destined to be. Filled with fairies, magicians, and warriors, Cursed is a fantastical treat. – Taylor Gates
Legacies (2018-2022)
Creator: Julie Plec
Cast: Danielle Rose Russell, Aria Shahghasemi, Kaylee Bryant, Jenny Boyd, Quincy Fouse, Peyton Alex Smith, Matt Davis, Chris Lee
A spinoff of The Vampire Diaries andThe Originals, Legacies has everything that made the other two series so popular while also carving out its own specific space and tone. The show centers around Hope Mikaelson (Danielle Rose Russell), daughter of Klaus Mikaelson and Hayley Marshall, as she attends the Salvatore School for the Young and Gifted to control her powers. There, Hope and her classmates must fight monsters, each other, and sometimes even themselves. Legacies has everything a great fantasy and coming-of-age story needs. – Taylor Gates
Shadow and Bone (2021-present)
Creator: Eric Heisserer
Cast: Jessie Mei Li, Ben Barnes, Archie Renaux, Freddy Carter, Amita Suman, Kit Young, Danielle Galligan, Calahan Skogman
Based on the Grishaverse books by Leigh Bardugo, Shadow and Bone tells the story of a girl who discovers one day that not only does she have magical powers and is a Grisha, basically a witch, but she is one of the rarest types of Grisha: a Sun Summoner, someone who can manipulate the light. In a war-torn fantastical world, she must face a foreboding and handsome general, court politics, and even tangle with a group of foreign thieves. Eric Heisserer's interpretation of the Grishaverse combines both of Bardugo's early series: the Shadow and Bone trilogy and the Six of Crows duology. It blends the war epic of the former series with the heist nature of the latter to surprising success. For those looking for a new fantastical world to dive into, look no further. — Therese Lacson
Lucifer (2016-2021)
Creator: Tom Kapinos
Cast: Tom Ellis, Lauren German, Kevin Alejandro, D.B. Woodside, Lesley-Ann Brandt
Based on the comic book series of the same name, Lucifer follows the eponymous Devil as he takes a "vacation" from Hell to run a nightclub in Los Angeles. After a friend is killed outside his club, he gets involved in the police investigation, and ends up becoming a civilian consultant with the Homicide department. The show starts out as a procedural with fantasy elements, but by the end of the six-season run, the show has introduced God; had demons come up from Hell to kidnap a baby; dealt with time-travel; and introduced many of Lucifer's angelic siblings.
The show originally began on Fox Network, where it ran for three seasons before getting canceled. Due to a tremendous fan outreach, Netflix picked it up for an additional three seasons. – Alyse Wax
Outlander (2014-present)
Creator: Ronald D. Moore.
Cast: Caitriona Balfe, Sam Heughan, Duncan Lacroix, Sophie Skelton
Outlander leans more towards historical drama and romance than outright high-genre, but it hinges on one essential fantasy element – the ability to move through time. Caitriona Balfe stars as Claire, a WWII nurse who is thrown back into 1743 after visiting some mystical standing stones and finds herself falling for a rebel Highlander, Jamie Fraser (Sam Heughan). But that's just the start of an epic journey that sends the Frasers from continent to continent, and era to era, in a sprawling drama inspired by the beloved book series from author Diana Gabaldon. Whether you're swooning over one of the sexiest, genuinely erotic romances on television or stressed out of your wits about the endless sociopolitical world events that threaten to tear them apart, Outlander is a heck of a binge-watch to stir the heart and mind alike. – Haleigh Foutch
Disenchantment (2018-present)
Created by: Matt Groening
Cast: Abbi Jacobson, Eric Andre, Nat Faxon, John DiMaggio, Billy West, and Noel Fielding
The Simpsons and Futurama creator Matt Groening's first Netflix series, and first new series in a long time, may not be perfect but it is quite, well, enchanting. Disenchantment is a medieval fantasy set in a fictional world called Dreamland, where a rebellious princess finds herself navigating a complicated world. Along for the ride is her elf companion Elfo and her "personal demon" Luci. The show takes a little bit to get going, but once it does it's a charming affair. – Adam Chitwood
The Witcher (2019-present)
Created by: Lauren Schmidt Hissrich
Cast: Henry Cavill, Freya Allan, Eamon Farren, and Anya Chalotra
The Witcher is an absolute blast and a half. The fantasy series is indeed very fantasy—it's more Lord of the Rings than Game of Thrones—but it also doesn't take itself too seriously and whole-heartedly embraces all aspects of fantasy storytelling and gaming, including fun side-quests, POV battles, and even a bard who follows Henry Cavill's titular human/creature hybrid around singing songs about his glories. The show's first season follows three stories destined to converge: Cavill's Witcher is a muscle-for-hire monster hunter who begins to question why so many princesses have been turning into creatures; Yennefer of Vengerberg (Anya Chalotra) is a powerful sorceress in training who struggles to keep her emotions in check; and princess Ciri (Freya Allan) is on the run after the sacking of her city, but harbors secrets of her own. Steeped in lore and world building but always engaging, The Witcher is a perfect kind of binge-viewing show. – Adam Chitwood
The Dark Crystal: Age of Resistance (2019)
Created by: Jeffrey Addiss, Will Matthews
Cast: Taron Egerton, Anya Taylor-Joy, Nathalie Emmanuel, Simon Pegg, Mark Hamill, Jason Isaacs, and Gugu Mbatha-Raw
It's hard to overstate how amazing The Dark Crystal: Age of Resistance is. You don't have to be super familiar with Jim Henson's original movie that created a cult following back in 1982, but it certainly helps to understand what goes on in this prequel series. However, you could come into the Netflix show blind and still walk away with an appreciation for the solid fantasy story, the incredible production value, and the world's top puppeteers plying their craft in one of the best suspensions of disbelief ever seen on TV.
But if you need a little plot nugget to get you going, essentially The Dark Crystal: Age of Resistance sees the elf-like Gelflings overcoming their tribal differences in order to escape from under the oppressive rule of the villainous and reptilian Skeksis. The 10 currently available episodes introduce compelling characters from all walks of life on the alien planet of Thra and have already inspired a whole new generation of The Dark Crystal fans. And this is only phase one; there's hopefully more to come, but if you can't get enough from the series itself, be sure to seek out the behind-the-scenes documentary, also available on Netflix. – Dave Trumbore
Chilling Adventures of Sabrina (2018-2020)
Created by: Roberto Aguirre-Sacasa
Cast: Kiernan Shipka, Ross Lynch, Lucy Davis, Miranda Otto, and Chance Perdomo
There is no trick to the treat that is Chilling Adventures of Sabrina, Netflix's adaptation of Roberto Aguirre-Sacasa's comic of the same name, starring Kiernan Shipka as the titular teen. The updated story is a far cry from the days of Sabrina the Teenage Witch, and yet, it encompasses many of the same themes of the original Archie comics and other iterations. It's just that this time, the story is wrapped up in a moody, dark, funny, and stylishly atmospheric package that could be not be a better herald of fall and the Halloween season.
The series picks up just before Sabrina's sixteenth birthday, which will be marked not by a traditional celebration, but an old tradition: a Dark Baptism under a blood moon where Sabrina will sign over her soul to the Dark Lord. Except, Sabrina isn't so sure she wants to do that. She's only half a witch (on her father's side), and she's spent her entire life living at home with witches and going to school with mortals. But that baptism — and whether or not she's ready to tether herself to the Dark Lord — is just the start of Sabrina's adventures, not the end, as she finds a way to honor both her mortal and supernatural heritage. Ultimately, it's a delight and an obsession, and the scariest thing about it is just how good it is. — Allison Keene
https://collider.com/best-fantasy-shows-on-netflix/ The Best Fantasy Shows on Netflix Right Now (January 2023)