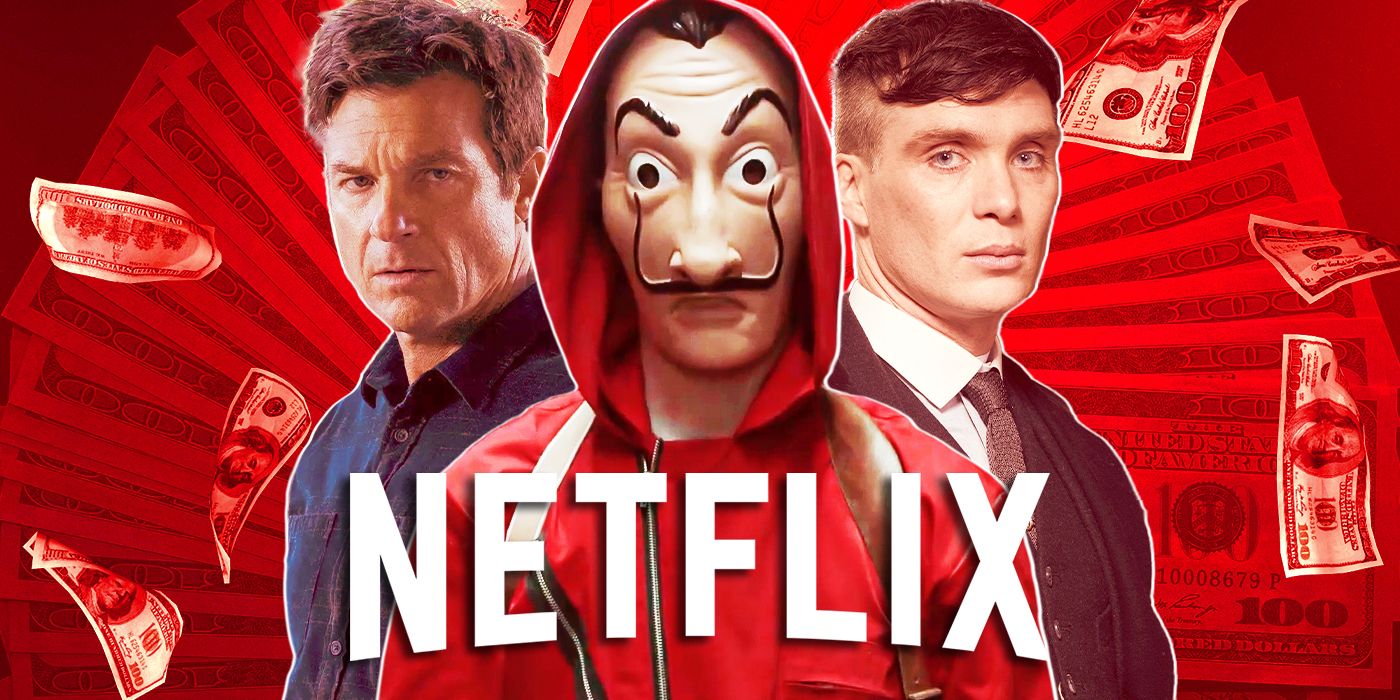 Are you finding yourself in the mood for murder, most foul? Well, we have you covered with our list of the Best Crime Series on Netflix. From docuseries like The Keepers to Netflix originals like Mindhunter and Bloodline, as well as British series like Bodyguard and Peaky Blinders, there should be something to tempt you below.
Like with our Best TV Dramas on Netflix, we have even more lists of TV subgenres on the streaming giant to share, including the Best Sci-Fi and Fantasy, Best TV Comedies, and more. So if you don't see your favorites here, keep checking!
This list will continue to grow, but for now, check out our list of crime-specific recommendations below and let us know some of your other favorites in the comments.
Editor's Note: This piece was last updated on February 4 to include Making a Murderer.
RELATED: The Best True Crime Shows on Netflix Right Now
Making a Murderer (2015-2018)
Created By: Laura Ricciardi and Moira Demos
Cast: Steven Avery
With true-crime documentaries like the Serial podcast and the HBO miniseries The Jinx capturing the attention of the public in new and innovative ways that reach beyond the tabloids in the checkout aisle, Netflix got onboard with this exploration of the various cases involving Steven Avery. Guilty or not, the legally beleaguered Wisconsin man quickly became a household name as couch-sitters consumed every facet of his life. The ability to binge-watch the entire documentary led to some interesting outcomes, namely concentrated rage released over social media and through various petitions. Unlike Serial and The Jinx, which were released episodically in a more traditional format allowing frustrations to be metered out over time, Making a Murderer compounded the rage feels by the hour. While Avery's case is anything but open-and-shut, just as this documentary is anything but objective, it's worth a watch if only to stay up to date and engaged with the current social consciousness.—Dave Trumbore
Created by: Rachel Ramras, Hugh Davidson, Larry Dorf | Episode Count: 8 | Average Run Time: 26 minutes
Cast: Kristen Bell, Michael Ealy, Tom Riley, Mary Holland, Cameron Britton
Just judging from the title, you can probably guess what you're in for when it comes to this Netflix original series — a parody meant for those of us who avidly devour thriller paperbacks from the airport bookstore that have some derivative of the show's title on the front cover. From the jump, The Woman in the House… is a series that doesn't take itself seriously at all (Kristen Bell literally hosing wine is another big clue on that front), but it's a throughline that continues all the way through to finding out exactly who the killer is. Come for the obvious wink at thriller movies (and the resulting hilarious deadpanning through dark comedy), stay for the absolutely bonkers celebrity cameo at the very end. – Carly Lane
Created by: Vince Gilligan, Peter Gould | Episode Count: 63 | Average Run Time: 55 minutes
Cast: Bob Odenkirk, Jonathan Banks, Michael McKean
AMC's Breaking Bad spinoff goes back to find Saul Goodman (Odenkirk) at a time when he was known as Jimmy McGill (or "Slippin' Jimmy"), a hustler with courtroom ambitions, whose life had yet to be turned upside down by Walter White. Though as comedically quirky as expected, the languid and artistically rendered Saul also proved to also be very dark, affecting, and dramatic, thanks to Odenkirk's outstandingly nuanced performance. Jimmy's complicated relationship with his brother Chuck (McKean) drives the emotional undercurrent of the show's first couple seasons, alongside his being thwarted in his ambitions to join a real law firm. When he opens up his own business (in the closet of a nail salon), a revolving door of crazy clients appear, but it's the selfless work that Jimmy does on behalf of an elderly contingent in town that imbues his journey with meaning, and gives the series truly dramatic stakes. Still, at every step, Jimmy finds himself running into walls, and his frustration with the misfires and betrayals that litter his life eventually start adding up to his transformation as the slick Saul Goodman. The show is at its best when it distances itself from Breaking Bad, and though it starts off slow with some curious digressions, Better Call Saul picks up tremendously towards the end of the first season and becomes a series that may even technically be better than Breaking Bad. Ultimately, being swept along in the chaos, hilarity, and sadness of Jimmy's rise and fall (and eventual resurrection as Saul) is an immersive experience. – Collider Staff
Directed by: Jonas Åkerlund | Episode Count: 6 | Average Run Time: 60 minutes
Cast: Bill Skarsgård, Vilhelm Blomgren
At a time when true-crime stories and biopics of criminals are a dime a dozen, Clark is a stand-out in the genre. The Swedish series is a portrait and biography of Clark Olofsson, a con man and thief whose actions during the Norrmalmstorg robbery in the 1970s led to the origins of the term Stockholm Syndrome. But that's just a footnote in the colorful story of this man. Through one of the best performances Bill Skarsgård has ever given, we see Clark's story unravel from birth to imprisonment to escape to more. It helps that the series is tightly written and absolutely hilarious, but what really makes this an engaging watch is the incongruence between what Clark thinks his life is like and what we can see the reality is. The show is narrated from the POV of its protagonist, with plenty of fourth-wall breaks that add to the humor. But Skarsgård's Clark Olofsson is the ultimate unreliable narrator, only ever revealing what he wants you to know. As charming as the character might be, the show leaves no doubt in the audience's mind that Clark is an irredeemable sociopath, one who has been given every opportunity to change his ways but still insists on being a callous, self-absorbed creature driven only by his lust and greed. – Remus Noronha
Great Pretender (2020)
Created by: Wit Studio | Episode Count: 23 | Average Run Time: 23 minutes
Cast: Chiaki Kobayashi, Junichi Suwabe, Natsumi Fujiwara, Mie Sonozaki, Yōhei Tadano
The art of the con has been the subject of many great shows but you've never seen a bunch of con artists like these. Great Pretender is an original anime series by Wit Studio that follows an over-confident Japanese conman who falls in with a debonair French gentleman thief. Over the three arcs, or "cases", of the show, we see these two and their associates pull off some daring scams, exposing some dangerous and corrupt people along the way. It's a fun, high-energy show, bolstered by stylish animation and an excellent sense of humor. – Remus Noronha
Created By: Chris Brancato, Carlo Bernard, Doug Miro | Episode Count: 30 | Average Run Time: 49 Minutes
Cast: Wagner Moura, Boyd Holbrook, Pedro Pascal, Joanna Christie, Damián Alcázar
Narcos was one of Netflix's first major hit shows, premiering in 2015. The series charts the rise and ultimate downfall of Columbian drug lord Pablo Escobar (Wagner Moura) and the DEA agents who helped bring him down, Steve Murphy (Boyd Holbrook) and Javier Peña (Pedro Pascal). While viewers likely know the fate of the central character going in, that doesn't stop the series from being one of the most riveting, exciting, and addicting originals Netflix has ever released. A companion series, Narcos: Mexico, was released in 2018, and like its predecessor also lasted three seasons. – Nate Richard
Created by: Jenna Bans | Episode Count: 50 | Average Run Time: 42 minutes
Cast: Christina Hendricks, Retta, Mae Whitman, Reno Wilson, Manny Montana
What do you do when it feels like the whole world is against you? Rob a grocery store, apparently. Good Girls is a crime comedy-drama that first aired on NBC for four seasons. The show follows the lives of three suburban moms who are struggling to make ends meet. As pressures both financial and emotional pile up, the trio decides to rob a grocery store. But this is no straightforward heist series, oh no! As it turns out, the money they stole belongs to a violent street gang and things soon snowball into chaos. The three lead actors are excellent in this show and Christina Hendricks in particular is a delight to watch. With a well-balanced mix of laughter and tears, Good Girls is the perfect watch for when you want a crime series with a healthy dose of humor. – Remus Noronha
Created by: Álex Pina | Episode Count: 58 | Average Run Time: 59 minutes
Cast: Úrsula Corberó, Álvaro Morte, Itziar Ituño, Pedro Alonso, Alba Flores
Possibly one of Netflix's most successful shows ever, Money Heist (or La Casa de Papel as it's called in Spanish) is a crime drama that revolves around two heists and an eternally endearing cast of characters. Those characters are a huge part of why Money Heist has managed to find fans around the world. From the badass protagonist Tokyo (Úrsula Corberó) to the genius master criminal known as the Professor (Álvaro Morte), each person in this story presents a sincere, multilayered story. But of course, the real reason we love Money Heist so much is because of the exciting game of cat and mouse that is involved in the show's ambitious heists. Set in Madrid, the story follows the Professor as he brings together a group of eight people to break into the Royal Mint of Spain, take 67 people hostage, and execute an intricate plan with life and death hanging in the balance. After the first season, the crew returns for an even more daring robbery with higher stakes than ever before. It doesn't get much better than this. – Remus Noronha
Created by: José Ignacio Valenzuela | Episode Count: 25 | Average Run Time: 40 minutes
Cast: Manolo Cardona, Ginés García Millán, Carolina Miranda, Claudia Ramírez, Eugenio Siller
Netflix's collection of Spanish-language content boasts quite a few great thrillers and Who Killed Sara? is one of the best of them. Álex Guzmán (Manolo Cardona) is a former convict who spent 18 years in prison after being falsely convicted for his sister Sara's murder. Devoted to getting revenge for her death and his subsequent imprisonment, Guzmán looks for the truth about the incident. In the process, he comes into conflict with the wealthy Lazcano family. The show has its issues but this hit Mexican drama is a very engaging watch, especially if you're in the mood for a good revenge thriller. – Remus Noronha
Created by: Susannah Grant, Ayelet Waldan, Michael Chabon | Episode Count: 8 | Average Run Time: 50 minutes
Cast: Toni Collett, Merritt Weber, Kaitlyn Dever
Set in two different counties, Unbelievable is based on the true story of two police detectives chasing after a serial rapist who has terrorized women in both their state of Colorado and also in Washington. A difficult show to watch at times, we follow now only these two detectives, but the story of Marie Adler (Kaitlyn Dever) a survivor of sexual assault who is believed to be lying about her rape. The police who think she's just crying wolf let the monster slip through their fingers to terrorize more victims. In a field dominated by men, it is detectives Rasmussen (Toni Collette) and Duvall (Merritt Weaver) who crack the case. The approach both Collette and Weaver take to their characters emulate confidence, empathy, and a hard-boiled nature. Entrancing to watch, it's easy to root for these detectives to get justice for these women. — Therese Lacson
Elite (2018-present)
Created by: Carlos Montero and Darío Madrona | Episode Count: 40 | Average Run Time: 50 minutes
Cast: María Pedraza, Itzan Escamilla, Miguel Bernardeau, Miguel Herrán, Jaime Lorente
Elite gets your heart racing from start to finish, never letting the tension break even for a second. About a group of students from an upper-class school in Spain who get entangled in a murder, Elite bets on the mystery of whodunnit and the relationships to bring you back — and it does. Sometimes, being larger-than-life pays off, and it does more often than not for Elite. With a new mystery every season, Elite shocks at every turn, and while it might sometimes get lost in its ambitions, it is over-the-top television at its best and one of the easiest show to lose yourself in. – Arianne Binette
Created by: Steven Knight | Episode Count: 36 | Average Run Time: 60 minutes
Cast: Cillian Murphy, Helen McCrory, and Paul Anderson
Peaky Blinders is historical fiction at its finest. The BBC crime drama takes a fictionalized approach to the story of the titular real-life gang, which was active in England from the 1890s to the 1910s. The show begins in 1919, just after the First World War. After the Blinders accidentally come across a consignment of guns and choose to steal them, the government sends a detective to find the thieves and recover the weapons. The first season focuses on the plot of the weapons and the investigation into the Blinders' activities. Later seasons push their story to new heights, bringing in more historical figures and tying into important events.
Cillian Murphy stars as Tommy Shelby, the charismatic and ruthless leader of the Peaky Blinders, delivering a brilliant performance that combines a cold, calculating exterior with a sense of hidden ferocity. Peaky Blinders is easily one of Murphy's most memorable performances but the series also features a number of great actors in both main and recurring roles. The show is easily one of the most popular series on Netflix. Season 6 was released on Netflix on June 10, having first premiered in the UK on February 27, 2022. If you're a fan of crime fiction, you absolutely must watch this show, by order of the Peaky Blinders! – Remus Noronha
Created by: Derek Simonds | Episode Count: 32 | Average Run Time: 47 minutes
Cast: Bill Pullman, Jessica Hecht, Jessica Biel, Carrie Coon, Matt Bomer
Based on Petra Hammesfahr's 1999 novel of the same name, The Sinner is an anthology mystery series that has received widespread acclaim over the course of its four seasons. The show follows the cases of Detective Harry Ambrose (Bill Pullman), a police officer who finds himself investigating cases that involve seemingly unlikely criminals and buried motivations. It's a dark and gritty series that first aired on the USA Network, with three seasons on Netflix. The fourth and final season of the show aired on the USA Network from October 13, 2021, to December 1, 2021. Each season consists of eight episodes exploring a single, complex crime, with a cast of celebrated actors portraying the major players in each case. The Sinner is by far one of the best shows on Netflix and certainly worth checking out for crime drama fans. – Remus Noronha
Ozark (2017-2022)
Created by: Bill Dubuque and Mark Williams | Episode Count: 44 | Average Run Time: 65 minutes
Cast: Jason Bateman, Laura Linney, Sofia Hublitz, Skylar Gaertner, Julia Garner
One of Netflix's most successful crime shows, Ozark stars Jason Bateman and Laura Linney as a married couple who get involved in the dangerous business of money laundering. After a deal with a Mexican drug cartel goes south, financial advisor Marty Byrde (Jason Bateman) offers to set up a money laundering operation in the Lake of the Ozarks region in central Missouri. He relocates there with his wife Wendy (Laura Linney) and their two kids. But soon, Marty and Wendy find themselves drawn into the affairs of the local underworld, which makes their already tense situation even more complicated. Ozark has received a lot of critical praise and has been nominated for a ton of awards, with both Jason Bateman and Julia Garner winning Emmys for their performances. The show's final season, Season 4, was released on Netflix in 2022. – Remus Noronha
Created by: Jon Bokenkamp | Episode Count: 196 | Average Run Time: 42 minutes
Cast: James Spader, Megan Boone, Diego Klattenhoff, Ryan Eggold, Parminder Nagra
This NBC crime procedural is one of the most popular shows in the genre. Starring the iconic James Spader as a former high-profile criminal, The Blacklist utilizes a number of classic tropes but the brilliant performances and intricate storylines are what make the series a genuinely engaging and intriguing watch. Raymond "Red" Reddington (James Spader) is a former U.S. Navy officer and now most-wanted criminal who shocks the FBI by voluntarily surrendering after decades on the run. After his arrest, Red reveals that he has compiled a list of criminals so dangerous and well-connected that law enforcement agencies don't even know they exist. He then offers to help uncover these shadowy criminals in exchange for immunity. On one condition: he will only work exclusively with FBI profiler Elizabeth "Liz" Keen (Megan Boone). While the show has more than its fair share of interesting cases, the question of Red's true identity and how he's connected to Liz is the real mystery that captures your attention as you go through the series. The Blacklist has eight seasons on Netflix with the ninth season recently concluded on NBC and a tenth season on the way. – Remus Noronha
Created by: David Hare | Episode Count: 4 | Average Run Time: 60 minutes
Cast: Carey Mulligan, Billie Piper, Jeany Spark, Nathaniel Martelo-White, John Simm
The BBC-produced crime drama series Collateral is unique for a few reasons. One, it's a crime show featuring a female lead. Two, it's a close-ended four-hour story. And three, it actually delights in nuance instead of simply following a standard procedural format. Hailing from writer David Hare (The Hours) and director SJ Clarkson (Jessica Jones), the story follows Carey Mulligan as a confident detective in London who's tasked with investigating the murder of a pizza delivery man, who may be an immigrant or refugee. But a simple murder investigation reveals a web of intrigue, and a cadre of characters enter the frame that dimensionalizes the entire story. Thematically, the story digs deep into issues of immigration and racial tensions in a post-Brexit England, but it is not without flashes of joy and humor, so in total it's an entertaining and meaty watch. – Adam Chitwood
Created by: Joe Penhall | Episode Count: 19 | Average Run Time: 53 minutes
Cast: Jonathan Groff, Holt McCallany, Anna Torv, Hannah Gross, and Cotter Smith
A crime show executive produced by David Fincher should be reason enough to check out Mindhunter, but how about the fact that it's one of TV's best shows in recent memory. It's a bit like Silence of the Lambs in that it follows two FBI agents from the FBI's Behavioral Science Unit—Holden Ford (Jonathan Groff) and Bill Tench (Holt McCallany)—as they set out to interview imprisoned serial killers to see if they can understand why they did what they did, to help create a profile for the FBI to catch these kinds of killers. Set in the 1970s and inspired by true events, this is a crime show steeped in real history (Charlie Manson appears, among others) that offers a lot to chew on. – Adam Chitwood
Creator: Jed Mecurio | Episode Count: 6 | Average Run Time: 65 minutes
Cast: Richard Madden, Keeley Hawes, Gina McKee, Sophie Rundle, and Paul Ready
The opening scene of the first episode of Bodyguard sinks its hooks in you, and the show never really lets up throughout its six-episode first season. The series premiered in the UK to staggering numbers before making its US debut on Netflix, and it follows a metropolitan police officer named David Budd (Richard Madden) who is tasked with guarding the life of Conservative Home Secretary Julia Montague (Keeley Hawes) in the midst of a political crisis—namely the debate over how to deal with terrorism. Budd's personal life and background are slowly revealed throughout the show, forcing the audience to consistently question whether he's a true hero or a potential villain. If you loved the first season of Homeland, this show is absolutely for you. – Adam Chitwood
Creator: Andrew Sodroski | Episode Count: 18 | Average Run Time: 42 minutes
Cast: Sam Worthington, Paul Bettany, Jeremy Bobb, Keisha Castle-Hughes, Chris Noth
Discovery took a chance on a rare scripted series for their network, but it paid off. Manhunt: Unabomber, chronicles the case of Ted Kaczynski, a.k.a. the Unabomber, who was active for almost two decades before the FBI caught him (mainly because, as the show notes, his brother turned him in). But Manhunt focuses on the inner workings of the FBI through the lens of Jim Fitzgerald (Sam Worthington), who created "forensic linguistics" as way to help catch criminals. Like in Netflix's Mindhunter, Fitz's path is filled with red-tape, and he has to fight the institution to better it (and satisfy his own obsession with the case). Paul Bettany is exceptional as Kaczynski, especially in the series' penultimate episode which focuses just on his character. And while Manhunt: Unabomber takes place in the 90s and includes some well-placed cultural touchstones, its retro setting is never satirical or over-the-top. The series is an earnest portrayal of a notorious case and the fascinating but deranged (at least one of them) men at the center of it. — Allison Keene
https://collider.com/best-crime-shows-on-netflix/ The Best Crime Shows on Netflix