In the mood for laughs? We (and Netflix) have you covered. From classics to quirky series Trailer Park Boys and The Good Place — not to mention great Netflix originals like GLOW — below you'll find a list of shows that might make for great discoveries or even comfort TV to watch again and again.
This list will continue to grow, but for now, check out our list of the best comedy shows on Netflix below, and let us know some of your other favorites in the comments.
Looking for something lower commitment? Check out our list of best comedy and rom-com movies on the platform!
Editor's note: This article was last updated in December 2022 to include Seinfeld.
RELATED: The Best Drama TV Shows on Netflix
Created by: Larry David and Jerry Seinfeld
Cast: Jerry Seinfeld, Julia Louis-Dreyfus, Michael Richards, Jason Alexander
What's it about? The long answer is, well, soup puffy shirts answering machines sandwiches the sponge Festivus a festivus for the rest of us buttons boobs that are real and spectacular parking garages the glue on wedding invitation envelopes pez dispensers junior mints Schindler's List muffin tops NBC sitcom development Serenity Now…
The short version: Nothing. – Liz Shannon Miller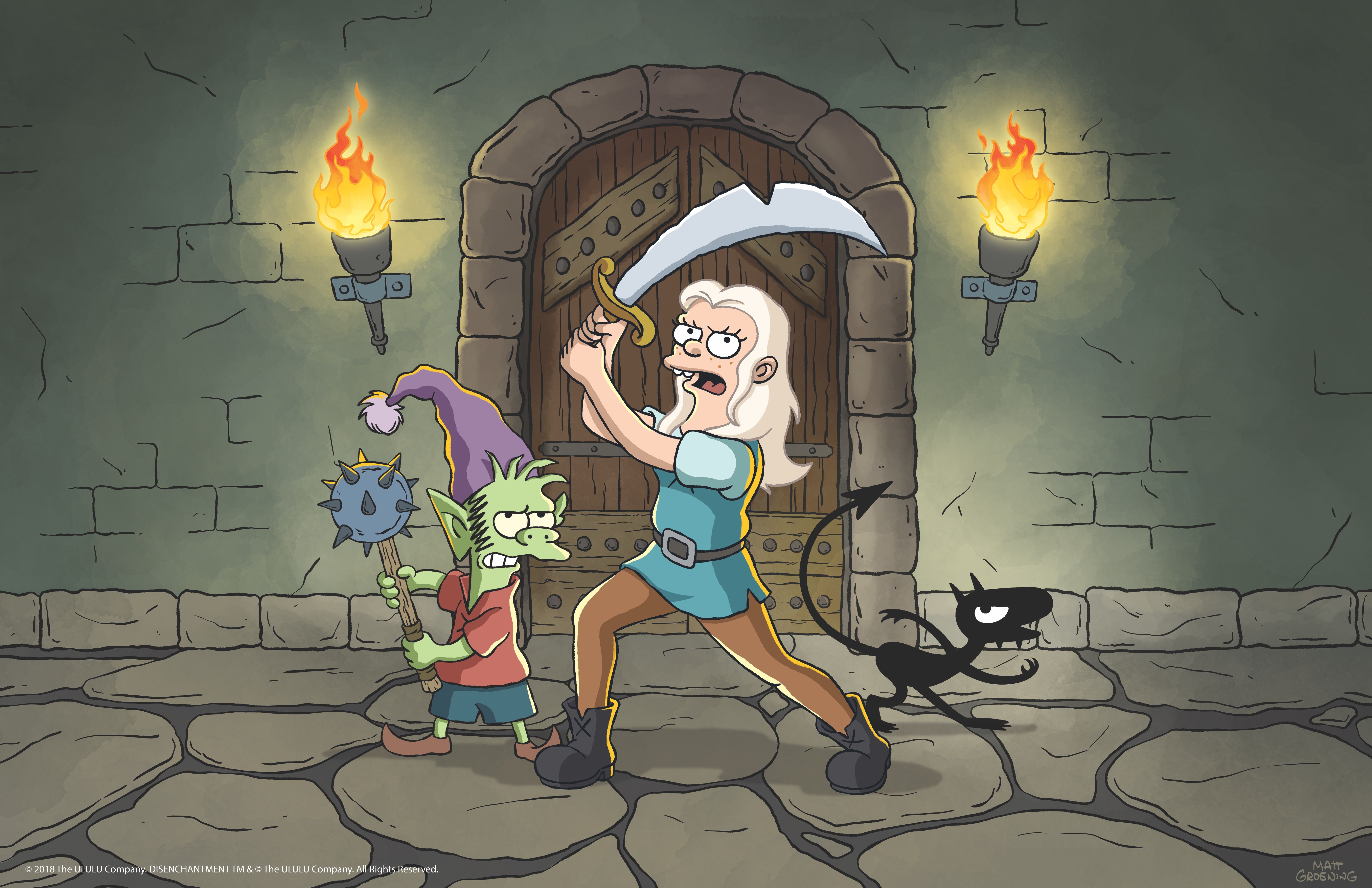 Created by: Matt Groening
Cast: Abbi Jacobson, Eric André, Nat Faxon, John DiMaggio, Tress MacNeille
Matt Groening is known to audiences primarily (and almost exclusively) for his work on adult animated sitcoms like The Simpsons and Futurama. With Disenchantment, Groening presents something somewhat different. It's still an animated comedy targeted towards mature audiences with its fair share of satire, crude humor, and zany situations, but it's also a sequential story without a magic reset button, which is what sets the show apart from the other two mentioned above. Set in a medieval fairytale world, the show pokes fun at the tropes and common aspects of the fantasy genre, with a badass hard-drinking princess who has never been a damsel in distress in her life. Princess Tiabeanie aka Bean (Abbi Jacobson) is the aforementioned princess and the story begins when she meets the naive elf Elfo (Nat Faxon), which is the start of a series of adventures she goes on with her diminutive companion and her "personal demon" Luci (Eric André). Again, unlike Groening's previous work, there is a rather interesting story that develops over time, involving rival kingdoms, secret cabals, and hidden magical abilities that may be a gift or a curse. Come for the swearing and graphic violence, stay for the mystery, plot, and biting sarcasm.- Remus Noronha
The Way of the Househusband (2021-Present)
Developed by: J.C.Staff
Cast: Kenjiro Tsuda, Shizuka Itō, Kazuyuki Okitsu
Most people who aren't all that familiar with anime tend to think it's all about action, drama, and magical girls. However, there are a whole lot of great slice-of-life comedy anime out there, quite a few of which are available on Netflix. The Way of the Househusband is easily one of the best. This series is a light, relaxing watch, with humor that touches on the more commonplace and mundane things in life rather than high-stakes conflicts. The series is centered on Tatsu (Kenjiro Tsuda), a former yakuza who now lives as a dedicated househusband, married to a hard-working young woman named Miku (Shizuka Itō). A lot of the comedy comes from the fact that Tatsu approaches household chores with the same mindset that made him the most feared yakuza in the city. This is the perfect show for when you just want to sit back and relax, and it's also chock-full of useful hacks you could try out around the house. Oh, and there's also a cute (and mischievous) cat involved.- Remus Noronha
Developed by: Mark Hudis and Barry Sonnenfeld
Cast: Neil Patrick Harris, Patrick Warburton, Malina Weissman, Louis Hynes, K. Todd Freeman
A Series of Unfortunate Events is a show for those who prefer their comedies dry and black. The series isn't so much funny as it is witty, with the cartoonishly evil Count Olaf (as played by a singing, dancing, and terrible-disguise-wearing Neil Patrick Harris) being a particular standout. The show is based on the novel series of the same name by Lemony Snicket, following the misadventures of the tragically orphaned Baudelaire children. As the title suggests, the story puts the children through a number of terrible scenarios as they are hounded for their fortune by the evil Count Olaf and his cronies. Through it all, the children look to the adults in their life for help, only to be dismissed and condescended to. With great performances, a tightly-written story, and the perfect mix of tragedy and comedy, this is a series that's a wild ride from start to finish.- Remus Noronha
Created by and Starring: Graham Chapman, John Cleese, Eric Idle, Terry Jones, Michael Palin and Terry Gilliam
The absurd sketch comedy troupe Monty Python are icons of British comedy. Whether it's their ridiculous take on the Arthurian legend in Monty Python and the Holy Grail or their epic period story Life of Brian(which just so happens to occur parallelly to the life of Christ), Monty Python's work is always just as smart as it is silly. And if either of those movies are among your humorous favorites, then Monty Python's Flying Circus should definitely be on your watchlist. Hilarious, bold, and with a biting sense of satire, the series is a showcase of the group and their best work, both as individuals and as a troupe. When you watch this show, it's easy to see how Monty Python went on to inspire some the greatest names in comedy, from Douglas Adams to Lorne Michaels. – Remus Noronha
Created By: Rowan Atkinson and William Davies
Cast: Rowan Atkinson, Jing Lusi, Julian Rhind-Tutt, Greg McHugh, India Fowler
Rowan Atkinson is easily one of the world's most recognizable comedians, and Mr. Bean is a big reason why. Of course, it has been some years since Atkinson last played Bean in live-action but fans of the actor (and the iconic character) have reason to rejoice now. Man vs. Bee captures all the great physical comedy of the Bean franchise and throws in some emotional depth for good measure. Atkinson stars as Trevor Bingley, a divorced house-sitter and father who is assigned to take care of a rich couple's house for a week. Unfortunately, a bee gets into the home and proceeds to set Trevor off on a mad-cap journey filled with crazy antics. – Remus Noronha
Created By: Marta Kauffman and Howard J. Morris
Cast: Jane Fonda, Lily Tomlin, Sam Waterston, Martin Sheen, Brooklyn Decker, Ethan Embry, June Diane Raphael, and Baron Vaughn
Jane Fonda and Lily Tomlin have been icons of the industry since the 60s. Put those two together and you get one of the best Netflix shows ever. Grace and Frankie reunited the 9 to 5 stars as a classic odd couple who are forced to live with each other after their husbands reveal that a) they're gay, b) they're divorcing them, and c) they're getting married. Fonda's Grace Hanson is a tightly-wound no-nonsense businesswoman with a bit of a drinking problem and Tomlin's Frankie Bergstein is the direct opposite, a lovable, pot-smoking, bohemian free spirit. The series explores the evolution of their relationship from barely tolerating each other to not being able to imagine a life apart. The show is hilarious and equally emotional, dealing with serious themes like mortality, illness, and finding purpose. No wonder it's Netflix's longest show ever. – Remus Noronha
Created by: Lisa McGee
Cast: Saoirse-Monica Jackson, Louisa Harland, Nicola Coughlan, Jamie-Lee O'Donnell, Dylan Llewellyn, Siobhán McSweeney, Tara Lynne O'Neill, Tommy Tiernan, Kathy Kiera Clarke, Ian McElhinney
Derry Girls is a delightful comedy about five friends who are finishing up Catholic high school in Derry, Northern Ireland, during the end of the Troubles in the mid-1990s. This intoxicating array of characters finds themselves in insane, hilarious situations — even with turmoil in the background. Their families, who are more aware of the tense situations than they are, and their teacher at school, who is absolutely sick of their shenanigans, round out the cast. It's a fascinating glimpse of life during this period and shows that, no matter what is going on around them, teenagers are still dealing with teenage problems. The first two seasons are currently available. The third and final season, which was delayed because of the pandemic, will arrive on Netflix later this year. – Jennifer McHugh
Created by: Mindy Kaling, Lang Fisher
Cast: Maitreyi Ramakrishnan, Poorna Jagannathan, Darren Barnet, Jaren Lewison, Richa Moorjani, John McEnroe, Ramona Young, Lee Rodriguez, Niecy Nash
As an Indian-American girl growing up in Southern California, Devi tries her best to fit in at high school. However, with the sudden death of her father, a whole new layer of trauma enters her quest. Loosely based on creator Mindy Kaling's high school experience, Never Have I Ever is a hilarious but sentimental story of what happens after the American Dream. Narrated by John McEnroe, who can relate to Devi's rage issues, this show explores many themes, including grief, public humiliation, culture clashing, as well as good old-fashioned love triangles. The third season will premiere in the summer of 2022. – Jennifer McHugh
Kim's Convenience (2016-2021)
Created by: Iris Choi & Kevin White
Cast: Paul Sun-Hyung Lee, Jean Yoon, Andrea Bang, Simu Liu, Andrew Phung, Nicole Power
Set in Toronto, the Korean Canadian Kim family run a little convenience store on a neighborhood block. Paul Sun-Hyung Lee and Jean Yoon play Appa and Umma (dad and mom in Korean), the owners of the shop. They keep it stocked for the random passerby and for the local regulars. Helping them run the store is their daughter Janet (Andrea Bang) while their son Jung (Simu Liu) is estranged from the family after a lifetime of disappointments. Kim's Convenience might have ended with more of a whimper than a bang, but for most of its run, it was beloved for being a comedic and entertaining portrayal of an Asian family. While some of the cast has gone on to appear in larger properties — notably Liu as Marvel's Shang-Chi and Lee appearing in The Mandalorian — Kim's Convenience is likely where they first won our hearts. — Therese Lacson
Created By: Greg Daniels and Steve Carell
Cast: Steve Carell, John Malkovich, Ben Schwartz, Diana Silvers, Lisa Kudrow, Tawny Newsome, and Jimmy O. Yang
Steve Carell's work ought to be considered its own subgenre of comedy. Carell brings his signature brand of comedy to all his projects and this Netflix Original dramedy is one of the best examples. If you loved him as Michael Scott in The Office, you're probably going to love him as General Mark Naird in Space Force. The show follows the workplace misadventures of the United States Space Force, the sixth branch of the United States Armed Forces. When compared to the goofiness of The Office, Space Force is definitely a more sober show, but don't let that fool you. The series is full of thinly-veiled satire, a ton of ridiculous situations, and a healthy helping of plain old fun. The show has had two seasons so far, the latest one arriving on the service on February 18, 2022. There's no word yet on whether Space Force will get a Season 3, but it seems like a really strong possibility. – Remus Noronha
Chappelle's Show (2003-2006)
Created by: Dave Chappelle
One of the most influential comedy shows of the 21st century, Chappelle's Show holds up as an incredible (and incredibly funny) sketch comedy series from Dave Chappelle. The comedian's knack for walking right up to the line but never crossing it is his secret weapon, and Chappelle's Show is as much a social commentary as it is a comedy series. You'll only find the first two seasons on Netflix, as Chappelle successfully lobbied the streaming service to not carry the abbreviated third season, during which Chappelle exited abruptly and Comedy Central continued with the show anyway. — Adam Chitwood
Created By: Chuck Lorre
Cast: Michael Douglas, Alan Arkin, Sarah Baker, Nancy Travis, Paul Reiser, and Kathleen Turner
Most people who have watched Chuck Lorre's extensive list of hit shows tend to expect a certain kind of story from the producer. However, The Kominsky Method breaks all those expectations into tiny pieces and then proceeds to stomp on them. It's a genuinely beautiful show with the perfect balance of tragic circumstances and biting humor.
Sandy Kominsky, played by the iconic Michael Douglas, is an aging actor who once had a very promising career that never came to fruition. But as they say, those who can't do, teach, and Sandy is the best acting coach in the business. The show follows his various misadventures as he deals with life, love, death, and his prostate. The best part of the series is the chemistry between Sandy and his best friend/agent Norman Newlander (Alan Arkin) but the other main characters are also quite endearing. Three seasons of The Kominsky Method have been released on Netflix, starting in 2018 and ending in 2021. – Remus Noronha
Creator: Dan Harmon
Cast: Joel McHale, Donald Glover, Alison Brie, Chevy Chase, Danny‌ Pudi, Yvette Nicole Brown, Gillian‌ Jacobs, Jim Rash, Ken Jeong, John‌ Oliver
If you're down for a comedy show with a meta-bent, tons of hijinks, and a bevy of episodes that are love letters to iconic movies and TV shows from the past, then Dan Harmon's Communityis for you. The NBC series began as the story of a lawyer who's forced to go to community college because he faked his degree, but it quickly evolved into something more complicated, more emotional, and more inventive. Said lawyer (played by Joel McHale) strikes up a complicated companionship with his study group, and together they try to make it out of this community college alive. The seeds of Harmon's knack for dark genre storytelling in Rick and Morty can be glimpsed here, but what holds Community together is, well, a sense of community among its characters, sentimentality be damned. All six seasons are currently streaming, but if you want a cheat sheet check out Greg's fantastic rundown of the best Community episodes. – Adam Chitwood
Created by: Elizabeth Meriwether
Cast: Zooey Deschanel, Jake Johnson, Max Greenfield, Damon Wayans Jr., Lamorne Morris, and Hannah Simone
One part Friends, one part Happy Endings, but all parts delightful, New Girl is a great comfort watch sitcom. The FOX series debuted in 2011 and started as the story of an offbeat teacher (Zooey Deschanel) who moves to LA and begins living with three men. But quickly the show morphed into a Friends-like relationship comedy, complete with its own will they/won't they couple at its core. The improvisational style led to some off-the-cuff iconic moments and Max Greenfield is a darn delight, and while the show probably ran a little long, it remains a great show to watch if you're in need of a pick-me-up. – Adam Chitwood
Creators: Tim Robinson and Zach Kanin
Cast: Tim Robinson
If you're into sketch comedy shows like Chappelle's Show or Nathan For You, then Netflix's original sketch series I Think You Should Leave with Tim Robinson is appointment viewing. This is a deeply weird and hilarious romp from the mind of Tim Robinson, a former writer on Saturday Night Live who brings his unique comic voice to the screen in a series of bizarre sketches that will leave you hurting from laughing so hard. – Adam Chitwood
Created by: Nick Kroll, Andrew Goldberg, Mark Levin, and Jennifer Flacket
Cast: Nick Kroll, John Mulaney, Jessi Klein, Jason Mantzoukas, Jenny Slate, Fred Armisen, Maya Rudolph, and Jordan Peele
The animated Netflix original comedy Big Mouth is both incredibly dirty and incredibly sweet. The show is an unabashed look at life as an adolescent, with a particular focus on the changes that occur at the onset of puberty. Loosely inspired by the experiences of the show's creators, the main characters are seventh graders who struggle with everything from growth spurts to horniness, with the latter personified by the "Hormone Monster" who arrives to guide them through their transition to teenaged life. It's wildly colorful and inventive, and genuinely informative as it pulls no punches in discussing taboo subjects that are relevant to all pre-teens at some point in their lives. And in that way, it's kind of ideal viewing with youngsters of your own, as long as you're OK with having some very frank discussions about the human body and sexuality. – Adam Chitwood
GLOW (2017-2019)
Created by: Liz Flahive and Carly Mensch
Cast: Alison Brie, Betty Gilpin, Sydelle Noel, Brittney Young, Marc Maron, Britt Baron, Kate Nash, Gayle Rankin, Kia Stevens, Jackie Tohn, and Chris Lowell
If you're looking for a comedy that toes the line between comedy and drama, I highly recommend GLOW. Based on a real-life event, the story chronicles a fledgling professional wrestling promotion called the Gorgeous Ladies of Wrestling, as various aspiring actresses and women from all backgrounds take a stab at this entirely new field. Marc Maron plays the schlock B-movie director tasked with turning GLOW into a show for television, Alison Brie is a theater nerd and aspiring actress taking it all way too seriously, and Betty Gilpin plays Brie's former friend and soap opera star who becomes the centerpiece of the wrestling event. The 80s setting provides much soundtrack and costume fodder, and while the show only lasted three seasons, the series gets better and better. – Adam Chitwood
Created by: Michael Schur
Cast: Kristen Bell, Ted Danson, William Jackson Harper, Jameela Jamil, Manny Jacinto, and D'Arcy Carden
If you're wondering why there aren't more shows like Parks and Recreation or The Office for you to watch, allow me to point you in the direction of The Good Place. The NBC series hails from Parks and Rec creator Michael Schur but combines his sense of humor with a highly serialized premise that will have you incredibly engaged in where the story's going. The show takes place in an afterlife where Eleanor Shellstrop (Bell), a recently deceased woman who lived a selfish, spiteful life, has ended up in the "good place" by mistake. With the help of her appointed soulmate Chidi (Harper), she tries to learn how to be a better person as we get flashbacks to Eleanor's life and the lives of those around her. Meanwhile, the architect of the good place, Michael (Danson), tries to figure out why everything in this utopia is going haywire. Tons of suprises ensue on top of some fantastic comedy and, shockingly, really thought-provoking philosophical storytelling about the nature of morality and what it means to be "good." And, importantly, it builds to a really satisfying series finale. – Adam Chitwood
Created by: Laurie Nunn
Cast: Asa Butterfield, Gillian Anderson, Ncuti Gatwa, Emma Mackey, Connor Swindells, Kedar Williams-Stirling, Alistair Petrie
For most people, being a teenager is awkward, weird, random, and confusing. Netflix's series Sex Education, created by Laurie Nunn, not only understands that but leans into it completely. The show stars Asa Butterfield as Otis, a sixth former (high schooler, for Americans — the series is set in the UK) who starts an underground therapy clinic for his peers. Or, as one classmate describes him, he is "that weird sex kid who looks like a Victorian ghost." — Allison Keene
https://collider.com/best-comedy-shows-on-netflix/ The Best Comedy Shows on Netflix Right Now (June 2022)