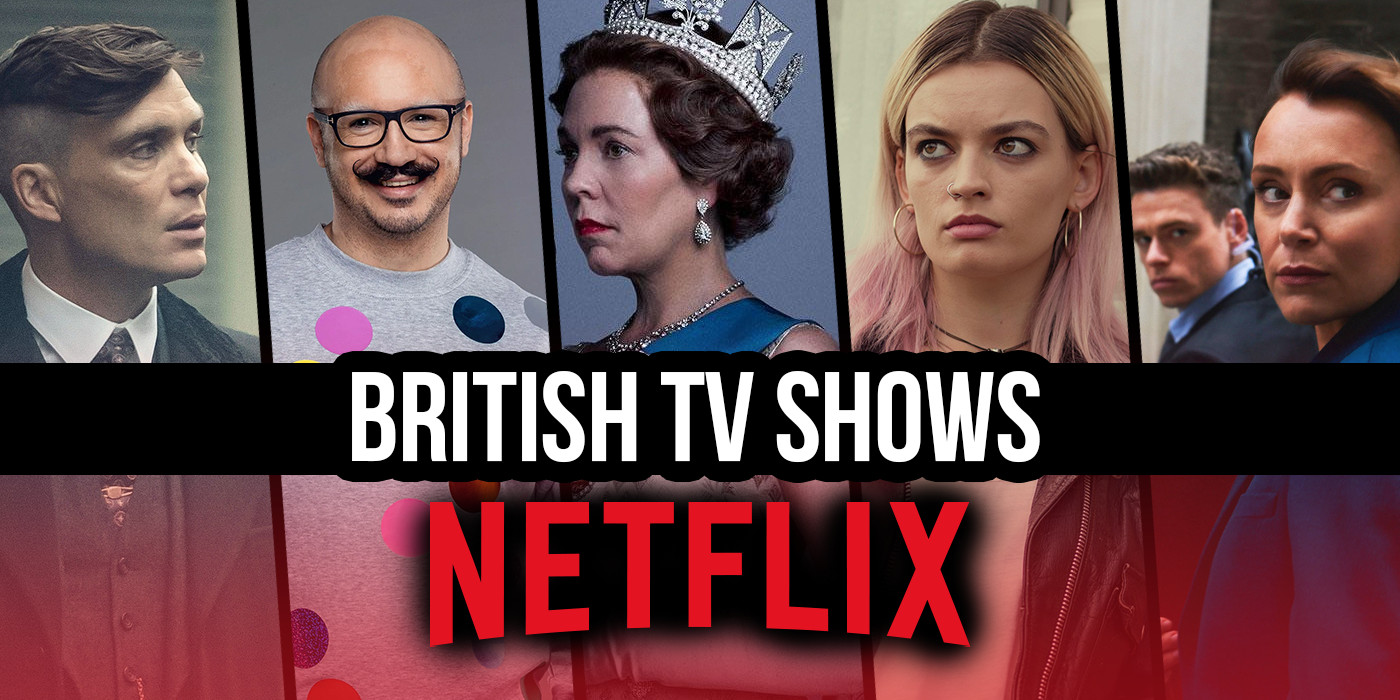 These days, even the most discerning fans can feel a bit spoiled for choice.
It's easier than ever to be an Anglophile these days, largely thanks to streaming services like Netflix, which have brought a wider variety of titles than ever across the pond and right to our doors (and/or our living room couches, as the case may be.) Love period pieces? You can now pick your preferred timeframe — from gangsters in the 1920s (Peaky Blinders) to the British Royal family in the 1960s (The Crown) and teens in 1990s Ireland (Derry Girls). Looking for a more fast-paced thriller? Binge Bodyguard or Collateral. Want to watch something buzzy and downright weird? Well, Black Mirror and The End of the F***ing World are here for you. There are even options for the British sci-fi fan that isn't interested in Doctor Who. (Crazyhead is an underrated gem, and we should all say so.) Here are the best British shows on Netflix.
For more recommendations, check out our list of the best shows on Netflix and best series to binge-watch on Netflix and across all platforms.
Editor's note: This article was updated June 2023 to include Cunk on Earth.
RELATED: The Best Period Dramas and Historical Shows on Netflix Right Now
Black Mirror (2011-present)
Creator: Charlie Brooker
Cast: Rory Kinnear, Jessica Brown Findlay, Anthony Mackie, Miley Cyrus, Jon Hamm, Bryce Dallas Howard
These days, it can often as though our reality is edging too close to the world presented in Charlie Brooker's dystopian science fiction anthology series Black Mirror. (Honestly, once you watch Season 4's "Metalhead," you will never be able to see another one of those Boston Dynamics robot videos again without physically cringing.) But the series is impossible to look away from, showing us the best and worst of humanity — often at the same time — while asking whether we can ever coexist alongside the terrifying technology we've made.
Part satire, part drama, and part unintentional prophecy, Black Mirror explores issues of tech and its unanticipated effects on modern society, using everything from dating sites and social media apps, to home security systems, online gaming, and robots. The episodes are essentially standalones with big budgets and often equally big-name cast members, stunning in both their variety and generally grim outlook on humanity and the world. (Pretty sure Season 3's "San Junipero" and Season 4's "Hang the DJ" are the only stories that have anything approaching a happy ending, so prepare your emotions and expectations accordingly.)
Cunk on Earth (2023)
Creator: Charlie Brooker
Cast: Diane Morgan, Jim Al-Khalili, Shirley J. Thompson
Actress and comedian Diane Morgan travels the world as the hilariously harebrained investigative journalist Philomena Cunk to dig into the history of the Earth. Morgan interviews experts and manages to keep a straight face as she asks the most inane questions to some of the world's leading historians. This mockumentary has a clever biting wit that's delivered through a dry and wry character, which makes every running gag and immensely patient scholar glitter like gold in a format that is typically reserved for simply laying out dull facts. You'll get this after you watch, but by the end, this show will really make you want to pump up the jam.
Treason (2022)
Creator: Matt Charman
Cast: Charlie Cox, Ciarán Hinds, Olga Kurylenko, Oona Chaplin, Alex Kingston
From the clever mind of Matt Charman (Bridge of Spies), Treason is a thrilling espionage drama starring Charlie Cox (She-Hulk) as a promising young MI6 agent named Adam Lawrence. Supporting Cox is an unbelievably impressive cast, including Olga Kurylenko (Black Widow), Ciarán Hinds (The Lord of the Rings: The Rings of Power), Oona Chaplin, and Alex Kingston, Treason is a lively five-episode mini-series highlighted by profound tension and mystery, wrapped around witty dialogue and explosive action. Through an undeniably intriguing cat-and-mouse spy game, Treason is a gripping tale worth watching again and again. – Yael Tygiel
Paranoid (2016)
Creator: Bill Gallagher
Cast: Indira Varma, Robert Glenister, Lesley Sharp, Neil Stuke
Featuring an exquisite cast, Paranoid is an intriguing mystery series where the official investigators are being aided by an illusive "ghost detective." Created by Bill Gallagher (Lark Rise to Candleford), Paranoid follows the brutal murder of a woman. Although the initial crime takes place in a public area and is witnessed by an eclectic crowd, Paranoid reveals a more sinister conspiracy at play. Over the course of eight episodes, the ever-darkening mystery central to Paranoid leads detectives Bobby Day (Robert Glenister), Nina Suresh (Indira Varma), and Alec Wayfield (Dino Fetscher) across Europe as their unnerving case, which they initially perceive as straightforward, becomes eerily more complex and concerning. – Yael Tygiel
Get Even (2020)
Creator: Holly Phillips
Cast: Kim Adis, Bethany Antonia, Jessica Alexander, Mia McKenna-Bruce
Adapted from Gretchen McNeil's Don't Get Mad book series, Get Even is a teen mystery drama from Holly Phillips. Set in an elite private school, Get Even follows four teenage girls who secretly form a club to expose their bullies. Get Even stars Kim Adis, Mia McKenna-Bruce (Vampire Academy), Bethany Antonia (House of the Dragon), and Jessica Alexander as the four teens determined to expose injustice, allowing the series to explore familiar themes reminiscent of One of Us is Lying and Pretty Little Liars. Get Even is an exciting and heart-pumping ten-episode thriller with twists at every turn. – Yael Tygiel
The Stranger (2020)
Creator: Harlan Coben
Cast: Richard Armitage, Jennifer Saunders, Siobhan Finneran, Dervla Kirwan, Hannah John-Kamen
The Stranger is a mysterious crime drama based on the novel by Harlan Coben. Starring Richard Armitage (Ocean's Eight), The Stranger follows a family from the English suburbs as a stranger (Hannah John-Kamen) inserts herself into their lives, revealing their secrets and upending their way of life. With unexpected discoveries over the course of eight episodes, The Stranger is an intensely thrilling story, captivating as each lie in the web is untangled. John-Kamen's portrayal of the intriguing stranger who knows too much is riveting, especially when facing established heavy hitters like Armitage, Anthony Head (Ted Lasso), and Jennifer Saunders. The Stranger is a suspenseful puzzle with unexpected twists at every turn. – Yael Tygiel
You Don't Know Me (2022)
Creator: Tom Edge (based on the novel by Imran Mahmood)
Cast: Samuel Adewunmi, Sophie Wilde, Bukky Bakray, Roger Nsengiyumva
A riveting four-part crime series, You Don't Know Me is a courtroom drama with a twist. After being accused of shooting a South London drug dealer, the main character Hero (Samuel Adewunmi) uses his closing statement to tell his side of the story, as he didn't testify on his own behalf during the trial. Told through a combination of his statement and flashbacks, You Don't Know Me is an engaging legal drama with a unique framework that will keep you guessing. – Taylor Gates
Anatomy of a Scandal (2022)
Developed by: David E. Kelley, Melissa James Gibson
Cast: Sienna Miller, Michelle Dockery, Rupert Friend, Naomi Scott, Joshua McGuire, Josette Simon
Anatomy of a Scandal is a riveting anthology series that explores the fallout of an affair by a British parliament member. The series revolves around the politicians wife, Sophie Whitehouse (Sienna Miller), as she struggles to deal with the media and, after her husband is accused of rape, the law. The series was co-developed by David E. Kelley, who is known for everything from Big Little Lies to Boston Legal. If you're a fan of political thrillers in the vein of House of Cards or Scandal, this show is sure to be right up your alley. – Taylor Gates
Peaky Blinders (2013-2022)
Creator: Steven Knight
Cast: Cillian Murphy, Helen McCrory, Paul Anderson, Kate Phillips, Sophie Rundle, Anya Taylor-Joy, Aidan Gillen, Sam Neill
This endlessly addictive gangster period drama is set in the West Midlands industrial town of Birmingham in the 1920s, and follows the story of the series' titular gang, the Peaky Blinders, who earned their names thanks to the razor blades hidden in the brims of their caps. Cillian Murphy stars as Tommy Shelby, a World War I veteran turned gangland crime boss, who's determined to make his family one to be reckoned with, both financially and otherwise.
The result is five seasons (so far) of murder, betrayal, drug deals, blackmail, street fights, barroom brawls and shifting loyalties that's a thrilling rollercoaster ride from start to finish. Murphy's mercurial Tommy gets the lion's share of the limelight, battling everything from greed to ghosts to PTSD, but it's Helen McCrory's brassy Aunt Polly — a woman who's every inch as terrifying and capable as any of the gang's men — who repeatedly steals the show.
The Great British Baking Show (2010-present)
Cast: Mary Berry, Paul Hollywood, Prue Leith, Noel Fielding, Mel Giedroyc, Sue Perkins
The most comforting and cozy reality TV series in existence, The Great British Baking Show will appeal to you even if your idea of baking is throwing some Betty Crocker brownie mix in a bowl. A cozy quest to find Britain's best baker, this is a series that's labeled as a competition, but is really just about everyone being super nice and supportive toward each other while making seriously amazing looking treats.
Known on the other side of the Atlantic as The Great British Bake-Off, this show feels like a breath of fresh air next to typical American cooking competitions like Top Chef, Chopped, or anything on which Gordon Ramsay appears. There's no backbiting, no sabotage, and its contestants are genuinely happy for and appreciative of their fellow bakers in the tent. Even the judges and hosts are kind, seeking to uplift and talk their charges through their various culinary crises, rather than mine the moments for tears. Occasionally, Mary Berry will pronounce something underbaked, or Paul Hollywood will side-eye a finished project before mentioning he'd like more or less of a certain flavor, but these low-stakes crises are exactly what we could all probably use more of right now.
The Crown (2016-present)
Creator: Peter Morgan
Cast: Claire Foy, Matt Smith, Vanessa Kirby, Olivia Colman, Tobias Menzies, Helena Bonham Carter
Lavish historical drama The Crown is one of the most expensive Netflix series ever made — and certainly looks worth every penny. The story of the reign of Queen Elizabeth II, each season corresponds with roughly a decade of her time on the throne, and it has everything you could possibly want in a story of British royals — scandals, triumphs, intrigue and drama abound.
The series' rotating cast swaps out every two seasons to allow all the major players to age naturally, giving us fresh takes on both Her Majesty the Queen and all those around her. Claire Foy is a wonder as a young Elizabeth navigating the difficulties of coming to her throne, but her performance is more than equaled by Olivia Colman's turn as a middle-aged queen wondering if she's still a person beyond the crown she wears. (Imelda Staunton will debut as Elizabeth when the series reaches Season 5.) Though some of its historical moments aren't as accurate as they could be, the show's deft and honest presentation of both the weight and privilege the royal family entire is asked to carry will keep you coming back for more.
Derry Girls (2018-2022)
Creator: Lisa McGee
Cast: Saoirse-Monica Jackson, Louisa Harland, Nicola Coughlan, Jamie-Lee O'Donnell, Dylan Llewellyn
This loud, messy, heartfelt comedy follows the misadventures of six schoolgirls in Northern Ireland during the final days of the Troubles and is a sincere joy from start to finish. The potentially dark cloud of IRA bombings remains a constant presence in the background — see the episode in which an innocuous lie about a suitcase full of vodka brings in the bomb squad — but the series' late 1990s setting is as often conveyed as much by its excellent pop soundtrack as it is by terrorist threats.
Though this is probably a show you'll need to watch with the subtitles on – these accents are no joke – its relatable teen problems of unrequited crushes and unaffordable school trips are universal. The lead quartet of teens is wonderful, both individually and together – and whether brash Michelle, wistful Erin, goody-two-shoes Clare or weird Orla ends up being your ultimate favorite, you'll still love the awkward comradery between them all. Derry Girls is a story set in extraordinary times, but its very ordinariness is what makes it great.
Call the Midwife (2012-present)
Creator: Heidi Thomas
Cast: Jessica Raine, Helen George, Jenny Agnutter, Laura Main, Miranda Hart, Jennifer Kirby, Stephen McGann, Charlotte Ritchie, Emerald Fennell, Leonie Elliott
This heartwarming, emotional drama has been on the air for nine seasons so far and seems fairly set to run forever because there's always (I hope) going to be a space for stories about women helping other women. A period drama that began in the 1950s and has already reached the Swinging Sixties with no end in sight, Call the Midwife follows the story of the nuns and midwives of Nonnatus House, who serve the working-class families and immigrants of London's East End.
The series' rotating cast means a regular influx of fresh faces arriving on the scene, with a variety of backgrounds and stories of their own. (Miranda Hart's Chummy, a regular presence in the show's earlier seasons is a special delight.) Its utterly fearless attitude toward addressing the widest possible variety of heartbreaking physical and societal ailments means that the show tackles everything from abortion laws and poverty to miscarriages and thalidomide births. But though the show wholeheartedly celebrates life, death and tragedy are always lurking nearby, so keep a stack of Kleenex handy.
Bodyguard (2018)
Creator: Jed Mercurio
Cast: Richard Madden, Keeley Hawes, Sophie Rundle
Everyone's favorite King in the North Richard Madden stars in this fast-paced, utterly relentless thriller from the creator of Line of Duty. Madden plays David Budd, a former Army veteran who's assigned to the protection detail of the U.K.'s controversial Home Secretary after successfully thwarting a bombing attack.
What probably should be a paint by numbers story turns out to be a layered exploration of paranoia, politics, and deeply messy people, as an unstable Budd wrestles with his lingering PTSD and growing guilt over protecting a woman busy agitating to send more men like him to war. And Keeley Hawes makes Madden an admirable scene partner in the deliciously ambitious Julia Montague, a woman who's more than happy to trample on things like privacy and her countrymen's peace of mind for her own power. A series that's perfectly designed for a weekend binge in almost every way.
The End of the F***ing World (2017-2019)
Creator: Charlie Covell
Cast: Alex Lawther, Jessica Barden, Gemma Whelan
This dark teen comedy-drama is probably like nothing you've ever seen before, in all the best ways. Adapted from the Charles Forsman graphic novel of the same name, The End of the F***ing World follows the story of a seventeen-year-old boy named James, who believes he's a psychopath and plans to take his inner dark side to the next level by killing his rebellious classmate, Alyssa. For her part, Alyssa just wants to run away from home, and when she suggests they embark on an outlandish adventure together, James plans to use their trip to commit a little homicide along the way.
Look, The End of the F***ing World is weird. It's dark, and it's creepy. But it's also strangely sweet and romantic at the same time, an angsty teen drama done up in thoroughly adult trappings, like a My Chemical Romance song given human form. The relationship that ultimately develops between James and Alyssa is certainly an unconventional one, but you'll find yourself rooting for this literal definition of "those crazy kids!" anyway.
The IT Crowd (2006-2013)
Creator: Graham Linehan
Cast: Chris O'Dowd, Katherine Parkinson, Richard Ayoade, Matt Berry
The IT Crowd first aired in 2006 but remains popular on streaming services thanks to its charming cast and utter, absurdist dedication to what is an essentially one-note joke. The show follows the story of an odd-couple pair of information technology workers — slacker Roy Trenneman and uptight computer genius Maurice Moss – who most train their new (female, oh no!) team member Jen Barber, who knows virtually nothing about IT.
The jokes are pretty much what you expect ("Have you tried turning it off and then turning it back off again?"), yet the show still manages to be a ton of fun to watch, thanks to its often goofy, but extremely heartfelt tone. The central trio of characters are the sort who would likely become extremely annoying if left to their own devices, but together, they make something that feels a lot like comedy magic. All three leads are great, but it's Richard Ayoade's deadpan Maurice who most often steals the show.
Crazyhead (2016)
Creator: Howard Overman
Cast: Cara Theobold, Susan Wokoma, Lewis Reeves, Arinze Kene, Tony Curran
A perfect blend of Buffy the Vampire Slayer-style supernatural fun and Misfits-level teenage superhero irrelevance, Crazyhead is a gem of a series that far too many viewers slept on when it was first released. The series follows the story of Amy, a bowling alley employee who discovers she can see demons. When she's rescued by the baseball-bat wielding Raquel outside a nightclub, a supernatural fighting partnership – and tentative friendship – is born.
Like many teen supernatural shows, Crazyhead uses its demon-fighting as a metaphor for larger real-world problems including sexism and the patriarchy. The story often veers into the patently ridiculous – one of Amy's friends becomes possessed and the girls must perform an exorcism, a boy Raquel goes on a date with turns out to be a demon, that kind of thing. But the friendship that develops between our two but-kicking demon hunters firmly grounds the series in a relationship that feels both real and necessary, as well as a ton of fun.
Lovesick (2014-2018)
Creator: Tom Edge
Cast: Johnny Flynn, Antoina Thomas, Daniel Ings
This irreverent comedy was originally known as Scrotal Recall, which is a pretty on-the-nose explanation of its premise. Redubbed Lovesick by Netflix the summer before its second season, the series follows the story of Dylan, a young man who is quite literally sick as a result of love. Because Dylan has contracted chlamydia, and over the course of the show he must retrace his sexual history to tell all his former lovers about his unfortunate diagnosis.
The show jumps back and forth in time, exploring Dylan's previous relationships — or hook-ups as the case may be — and introducing us to his roommates Evie and Luke and their lives in Glasgow. Up and coming It Guy Johnny Flynn is both charming and likable as Dylan and the show's take on relationships generally — especially those of the sort that generally tend to occur in your twenties specifically — is spot-on.
​​​​​​​Watch on Netflix​​​​​​​
Sex Education (2019-present)
Creator: Laurie Nunn
Cast: Asa Butterfield, Gillian Anderson, Ncuti Gatwa, Emma Mackey, Connor Swindelis, Aimee Lou Wood
No one does uncomfortable sex comedy like the Brits, and Sex Education is no different. Asa Butterfield stars in this charmingly awkward dramedy about the son of a sex therapist who inadvertently becomes something of a sex counselor among the local teens at school. After accidentally curing a school bully of his sexual anxiety, Otis and his BFF Maeve start their own business out of an abandoned school levorotary and things go about the way you'd expect.
Don't be fooled by the seemingly lightweight premise and occasionally raunchy vibe though. The writing is surprisingly rich and the show tackles complex and emotional topics from sexually transmitted diseases to assault with nuance and care. Butterfield is surrounded by an appealing group of young actors with all get the chance to grow and develop over the course of the series. And though you've probably already seen the GIFs of Gillian Anderson as Otis' wildly uninhibited sex expert mother, she's pitch-perfect in every scene she's in. (And reason enough to watch on her own.)
​​​​​​​Watch on Netflix​​​​​​​
Last Tango in Halifax (2012-2020)
Creator: Sally Wainwright
Cast: Anne Reid, Derek Jacobi, Nicola Walker, Sarah Lancashire
A heartwarming family drama about love, life and second chances, Last Tango in Halifax tells the story of an elderly couple — played by the always wonderful Derek Jacobi and Anne Reid — who reconnect fifty years after they originally met and fell in love, thanks to the magic of Facebook. (At least it's good for something, right?)
It's rare enough to see a series that portrays the elder generation with nuance and care, let alone allows them to fall in love the way that this one does. Alan and Celia's second-chance romance is both sweet and realistic, and Last Tango deftly handles the nuanced difficulties inherent in blending two families together so late in everyone's lives. The series also follows the complicated stories of their two daughters, Gillian and Caroline, who are struggling with a divorce and an LGBT sexual awakening, respectively, when the series begins. The family dynamics remain complex and messy throughout, even as each member faces different challenges both separately and together.
https://collider.com/best-british-shows-on-netflix/ The Best British Shows on Netflix (June 2023)