BELTALOWDA, LISTEN UP! 🚀✨
EPIC NEWS ON THE EXTERNAL COMMS! Ready to dive deep into the Belt and uncover the untold tales of our favorite badass, Camina Drummer?! Hold onto your vac-suits, because The Expanse: A Telltale Series is here to take us on one wild ride!
Step into the boots of Camina Drummer (brilliantly brought to life by the incomparable Cara Gee in both the game AND the series!) as the XO of a scrappy scavenger crew. They're not just out there collecting space junk; they're on a heart-pounding quest for a treasure hidden in the far reaches of The Belt. 💫
But wait, there's more! This game unfolds before the epic tales we witnessed on the TV screen. This means if you've got friends who've been living under an asteroid and haven't seen The Expanse yet (shame on them!), this is their golden ticket into the universe. But for us die-hard fans, this is our chance to delve deeper into Drummer's origins and see sides of her we've only dreamed about!
And brace yourselves: our radar has picked up signals of some VERY familiar faces making their cameo appearances as the game progresses. Yam seng! 🍻
Telltale has woven their signature storytelling magic with the gritty beauty of The Expanse, creating an experience where every word you utter, every choice you make, and every clue you uncover (or miss!) will dictate who among your crew will still be breathing when the credits roll.
OH, BERATNAS & SESATAS, YOU'RE IN FOR A TREAT! 🌌🚀
A WHOLE NEW UNIVERSE OF GAMEPLAY AWAITS! Ever dreamt of drifting through The Belt in true Zero-G? Ever wanted to feel the chilling vastness of space, the hum of your mag boots as they stick to ship hulls, or the exhilaration of floating amidst ancient shipwrecks? Taki taki! (Say no more!) The Expanse: A Telltale Series is making those dreams a reality!
Zero-G Extravaganza: Get ready to literally turn your world upside down! Walk on walls, ceilings, and anywhere your mag boots can stick! And when they can't? Just unleash those Zero-G thrusters and float like a true Belter through the endless void.
Deep Space Interaction: Every corner of this game is a journey waiting to be explored. Feel the rush as you skim through derelict sections of ghostly ships, interact with the relics of the world, and engage in heart-to-heart (or maybe heated?) chats with your crew members. This is Telltale, but not as you know it; it's bigger, bolder, and by far the most immersive dive they've ever crafted!
Life & Death Decisions: Now, here's the kicker, sasa ke? (you know?) With every choice, there's a ripple. With every ripple, someone's fate hangs in the balance. This crew? They've got baggage. Sparks fly, relationships are tested, and some massive egos need wrangling. Navigate these treacherous waters and determine who gets to tell the tale. Play it right, and you could save all but one. Play it… differently, and the lonely survivor might be recounting a tale of loss.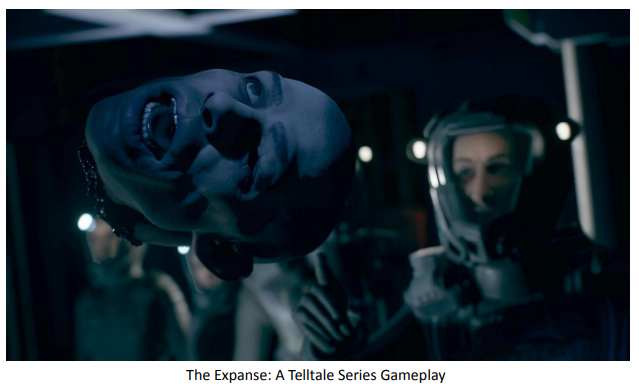 ALL THE DETAILS: THE EXPANSE: A TELLTALE SERIES PRICING & RELEASE 🚀
Standard Edition: Priced at $39.99, this gets you access to five thrilling episodes.
Deluxe Edition: For just $44.99, enjoy the full five episodes PLUS the bonus DLC episode "Archangel," putting the spotlight on Chrisjen Avasarala (masterfully portrayed by Shohreh Aghdashloo).
Launch Details: Mark your calendars, Belters! The game already launched on July 27th, dropping its first episode at the stroke of midnight, local time. A new episode will come your way every two weeks going forward. Keep an ear out for the "Archangel" DLC which will float into your universe later this fall.
Get ready, universe! This adventure is just on the horizon! 🌌🎮🌟
So, prepare to dive deep, hold your crew close, and remember: in space, your choices echo louder than any scream. Suit up, Beltalowda! The Expanse is waiting, and it's one hell of a ride! 🌟🔥🖖
Pick up The Expanse: A Telltale Series Now
PlayStation Store
Epic Games Store
Xbox Store
Mega Fan of the Expanse? You can also pick up the Rocinante Ship Replica on Amazon
I have been obsessed with computers, tech, gadgets and games since the early 1980's having grown up on the Commodore 64 and Amiga computers.
By day I work in the IT Security Industry and have been in IT for over 20 years. On my spare time I am a Vlogger, Blogger, Streamer, Gadget Reviewer, affiliate marketer, influencer and entertainer. I am also an avid movie fan, TV Show fan, Anime fan, video game fan and fan of trying anything and everything new.


https://www.dragonblogger.com/telltale-back-with-the-expanse/ Telltale is Back with The Expanse