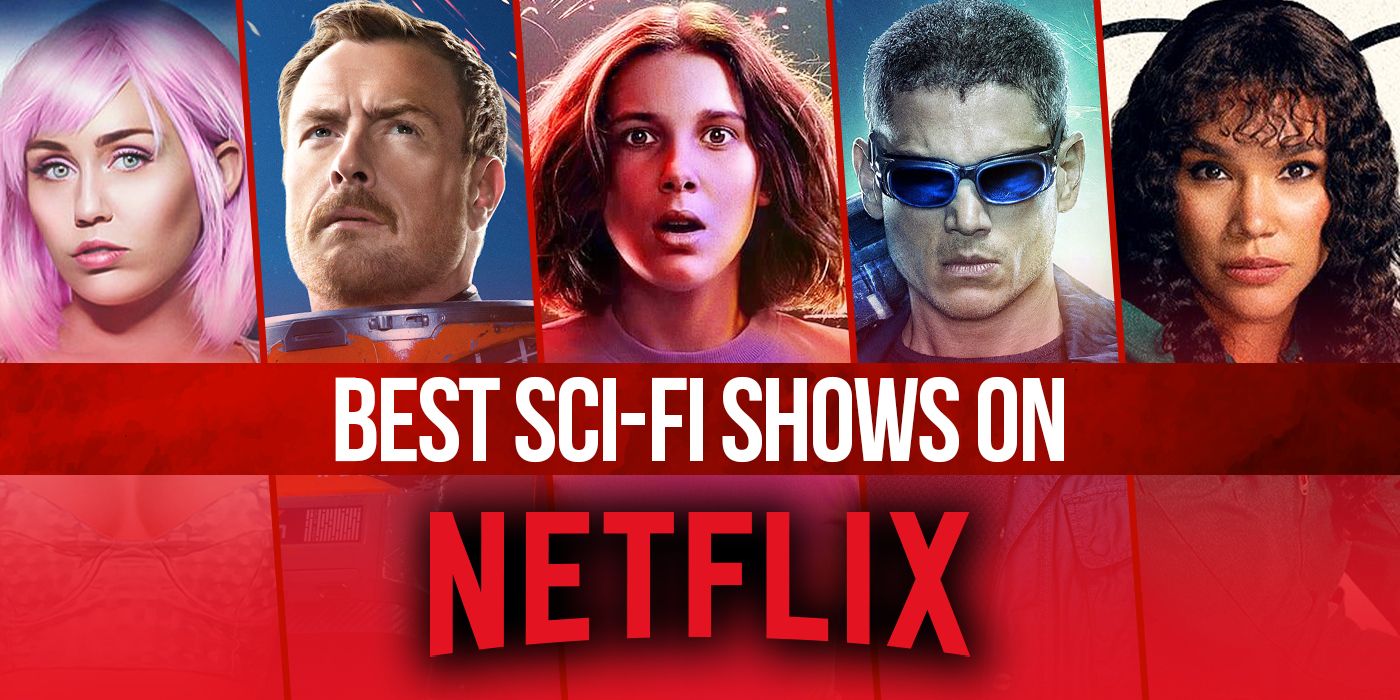 In the mood to watch a genre series? Sci-fi, superheroes, or a touch of horror? Well, we (and Netflix) have you covered. From classics like Deep Space Nine to quirky series Legends of Tomorrow — not to mention great Netflix originals like Stranger Things — below, you'll find a list of shows that might make for great discoveries or are just fun to watch again and again.
Don't see what you're looking for? Check out our list of the best shows on Netflix or the best sci-fi shows on Hulu or Prime Video.
Editor's note: This article was updated March 2023 to include The Barrier.
Related: The Best Sci-Fi Movies on Netflix
Black Mirror (2011-2019)
Creator: Charlie Brooker
Cast: Rory Kinnear, Daniel Kaluuya, Jon Hamm
The anthology series that dissects our relationship to technology — and both the potential and peril that come from it — Black Mirrorhas managed to endure, even when some of its most recent episodes declined in quality. First created by Charlie Booker back in 2011, when it is at its best in its first four seasons, it remains particularly incisive. In covering a variety of genres and settings, it has firmly embedded itself as one of the more inventive anthology shows out there. Mixing dark humor with horrifying glimpses of our future, it is a show that often leaves a pit in your stomach even as it remains endlessly entertaining. Whether it is in the unlikely romance of "San Junipero" or the grim nightmare of "USS Callister," it also plays around with the realities we create for ourselves with a sense of tact that continually draws you in. There is something for everyone in the many episodes that cover a range of distinct stories that really hit home. – Chase Hutchinson
The Barrier (2020-present)
Creator: Daniel Écija
Cast: Unax Ugalde, Olivia Molina, Eleonora Wexler
Created by Daniel Écija, The Barrier is a fascinating science-fiction drama from Spain that takes place in a dystopian future where dictators reign and major cities have been distributed into divisions in order to maintain power and manage resources. Starring Unax Ugalde, Olivia Molina, and Eleonora Wexler, The Barrier follows one family's fight to survive the disparity in Madrid. Grounded on a uniquely plausible premise, The Barrier is not only a captivating drama but, like most quality sci-fi, serves as a warning regarding the current path society finds itself walking on. – Yael Tygiel
The I-Land (2019)
Creator: Anthony Salter
Cast: Natalie Martinez, Kate Bosworth, Ronald Peet, Sibylla Deen
Created by Anthony Salter, The I-Land is his debut mystery science-fiction miniseries about a group of 10 people who find themselves deserted on an island. With no memories of how they got to the island or who they even are, the strangers must try to survive the treacherous reality and attempt a journey back to their normal lives. Starring Natalie Martinez and Kate Bosworth(Superman Returns), along with Ronald Peet and Sibylla Deen, The I-Land surprises with plot twists. Salter's creative integration of a virtual reality aspect adds a layer of intriguing existential questions, but The I-Land may raise more philosophical ideals than satisfactory resolutions. – Yael Tygiel
Alice in Borderland (2020-present)
Cast: Kento Yamazaki, Tao Tsuchiya, Yūki Morinaga
Alice in Borderland is a science-fiction thriller based on Haro Aso's manga of the same name. Alice in Borderland follows a couple of twenty-somethings who find themselves competing in dangerous games through an abandoned Tokyo. Similarly to beloved shows like Squid Game, as Alice in Borderland continues, the unwitting competitors discover that their lives depend on successfully completing the games and challenges they encounter. Starring Kento Yamazaki and Tao Tsuchiya, Alice in Borderland showcases not only these talented actors but also an outstanding use of special effects and gorgeous cinematography. – Yael Tygiel
Manifest (2018-2022)
Created by: Jeff Rake
Cast: Melissa Roxburgh, Josh Dallas, Athena Karkanis, J.R. Ramirez
You've not doubt heard the buzz, now see what all the fuss is about.Manifest first premiered on NBC in 2018, and while it earned some solid praise, ratings were steady enough that the network canceled the series after three seasons. But right around that time the show hit Netflix, and has been lighting up the Top 10 ever since. Oh yeah, the story. The show begins with passengers on a flight experiencing a bit of turbulence, only to touch down and discover that for everyone else on Earth, the flight has been missing for five years. The show delves into the mystery behind this strange occurrence, and the changes these passengers have gone through during their flight. Intrigue, sci-fi, and drama coalesce into a binge-worthy show. – Adam Chitwood
The Imperfects (2022-present)
Creators: Shelley Eriksen, Dennis Heaton
Cast: Morgan Taylor Campbell, Rhianna Jagpal, Iñaki Godoy, Italia Ricci
The Imperfects is a fast-paced, quirky action-adventure series about three young people who protect humans against monsters while trying to find the scientist who performed experimental procedures that turned them into monsters themselves. Created by the people behind Van Helsing,Shelley Eriksen and Dennis Heaton bring together a trio often overlooked in the monster genre.Starring Iñaki Godoy, Morgan Taylor Campbell (Zoey's Extraordinary Playlist), and Rhianna Jagpal as Juan the Chupacabra, Tilda the Banshee, and Abbi the Succubus, respectively, The Imperfects is a science fiction series that has been described as The Boys meets The Umbrella Academy.– Yael Tygiel
Maniac (2018)
Creator: Patrick Somerville
Cast: Emma Stone, Jonah Hill, Justin Theroux
Maniac is a wildly innovative science fiction adventure wrapped in a dark comedy. Starring Emma Stone (Cruella) and Jonah Hill (Superbad), Maniac comes from creator Patrick Somerville (The Leftovers) and follows two strangers, Stone and Hill, who find themselves drawn together during a mysterious and mind-bending pharmaceutical trial. Set in a psychedelic, retro-future New York City, Maniac is a gorgeously crafted mini-series brimming with stunning visuals and exploring complex themes such as mental illness, human interactions, and reality through truly original avenues. Leaning heavily towards dry, satirical humor, Maniac is perplexingly provocative and thought-provoking to watch. – Yael Tygiel
Travelers (2016-2018)
Creator: Brad Wright
Cast: Eric McCormack, MacKenzie Porter, Nesta Cooper, Patrick Gilmore
From Brad Wright (Stargate: SG-1), Travelers is a brilliantly intriguing time travel science-fiction adventure starring Will and Grace alum Eric McCormack. In this ensemble series, McCormack stars with MacKenzie Porter, Jared Abrahamson, Reilly Dolman, and Nesta Cooper (See) as a team of individuals from the distant future whose consciousnesses are sent to the present in order to prevent a world-ending event. As Travelers unfolds, the travelers are forced to assume the lives of the bodies they inhabit, while attempting to alter the future and save humanity. With a creative perspective on the genre and a wonderfully talented cast, Travelers is a top-notch time travel journey. – Yael Tygiel
Resident Evil (2022-present)
Created by: Andrew Dabb
Cast: Ella Balinska, Tamara Smart, Siena Agudong
There are two main timelines in Resident Evil, each connected and equally compelling. The first takes place in 2022 and follows 14-year-old twins Billie (Siena Agudong) and Jade (Tamara Smart) as they move to New Raccoon City. There, they uncover the town's sinister secret while their father coordinates a response to a deadly virus. The second fast-forwards to 2036. At this point, the virus has ravaged the place, and the powerful Umbrella Corporation is searching for Jade (now played by Ella Balinska). As frightening as it is fun. Resident Evil is a blast for fans of the video game it's based on while not alienating new fans who might not be as familiar with the franchise. – Taylor Gates
Dark (2017-2020)
Creators: Baran bo Odar, Jantje Friese
Cast: Louis Hofmann, Karoline Eichhorn, Lisa Vicari
Germany's breakout science-fiction drama Dark was a surprise hit for the streaming platform. Presented as a family drama, this saga includes supernatural twists and enticing mysteries. Dark follows the disappearance of a couple of young children from this small German town, unraveling a secret intertwining four families. Comparable to the beloved series Stranger Things, Dark is a fantastically suspenseful series full of heartfelt relationships as well as thrilling adventures. Created by Baran bo Odar and Jantje Friese, Dark star Louis Hofmann, Karoline Eichhorn, Lisa Vicari, and Maja Schöne. – Yael Tygiel
Sense8 (2015-2018)
Creator: The Wachowski Sisters & J. Michael Straczynski
Cast: Tuppence Middleton, Bae Doona, Jamie Clayton, Brian J. Smith
Most of us just have to deal with being born into a family with siblings and cousins and the messiness that comes with that. Now imagine you are born, and you share a mind and emotions with seven other people across the world. Such is the concept behind The Wachowski Sisters and J. Michael Straczynski's Netflix series Sense8. It will definitely be the wackiest thing you watch on this list as a group of eight "sensates" meet and band together when they end up being hunted by a mysterious and sinister corporation. With characters from all walks of life and from all over the world, Sense8 is an international story, but ultimately it's a story about connection, acceptance, and embracing who you are and the world around you. Beneath the sci-fi premise of it all is a story about humanity. — Therese Lacson
Lost in Space (2018-2021)
Creator: Matt Sazama, Burk Sharpless
Cast: Molly Parker, Toby Stephens, Maxwell Jenkins
A modern update on the cult classic TV series, Lost in Space is set 30 years in the future and follows the Robinson family as they attempt to colonize a new planet. They are thrown off course and find themselves stranded on an alien planet. While there, they discover a robotic alien creature who seems to be malevolent – until young Will Robinson bonds with it, and it becomes the family's best ally. – Alyse Wax
The Umbrella Academy (2019-present)
Created by: Steve Blackman and Jeremy Slater
Cast: Elliot Page, Tom Hopper, David Castañeda, Emmy Raver-Lampman
The Netflix original series The Umbrella Academy is the perfect antidote to those fatigued by the glut of superhero movies and TV shows. Based on the graphic novel series by Gerard Way and Gabriel Ba, the story revolves around seven children with extraordinary powers who were adopted by a strange (and very rich) man who trained them to be heroes. Their troubled upbringing drove them apart, but they reunite at the beginning of the first season when their estranged father turns up mysteriously dead. Not only that, but their brother — who's been missing since they were children — appears via time travel and warns them the apocalypse is coming in a matter of days. This show is extremely joyful and funky and weird, giving weight each of its disparate characters while carrying on a compelling serial mystery all its own. If you want a show that's fun and mysterious and a little spooky, check this one out. – Adam Chitwood
Legends of Tomorrow (2016-2022)
Creators: Greg Berlanti, Marc Guggenheim, Andrew Kreisberg, Phil Klemmer
Cast: Victor Garber, Brandon Routh, Arthur Darvill, Caity Lotz, Franz Drameh
Two years ago you could not have convinced me that one of the best shows on television would be The CW's Legends of Tomorrow, but by God it is. The series has truly come into its own in its third season (after a still very good second season), finding a wonderful rhythm in both weekly adventures an overarching villains — including the rehabilitation of Damian Darhk from his time on Arrow, as well as the introduction of magical creatures where time travel isn't always a cure-all. Plus, it's opened the door for Constantine!
The series focuses on a group of time-traveling rogues, mostly cobbled together from elsewhere in the Arrow-verse. The first season isn't great, but it lays the groundwork for the friendships that define the show. But if you need to skip ahead and start with Season 2 or even 3, I don't blame you. Another thing that has made the series so successful is its willingness to change up its storylines and its cast. If something doesn't work, or a dynamic doesn't take, they scrap it and try something else. And meanwhile, the show also brings back what does work — like Beebo, everyone's favorite fuzzy blue savior.
There were so many fantastic episodes and moments in Legends' third season, which was also just fun. Grodd vs Barack Obama! Time loops! Pirates! Mick Rory's book! Themyscira! John Noble! That's what a superhero show about a ragtag bunch of time travelers should be about: bonkers fun. And yet, the series also has great emotional arcs that really resonate. It does it all, folks. — Allison Keene
Love, Death and Robots (2019-present)
Created by: Tim Miller
Executive produced by Tim Miller (Deadpool) and legendary filmmaker David Fincher, the animated anthology series Love, Death & Robots is kind of the perfect catch-all for sci-fi fans. Each episode hails from a different writer and director, and the theme holding them all together is the idea of sci-fi technology. As a result you get a wide range of tone from uber-violent to romantic to hysterically funny. All in all, though, there's just some really great sci-fi storytelling in here. – Adam Chitwood
iZombie (2015-2019)
Created by: Rob Thomas and Dianne Ruggiero
Starring: Rose McIver, Malcolm Goodwin, Rahul Kohli, Robert Buckley, David Anders
Loosely based on the comic by Chris Roberson and Michael Allred, iZombie stars Rose McIver as Liz, a medical resident with the perfect job, perfect fiancee, and perfect life, who loses it all one night when she's transformed into a zombie. But this isn't a Walking Dead situation. Her hair may be chalk white, and her heart may only beat twice a minute, but she can still walk, talk, act, think and feel like a human – as long as she regularly feeds on human brains. The good news is that Liz uses her medical degree to land a job at the local morgue where she has a regular supply. Bad news is she temporarily inherits the memories, personality, and skills of anybody she eats, which puts her on the scent of a series of murders enacted by some less morally-sound zombies. Working under the guise of a psychic, she uses her visions to work with a local detective (Malcolm Goodwin) in order to solve the murders and give her new life a sense of purpose.
From Rob Thomas and Dianne Ruggiero, the minds that brought us Veronica Mars, iZombie is often oversimplified as "Veronica Mars with zombies", but that description does a disservice to the originality of both series. To be clear, there is one and only one Veronica Mars, and while there are similarities, Liz is another witty blonde sleuth, for one, they're largely different shows. Despite dealing in death, the first season of iZombie is mostly lighter fare that leans in on the procedural element. Fortunately, the cases of the week are infinitely fun thanks to McIver's consistently likable but wonderfully variable performance as she adopts the personality traits of the victims. –Haleigh Foutch
The Flash (2014-present)
Created by: Greg Berlanti, Andrew Kreisberg, Geoff Johns
Starring: Grant Gustin, Candice Patton, Danielle Panabaker, Rick Cosnett
If you aren't ready for the entirely crazy, true comic book fever of The Flash, then the CW's superhero show may not be for you. But for those willing to work with its full embrace of its comic origins — including time travel, alternate universes, and Gorilla Grodd — will be rewarded. The Flash deals with many dark and difficult themes, and yet, more often feels like a light and fun romp through Central City's chaotic world. It follows the story of Barry Allen (Grant Gustin) as he comes to terms with his newly-bestowed super speed, and his city's need to fight off a myriad of superpowered villains. But, he still has time for dating and unrequited love, as well as some crossover time spent with Team Arrow (the same creative team is responsible for both shows).
The Flash has an instantly lovable cast, a never-ending supply of great hooks, and a myriad of long-form arcs that help anchor its Villain of the Week plots. It's wholly accessible to non-comic readers (or to those not typically superhero genre fans), but also has plenty of insider references to keep comic fans happy. Above all, it never loses its heart or its mirth — even in the midst of saving the world. – Allison Keene
Black Lightning (2017-2021)
Developed by: Salim Akil
Cast: Cress Williams, China Anne McClain, Nafessa Williams, Christine Adams
Just when I was starting to think we had reached peak superhero fatigue, Black Lightning hit the scene and shook things up. The CW's dynamic series is laudable for a number of reasons, the most obvious one being that it focuses on a black family, and the second most obvious one being that its lead character isn't a teenager. But the series also might be the superhero genre's most intelligent; it knows what it wants to say about race and politics without ever being preachy. The first season also made a lot of smart choices about when to introduce the powers of characters other than Jefferson Pierce (a charming Cress Williams), and also didn't feel the need to dispatch of its Big Bad by the season's end (though it did take care of a host of more minor villains throughout). The story of a vigilante-turned-principal looking to get back into the game because of drug violence on his streets is a refreshing one, and helped keep Black Lightning grounded and relevant throughout its run. This is a hero to unequivocally root for. — Allison Keene
Stranger Things (2016-present)
Created by: The Duffer Brothers
Cast: Winona Ryder, David Harbour, Finn Wolfhard, Millie Bobby Brown, Gaten Matarazzo
You've no doubt heard the hype, so let us set you straight: believe it. Stranger Things popped up almost out of nowhere as a new Netflix original series that had little buzz surrounding its pre-release. But the 80s-set mystery thriller is equal parts It, Stand by Me, and The Goonies as it mashes up the creepy atmosphere of a Stephen King novel with compelling characters and a strong narrative drive. The true test of Stranger Things is whether the show works without the nostalgia-inducing 80s setting, and the answer is yes. There's a government mystery, impressive effects, and most of all memorable characters that are a joy to watch, and creators/writers/directors Matt Duffer and Ross Duffer craft each season like one long movie divided into chapters. Indeed, one could easily watch an entire season in one day without feeling like it's dragging or hitting upon an easy "stopping point," as this is more television as novel than episodic TV. Which makes it a delightful binge. So have at it! – Adam Chitwood
The 100 (2014-2020)
Developed By: Jason Rothenberg, based on the novel by Kass Morgan).
Starring: Eliza Taylor, Paige Turco, Bob Morley, Marie Avgeropoulos
The CW's post-apocalyptic sci-fi series takes a few episodes to find its footing, but once it does, The 100 ratchets up the stakes and tension to the maximum and never lets up again. The series ostensibly follows a group of 100 juvenile delinquents, sent down from a dying spaceship to the surface of a post-nuclear earth to determine if the land has become habitable again. But the show's title quickly becomes a misnomer when a huge chunk of the kids are quickly dispatched and the scope of the series expands breathlessly, introducing a host of new settings and characters, each bringing with them a different microcosmic world and culture. Indeed, what makes The 100 one of the best genre series on TV is the way it careens through sci-fi subgenres, pulling them together in a single narrative that has infinite room to grow and explore.
The series also sets itself apart by never giving its characters an easy out. As the stakes continue to escalate, the young survivors are wrapped up in politics and warfare far beyond their realm of knowledge and experience. They are consistently presented with horrifying life or death choices, and they are made to suffer the consequences of their actions. At the center of this is Clarke, the purported hero of the show, who is one of the most ruthless, strategically-minded characters on television, capable of handling morally bleak survival scenarios with a self-assuredness that puts Jack Bauer to shame. There is no other character like Clarke on television — a pragmatic, unyielding, bisexual warrior woman who wields her power unapologetically without becoming an unfeeling "tough chick." That unique quality expands to the show as a whole in its resolute exploration of the moral contradictions of governing, warfare, and survival. – Haleigh Foutch
https://collider.com/best-sci-fi-shows-on-netflix/ Best Sci-Fi Shows on Netflix Right Now (March 2023)