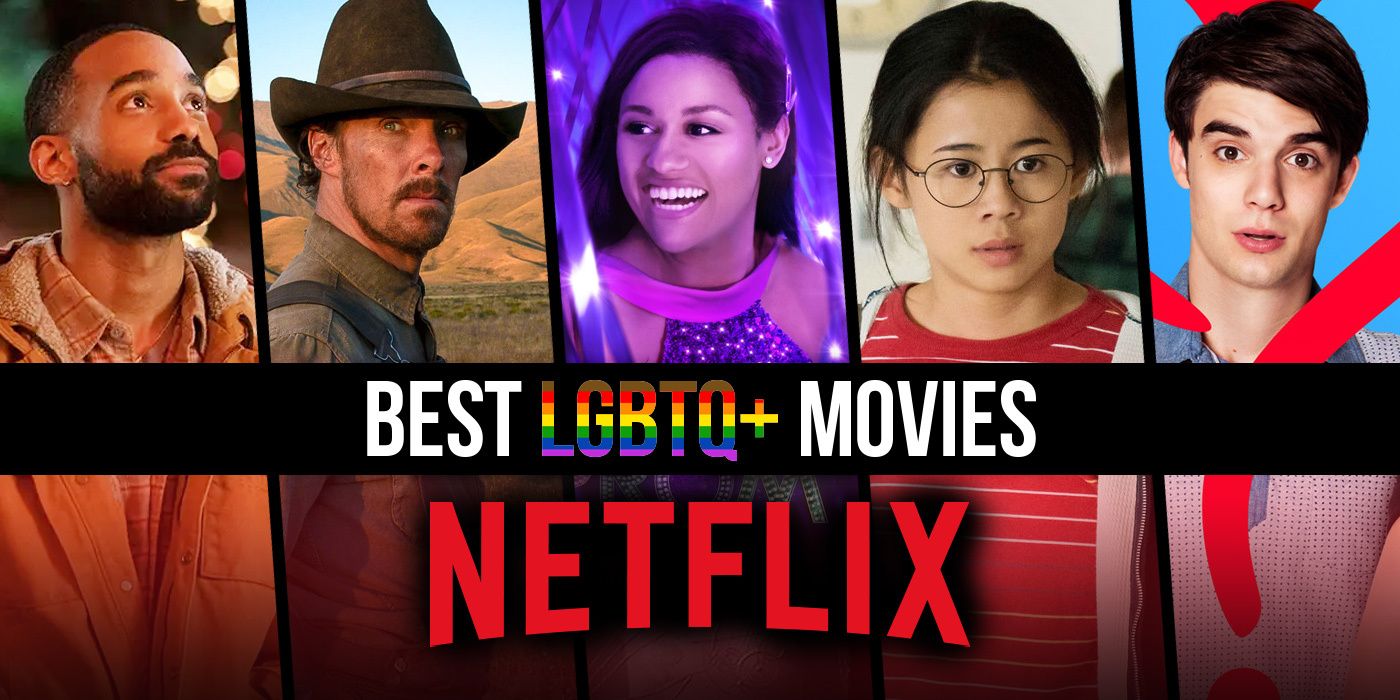 Looking for a film on Netflix centered around an LGBTQ+ story? Here are the best picks.
It's certainly gotten better over the last decade or so, but in the past, the representation of queer people on screen was a bit hard to come by. Previously, queer movies were generally of the indie or underground variety, with movies like But I'm A Cheerleader, Jennifer's Body, and Desert Hearts becoming cult classics years after release. In recent years, LGBTQ+ stories have become more welcome in the mainstream, with some major successes being Love, Simon, Call Me By Your Name, and Moonlight. In order to celebrate the queer community and make LGBTQ+ entertainment more accessible, we thought it might be helpful to provide a little guide to the best LGBTQ+ movie offerings on Netflix. There's simple romance, comedies, horror, and lots of documentaries. So if you are looking for a good queer movie to watch, we've got you covered.
For more recommendations, check out our list of the best shows and movies on Netflix.
Editor's note: This article was updated May 2023 to include Carol, Call Me By Your Name, and Disobedience.
RELATED: The Best Movies on Netflix Right Now
Ride or Die (2021)
Run Time: 2 hr 22 min | Genre: Romance Drama | Director: Ryūichi Hiroki
Cast: Kiko Mizuhara, Honami Sato
A Japanese psychological thriller, Ride or Die is another Netflix Original starring Kiko Mizuhara and Honami Sato. The story follows Mizuhara's character Rei, a woman in her late 20s who commits a violent crime to help a former classmate who she's been in love with for years. The other woman, Nanae (Sato), is the victim of horrific domestic violence, and so to save her, Rei kills Nanae's husband. After the murder, Nanae feels conflicting emotions towards Rei, but she leans into Rei's love for her as they go on the run together. While Rei's decision to kill the husband is made as an effort to give Nanae and her freedom, the two travel down a path together that gets darker and more tumultuous as reality finally sets in. The movie is written by Nami Sakkawa and directed by Ryuichi Hiroki, based on the manga series Gunjō written and illustrated by Ching Nakamura. If you are looking for a tightly-packed thriller with a passionate and emotional central relationship, this is an excellent movie to watch.
Carol (2015)
Run Time: 1 hr 58 min | Genre: Drama | Director: Todd Haynes
Cast: Cate Blanchett, Rooney Mara, Sarah Paulson
Carol is a 1950s romantic period piece based on the novel The Price of Salt by Patricia Highsmith. This Academy Award-nominated film starring Cate Blanchett (Tár) and Rooney Mara (The Girl with the Dragon Tattoo) is a tale of forbidden love in a time where open homosexuality could rip one's life apart. Blanchet shines as a woman in a failing marriage whose chance encounter with an aspiring photographer, played by Mara, leads to a surreptitious affair. The chemistry between the two leads feels like a powderkeg constantly on the verge of explosion and is bolstered by the amazing screenplay by Phyllis Nagy.
Call Me By Your Name (2017)
Run Time: 2 hr 12 min | Genre: Drama, Romance | Director: Luca Guadagnino
Cast: Timothée Chalamet, Armie Hammer, Michael Stuhlbarg
An adaptation of Italian author André Aciman's final entry into his Desire Trilogy, Call Me By Your Name is a coming-of-age romance about sexual discovery. Director Luca Guadagnino (Bones and All) delivers a beautifully tragic story through a rich tapestry of images that allow the audience to soak in the gentle examination of the budding romance that can never truly bloom. Armie Hammer (The Social Network) plays an exchange student staying with an Italian family, where he meets a young man just about to step into adulthood, played by Timothée Chalamet (Dune). The two circle around each other throughout the film in a dance of attraction and repulsion that feels authentic and heartbreaking as their time together ticks away to a point where it must eventually end.
Disobedience (2017)
Run Time: 1 hr 54 min | Genre: Drama | Director: Sebastián Lelio
Cast: Rachel Weisz, Rachel McAdams, Alessandro Nivola
So many of our best queer stories come from book adaptations, and Disobedience, based on the novel by Naomi Alderman, is one of them. Rachel Weisz (The Mummy) takes on the role of Ronit Krushka, a woman ostracized from her Orthodox Jewish community after being caught in a romantic affair with another woman. Her tense visit back to North London for her father's funeral becomes even more complicated when she runs into Esti Kuperman, played by Rachel McAdams (The Notebook), who is in a loveless marriage despite her sexuality and desire to be with Ronit. The two wrestle with their attraction, their obligations to the community, and what they want for their future. The film is a grounded — and, at times scathing — look at the ways that religion isolates and dominates anyone who dares to disobey the rules of a community.
Bruised (2020)
Run Time: 2 hrs 9 min | Director: Halle Berry
Cast: Halle Berry, Sheila Atim, Adan Canto, Shamier Anderson, Danny Boyd Jr.
Starring Halle Berry in her directorial debut, Bruised is an intense drama about an elite mixed martial artist on a rocky road to redemption. In Bruised, Berry plays Jackie Justice, a disgraced fighter attempting to make ends meet when she finds herself with custody of her estranged son, whom she gave up as a baby. Exploring themes of rage, regret, and second chances, Bruised is a powerful movie with an outstanding cast, including Sheila Atim (The Woman King), Adan Canto (The Cleaning Lady), and Shamier Anderson (Wynonna Earp). Shown through captivating cinematography, Bruised is a triumphant story of reclaiming agency. – Yael Tygiel
Straight Up (2019)
Run Time: 1 hr 35 min | Genre: Romantic Comedy-Drama | Director: James Sweeney
Cast: James Sweeney, Katie Findlay, Betsy Brandt
James Sweeney writes, directs, and stars in Straight Up, a sweet romantic comedy about a young couple with an unexpected twist. Straight Up follows soulmates Todd, a potentially gay man, and Rory, his straight female partner, as they navigate the complex layers of sexual fluidity. With a universal and modern perspective on human sexuality, Straight Up doesn't shy away from the tricky realities of relationships. Co-starring with the creator is Katie Findlay (Walker: Independence) as Rory, along with support from stars like Betsy Brandt (Love, Victor), Tracie Thoms, and Randall Park (WandaVision). Straight Up entertainingly questions societal expectations with playful gags, a hint of drama, and unexpected twists. – Yael Tygiel
Stay on Board: The Leo Baker Story (2022)
Run Time: 1 hr 12 min | Genre: Documentary | Director: Nicola Marsh, Giovanni Reda
As entertaining as it is inspiring, Stay on Board: The Leo Baker Story offers a peek into a fascinating sport and an even more fascinating individual. An extremely talented skateboarder, Leo Baker was bound for the Olympics – the first time the sport would ever be included in the games. The documentary sensitively and authentically explores Baker's journey to how coming out as a trans man and the unique circumstances of COVID caused him to make one of the toughest decisions of his life. Yes, the documentary showcases the struggles and obstacles Baker faces, but there's a refreshing amount of joy, too. Baker's impact on skateboarding – and many LGBTQ+ kids around the world – cannot be denied, and Nicola Marsh and Giovanni Reda masterfully show why throughout their film. – Taylor Gates
I Care A Lot (2020)
Run Time: 1 hr 58 min | Genre: Black Comedy Thriller | Director: J Blakeson
Cast: Rosamund Pike, Peter Dinklage, Eiza González, Dianne Wiest
One of the most timely movies to appear in 2020, I Care A Lot stars Rosamund Pike (The Wheel of Time) as a manipulative legal guardian taking advantage of and swindling elderly patients out of their homes and savings. Cleverly written by J Blakeson, who also directed the feature, I Care A Lot is as entertaining and creative as it is terrifying to watch. Costarring with Pike is Peter Dinklage (Game of Thrones) and Dianne Wiest (The Bird Cage). On top of the already fascinating legal criminal aspect of Blakeson's movie, as well as his darkly funny dialogue, the writer/director has managed to craft an unexpected love story as well. – Yael Tygiel
Alex Strangelove (2018)
Run Time: 1 hr 39 min | Genre: Romantic Comedy | Director: Craig Johnson
Cast: Daniel Doheny, Antonio Marziale, Madeline Weinstein
Alex Strangelove is a modern rom-com about a teenage boy's journey to understanding his sexuality. Alex Truelove, played by Daniel Doheny, is a regular, awkward teenager who has been best friends with Claire (Madeline Weinstein) for years. After comforting her at a party leads to a kiss, the two begin to date. All seems to be going well, or as well as a high school relationship can go, until Alex meets Elliot (Antonio Marziale), an openly gay teenage boy, at a party and sparks fly. Through hilarious scenarios and friendship struggles, Alex starts to question whether he might be bisexual or gay, all while juggling his relationship with Claire and a blossoming connection with Elliot. Another underappreciated movie on this list, Alex Strangelove is definitely a hidden gem of a rom-com on Netflix, commonly overshadowed by more well-known movies like To All the Boys I've Loved Before and The Kissing Booth.
Circus of Books (2019)
Run Time: 1 hr 32 min | Genre: Documentary | Director: Rachel Mason
Cast: Karen Mason, Barry Mason, Rachel Mason
The first documentary on the list (though definitely not the last), Circus of Books is about a gay pornography shop and bookstore of the same name in Los Angeles. Through the movie's exploration of this shop, audiences see a story unfold about a caring Jewish couple who kept the secret of what their business really was from their family for decades while continuing to serve as a safe haven for the gay community at a time when the world was very much against them. Directed by the couple's daughter, Rachel Mason, the film does a fantastic job exploring porn, religion, AIDS, politics, and more as it covers the Masons' takeover of the store in 1976, along with everything that decision led to. It's extremely fascinating and touching, and it's also a true homage to the queer culture of Los Angeles and its history over the past 50 or so years.
Disclosure: Trans Lives on Screen (2020)
Run Time: 1 hr 40 min | Genre: Documentary | Director: Sam Feder
Cast: Laverne Cox, MJ Rodriguez, Angelica Ross
Another documentary, Disclosure: Trans Lives on Screen is about exactly what the title says. The movie focuses on the history of transgender representation on screen in Hollywood over the years, and how that has in turn affected the queer community and American society. Many prominent figures in both the entertainment industry and the world of activism and academia appear in the movie to speak on their personal experiences, including Laverne Cox, MJ Rodriguez, Angelica Ross, Yance Ford, Lilly Wachowski, Chaz Bono, and many more. The film showcases how historically Hollywood has inaccurately portrayed transgender individuals in a harmful way, with specific films referenced including Ace Ventura, Tootsie, and more. Disclosure is a very intelligent and interesting movie, and a good pick if you are looking for a documentary to watch.
Let It Snow (2019)
Run Time: 1 hr 33 min | Genre: Christmas Romantic Comedy | Director: Luke Snellin
Cast: Isabela Merced, Shameik Moore, Kiernan Shipka, Odeya Rush, Liv Hewson
Let It Snow is a teen rom-com set around the holiday season that showcases a few intertwining romances within a small town. The movie is based on the young adult book of the same name by Maureen Johnson, John Green, and Lauren Myracle, and it has a stellar cast that includes Kiernan Shipka, Isabela Merced, Shamiek Moore, Liv Hewson, Anna Akana, and more. While most of the romances featured in the film are of the heterosexual variety, the love story of Dorrie (Hewson), a waitress at a local restaurant called Waffle Town, and Kerry (Akana), a cheerleader she's been seeing, is one of the best parts of the movie. It's a straightforward story, with Kerry being unafraid to come out to her cheerleader best friends, despite the fact that she truly believes they'd have no problem with it. But then she comes face to face with Dorrie, and must decide whether or not to save her relationship and finally reveal the truth about herself. The surrounding storylines are also sweet and funny, and Let It Snow is all-around an enjoyable, easy watch.
The Perfection (2018)
Run Time: 1 hr 30 min | Genre: Psychological Horror Thriller | Director: Richard Shepard
Cast: Allison Williams, Logan Browning, Steven Weber, Alaina Huffman
If you want a queer horror story, The Perfection is that and so much more. Fair warning, this film is filled with gore and a twisted story, but if you are willing to take all that on, it's a very satisfying and modern horror movie. The Perfection stars Allison Williams as Charlotte Willmore, a young woman whose promising cellist career is brought to a halt by her mother's terminal illness. When she is finally able to get back to music, she meets Lizzie Wells, played by Logan Browning, the woman who took her spot in the music program. The two have instant chemistry, hooking up one night, but then Charlotte takes Lizzie on a psychological horror trip that leads Lizzie to believe that Charlotte wants to sabotage her cellist career. Honestly, there's no way to describe how crazy The Perfection gets, but if you are a hardcore horror fan, you should certainly check it out.
Duck Butter (2018)
Run Time: 1 hr 33 min | Genre: Comedy | Director: Miguel Arteta
Cast: Alia Shawkat, Laia Costa
Duck Butter tells the story of two women who randomly meet and hook up, then decide to do a relationship experiment by staying together for 24 hours nonstop, having sex each hour and opening up emotionally. While Alia Shawkat's character Naima is initially against the idea, the more free-spirited Sergio, played by Laia Costa, helps change her mind, and together they attempt to skip forward through all the traditional steps in relationships to something more intimate and revealing. The film's cast also includes Mae Whitman, Kumail Nanjiani, the Duplass Brothers, and more, and it's a great queer indie film to watch during a night in.
The Half of It (2020)
Run Time: 1 hr 44 min | Genre: Coming-of-Age Comedy-Drama | Director: Alice Wu
Cast: Leah Lewis, Daniel Diemer, Alexxis Lemire
Another teen rom-com, The Half of It presents a very nuanced story of a shy, Chinese-American teenager named Ellie Chu, played by Leah Lewis, who aims to make a little extra money by helping a jock named Paul (Daniel Diemer) from school write love letters to the most popular girl. The only problem is that the boy has a crush on Aster Flores (Alexxis Lemire), who Ellie also happens to have a crush on, which only gets more intense as she reads Aster's responses to Ellie's ghostwritten letters. On top of that, Paul and Ellie start to bond and become friends, which puts Ellie in an uncomfortable position, forcing her to decide between keeping her secret and helping Paul and Aster get together, or coming clean and taking the risk of losing both of them. The Half of It is a genuine hidden gem and a teen rom-com that everyone, no matter the age, should watch.
A Secret Love (2020)
Run Time: 1 hr 23 min | Genre: Documentary | Director: Chris Bolan
Cast: Terry Donahue, Pat Henschel, Diana Bolan
This one is a heart-wrencher, but it's also a must-watch. Another documentary on the list (there are a lot), A Secret Love is about the relationship between Terry Donahue and Pat Henschel, the two great aunts of the director, Chris Bolan. Having met when they were young women, Terry and Pat fell in love. At the time, queer people faced extreme prejudice, and so the couple kept their love a secret for almost 70 years. They stayed together the whole time, while also running a successful interior decorating business. A Secret Love tells the story of these two women who were pioneers in many ways, finally getting to celebrate their love for one another, which they hid for so many years.
The Death and Life of Marsha P. Johnson (2017)
Run Time: 1 hr 45 min | Genre: Documentary | Director: David France
Cast: Marsha P. Johnson
Many people likely know of this documentary, which focuses on icons and activists Marsha P. Johnson and Sylvia Rivera, who fought for gay and transgender rights in NYC from the '60s to the '90s. Although The Death and Life of Marsha P. Johnson spends a lot of time exploring this important history, it also features LGBT rights activist Victoria Cruz and her investigation into Johnson's death. Initially, it was ruled a suicide, despite the circumstances surrounding the death being rather suspicious. The documentary is detailed and enlightening, and a fantastic addition to the existing group of queer documentaries.
The Boys in the Band (2020)
Run Time: 2 hr 1 min | Genre: Drama | Director: Joe Mantello
Cast: Jim Parsons, Zachary Quinto, Matt Bomer
The Boys in the Band is a story that has a long history, originating as a 1968 play by Mart Crowley. The story is about seven gay friends who gather for a birthday party in NYC in 1968, whose happy time devolves into tension as buried feelings and secrets come to the surface. The play was made into a film for the first time in 1970, which starred the play's original cast. Netflix hosts the new version of The Boys in the Band. The play had a revival in 2018, whose cast then went on to film this movie. With a cast of exclusively openly-gay actors, the 2020 film stars the likes of Matt Bomer, Jim Parsons, Zachary Quinto, Andrew Rannells, and more.
Elisa & Marcela (2019)
Run Time: 1 hr 58 min | Genre: Biographical Romantic Drama | Director: Isabel Coixet
Cast: Natalia de Molina, Greta Fernández
The 2019 Spanish biodrama Elisa & Marcela is filmed entirely in black and white and set in the early 1900s. It's subject? The first recorded same-sex marriage to ever happen in Spain, at least as far as we know. In 1901, Elisa Sánchez Loriga and Marcela Gracia Ibeas posed as a heterosexual couple so that they could get legally married at the Church of Saint George in A Coruña, Spain. In Elisa & Marcela, the historical couple is portrayed by Natalia de Molina as Elisa and Greta Fernández as Marcela. The drama film is visually stunning and sweet in its portrayal of the two women's love, and it's a great pick to watch if you are looking for a period romance.
Other People (2016)
Run Time: 1 hr 37 min | Genre: Comedy-Drama | Director: Chris Kelly
Cast: Jesse Plemons, Molly Shannon, Bradley Whitford, Maude Apatow
Jesse Plemons stars in Other People, a movie about a man named David who returns home to Sacramento to take care of his mother Joanne, played by Molly Shannon, as she deals with her terminal cancer. While at home, David must face his father Norman (Bradley Whitford), who still hasn't accepted David being gay a decade after he came out. As Joanne's cancer gets worse, David is trying to hold on to his career, his relationship with his ex-boyfriend Paul (Zach Woods), and his family, which is in danger of falling apart once Joanne is gone. Other People is an intricate family drama about a man going through some major struggles that many people face, including dealing with a family member not accepting of your sexuality and losing a parent to a long and decaying sickness like cancer. With amazing acting from a cast that also includes Maude Apatow and June Squibb, Other People is a film that should be on everyone's Netflix list.
https://collider.com/best-gay-lgbtq-movies-on-netflix/ Best LGBTQ+ Movies on Netflix Right Now (May 2023)