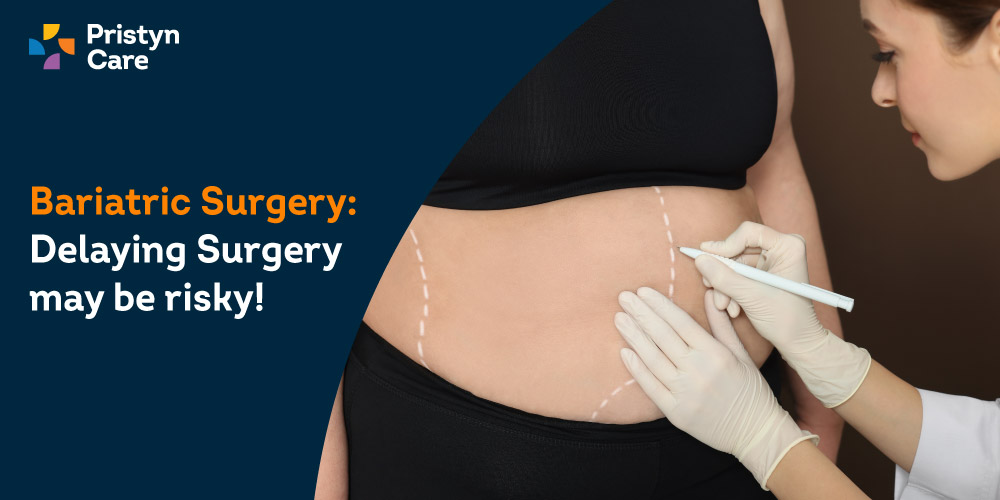 Obesity is a disease that can be difficult to deal with. People struggling with obesity often resort to conventional methods of weight loss, such as maintaining an active lifestyle and following a strict, balanced diet. However, it can be discouraging when such methods fail to show any signs of improvement, even after months or years of trying. For such individuals, bariatric surgery may be a suitable option.
Bariatric surgery or weight loss surgery is an umbrella term that is used to describe various surgical procedures performed to reduce obesity. With a success rate between 80% to 90%, it is deemed to be an effective and safe weight loss surgery. Despite its high success rates, many people delay bariatric surgery due to various reasons such as fear, uncertainty, or concerns about potential risks. In this blog, we will discuss why delaying bariatric surgery may be risky and how timely intervention can help you lead an improved life.
Risks of Delaying Bariatric Surgery
Delaying bariatric surgery can lead to a multitude of serious complications that can be life-threatening. Some risks of delaying bariatric surgery include:
Worsening Health Condition:

Obesity is associated with several serious health conditions, including type 2 diabetes, hypertension, sleep apnea, heart disease, and joint problems. Delaying bariatric surgery means prolonging the effects of obesity and worsening these health conditions, leading to further complications and poor quality of life.

Increased Mortality Risk:

Studies suggest that morbid obesity can significantly increase the risk of premature death. Delaying bariatric surgery may increase your mortality rate due to obesity-related conditions and health issues.

Further Difficulty in Weight Loss:

The longer obesity persists, the more challenging it will become for you to lose weight through conventional methods such as an active lifestyle. While bariatric surgery is a powerful tool for weight loss, its effectiveness may decrease if it is delayed.

Emotional Toll:

Living with obesity is difficult and it can take an emotional toll on a person's mental well-being. Such emotional toll can lead to depression, anxiety, and reduced self-esteem. Delaying bariatric surgery will only prolong such an emotional toll and may hinder your weight loss journey.
Now that we've discussed the risks of delaying bariatric surgery, it is also important to understand what bariatric surgery is and why it may be beneficial for you.
Understanding Bariatric Surgery
As previously mentioned, bariatric surgery encompasses various surgical procedures that aim to help individuals with obesity lose weight by altering their digestive anatomy itself. These surgeries work by limiting the amount of food your stomach can hold and decreasing nutrition absorption to treat obesity. Some of the most commonly performed bariatric surgeries are given below:
Gastric Bypass:

A gastric bypass procedure involves creating a small pouch at the top of the stomach and rerouting a portion of the small intestines to connect the pouch. This reduces the amount of food that the stomach can hold and reduces nutrition absorption.

Sleeve Gastrectomy:

In this surgery, a large portion of the stomach is removed, leaving a banana-shaped sleeve. A smaller stomach restricts food intake, leading to weight loss.
Adjustable Gastric Banding:

Adjustable gastric banding is a safe weight loss surgery that involves placing an adjustable band around the upper part of the stomach. This creates a smaller pouch that can be tightened or loosened to control food intake.
Benefits of Bariatric Surgery
The benefits of bariatric surgery go beyond just losing weight. Not only can it help people reduce obesity, but also help them live a better, happier lifestyle. Some benefits that are commonly associated with bariatric surgery are given below:
Sustainable Weight Loss:

Bariatric surgery has been proven to be one of the most effective long-term solutions for weight loss in individuals with severe obesity. Timely intervention can help patients treat obesity and maintain healthier body weight over the years.

Improved Cardiovascular Health:

Weight loss surgery significantly decreases a person's risk of developing coronary heart disease, peripheral heart disease, and stroke. Additionally, some studies suggest that weight loss achieved through surgery can help prevent the risk of death associated with stroke and hypertension. After bariatric surgery, blood pressure and cholesterol levels return to normal and improve overall well-being.

Enhanced Quality of Life:

Beyond physical improvements, bariatric surgery can also help patients improve their quality of life. Patients often report increased energy levels, improved mobility, greater participation in physical activities, and easier maintenance of an active lifestyle. 

Reduced Risk of Obesity-Related Complications:

By addressing obesity early through bariatric surgery, individuals can reduce the risk of developing severe complications associated with obesity. Some complications that are generally associated with obesity include cardiovascular disease, high blood pressure, stroke, sleep apnea, osteoarthritis, and certain types of cancer.

Positive Impact on Mental Health:

Many individuals struggling with obesity feel depressed because of poor body image and social stigma. Even younger individuals who are obese find it difficult to participate in social activities and sports they would otherwise enjoy. Such a lifestyle can lead to self-isolation and depression. However, losing this excess weight can help patients with their mental health. Studies suggest that patients who underwent bariatric surgery had a 32.7% reduction in their depression initially and a 16.2% decrease 12 months after surgery.
Conclusion
Bariatric surgery is a safe and powerful tool for treating obesity and its comorbidities. But despite its success in reducing obesity, patients often delay undergoing weight loss surgery. Delaying bariatric surgery may lead to worsening health conditions, increased mortality risk, and difficulty achieving weight loss through conventional means. By timely intervention, you can experience sustainable weight loss, improved health conditions, enhanced quality of life, and reduced risks of obesity-related complications. 
To undergo surgery, it is important to consult with a qualified healthcare professional and make an informed decision that positively impacts your overall health and well-being. 
If you are considering bariatric surgery, get in touch with us at Pristyn Care and book your consultation with our highly qualified and experienced team of general surgeons. Being India's leading surgical healthcare provider, we are dedicated to providing all our patients with a smooth and hassle-free experience, no matter the surgery. So what are you waiting for? Contact us at Pristyn Care today and get safe weight loss treatment options.
https://www.pristyncare.com/blog/bariatric-surgery-delaying-surgery-may-be-risky/ Bariatric Surgery – Delaying Surgery May be Risky!