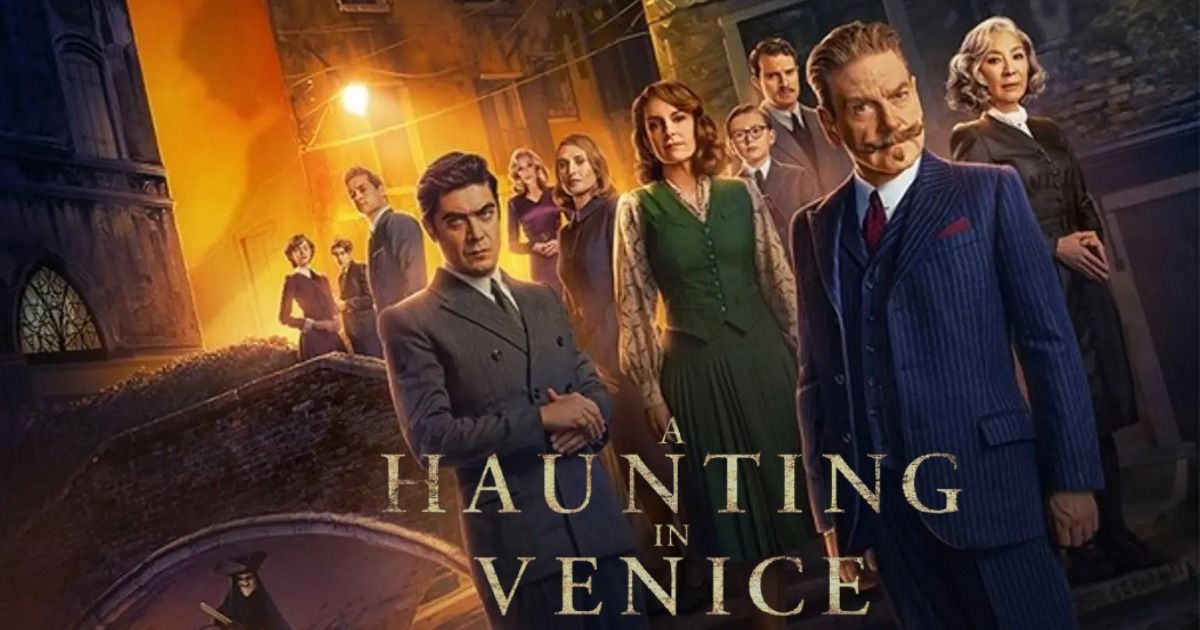 Kenneth Branagh's third outing as Agatha Christie's Belgian sleuth Hercule Poirot is a captivating murder mystery with bona fide horror scares. A Haunting in Venice, adapted from the 1969 novel Hallowe'en Party, will send shivers down your spine as a devilish plot twists and turns along a supposedly supernatural path. Poirot, the epitome of reason and logical deduction, faces a spellbinding test of his investigative abilities when unexplainable events lead to a baffling series of murders. The beautifully shot Italian settings coupled with superb performances from a venerated, all-star ensemble delivers frightening fun and cinematic splendor.
A Haunting in Venice opens after World War II, with Poirot living comfortably in retirement. He ignores the gawking crowds of onlookers loitering outside his luxurious villa. Poirot's morning routine cannot be interrupted by the bothersome; those desperate for his services or an autograph are rudely tossed aside. Vitale Portfoglio (Riccardo Scamarcio), a former Italian poliziotto, serves as an effective bodyguard. He's tough as nails and makes sure Poirot enjoys his breakfast pastries in peace.
Poirot's lazy afternoon is interrupted with a surprise visit from famed author Ariadne Oliver (Tina Fey). The mystery writer who helped make Poirot famous with her novels has a perplexing problem that will surely lure him back to work. Oliver has become entranced by the abilities of a sensational psychic and spiritual medium. Joyce Reynolds (Michelle Yeoh) has been invited to Venice for a séance. Opera star Rowena Drake (Kelly Reilly), inconsolable since the suicidal drowning of her beloved daughter Alicia (Rowan Robinson), lives in an eerie palazzo rumored to be haunted with the ghosts of dead children. Their voices are said to linger through the house at night. Drake's convinced they drove Alicia to kill herself. She believes Reynolds will be able to communicate with Alicia's tortured soul.
Kelly Reilly as the Bereaved Mother
Poirot scoffs at such a ludicrous notion. Reynolds is obviously a con artist preying on a bereaved mother. Oliver wants him to attend the séance to witness her in action. Previous attempts to expose Reynolds as a fraud have failed. She seems to actually possess mystical powers. Poirot's superior intellect is needed to either confirm Reynolds as a legitimate seer or an ingenious deceiver. He skeptically accepts the challenge but soon discovers that he's not immune to the palazzo's insidious terrors.
Related: Fall 2023 Movie Preview: 55 New Releases to Watch Out For
Branagh surrounds himself with greatness in front and behind the camera. The film looks amazing. Production designer John Paul Kelly (The Theory of Everything, Stan & Ollie) takes you from idyllic Venice facades to sinister interiors. The palazzo is a maze of impending doom. Every nook and cranny could hide a killer or lurking ghouls. Poirot realizes that the strange environment puts him at an extreme disadvantage. Hidden corridors, trap doors, and a dungeon-like basement must be searched for clues. This also gives the nefarious attacker(s) ample opportunities to strike the unsuspecting.
A Haunting in Venice makes great use of shadows, light, and darkness to create a foreboding atmosphere. Haris Zambarloukos (Belfast, Murder on the Orient Express), Branagh's longtime cinematographer on their ninth collaboration, is in top form here. What starts as bright and picturesque devolves to the murky unknown. Multiple scenes are shot with candles and have strobe effects that simulate lightning. There's also intriguing camera angles that show the characters from different points of view. For example, Poirot's descent below the palazzo starts on his face then cuts to overhead and behind shots to accurately frame a dangerous situation. Zambarloukos gives the impression that someone or something could be right behind him.
Michelle Yeoh Steals the Show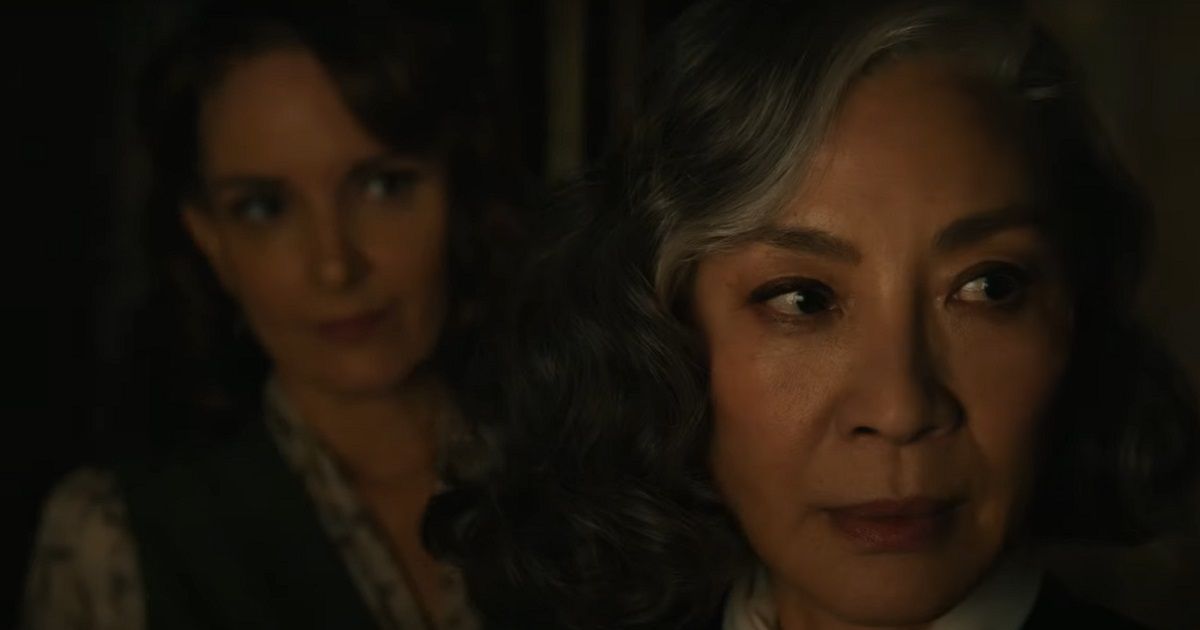 The brilliant supporting cast will you have guessing until the climax's bombshell reveals. Yeoh, coming off her Best Actress Oscar win, steals the show as Reynolds. She knows that Poirot is only there to discredit her, but exhibits no fear or concern from his snide remarks and imposing presence. You get the feeling that he's met his match. Yeoh's bizarre facial contortions and weird vocals during the séance are truly creepy as hell. Her legion of fans are going to love this performance. She embraces challenging roles and isn't afraid to do something radically different from what's expected.
Related: Best Michelle Yeoh Movies, Ranked
A Haunting in Venice is not for the casual viewer. The dense and complex narrative requires rapt attention. Every character has a motive that Branagh gives time to develop. This means a lot of heavy dialogue and interaction. All niceties cease once the bodies start piling up. Poirot's incisive interrogation tactics uncovers secrets and lies that were buried deep. This allows each cast member a chance to vary the interpretation of their character. Friendly demeanors vanish once Poirot gets under your skin.
A Haunting in Venice succeeds on all fronts. There are several jump-out-of-your seat moments that caught me completely off guard. The plot is not predictable. Branagh, his excellent players, and a skilled production team have taken one of the more obscure Agatha Christie offerings to lofty heights. It's also his best turn as Poirot.
A Haunting in Venice is a production of Kinberg Genre, The Mark Gordon Company, TSG Entertainment, Scott Free Productions, and Agatha Christie Limited. It will have a September 15th theatrical release from 20th Century Studios.
https://movieweb.com/a-haunting-in-venice-review/ A Haunting in Venice Review